Book Review: Sam Phillips: The Man Who Invented Rock'n'Roll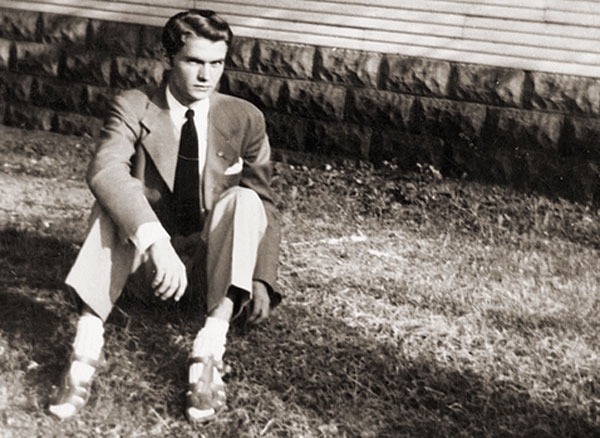 Sam Phillips: The Man Who Invented Rock'n'Roll
by Peter Guralnick. Little, Brown and Company, 2015. 763 pp. Hardcover, $32.
In Lost Highway, published soon after he was introduced to Sam Phillips, in 1979, Peter Guralnick said he had long dreamed of meeting the Sun Records founder, who produced the hits that introduced Elvis Presley and other pioneering rock'n'roll performers. He dedicated Lost Highway to Phillips and the blues singer Howlin' Wolf, calling them "the real heroes" of the musical genre, and a quarter-century relationship between Guralnick and Phillips followed. This long, densely detailed biography is its affectionate culmination.
Many rock'n'roll fans will relish every ingredient of this banquet of a book; others won't care that Jack Clement got his job at Sun after bringing in a tape he'd made of Billy Riley, whom Clement had met while hitchhiking home with Slim Wallace after a night in jail with a girlfriend of Wallace's wife who'd drunk too much, and . . . Well, if you have a limited literary appetite, skip the side orders. There's plenty to savor in the main dishes Guralnick serves up.
Born poor on an Alabama farm, Phillips (1923–2003), as a boy, picked cotton alongside black laborers. He heard their music in the fields and pouring from a local church, and he admired their creativity, their "invincible determination." In 1950, while working at announcing and engineering for radio, he opened a small studio called Memphis Recording Service. Phillips had a musical mission: "I was looking for a higher ground, for what I knew existed in the soul of mankind. And especially at that time the black man's spirit and his [soul]." He proceeded to record such black artists as Ike Turner and his band (performing "Rocket 88"), B.B. King, Wolf, and others, for labels that included Modern and Chess.
Phillips often said, "If I could find a white man who had the Negro sound and the Negro feel, I could make a billion dollars," but the laugh that followed implied that money wasn't his real goal. It was "the vision," Guralnick states, "it was what would come afterward." That would turn out to be a revolutionary musical category, propelled by a few independent record manufacturers and maverick disc jockeys, that ultimately demolished the barrier between America's black and white audiences. "Rock and roll was no accident," Phillips asserted. "Absolutely not an accident at all."
In 1954, Phillips found his white Negro: a 19-year-old who had initially stopped by to cut a record for his mother. Elvis Presley had "genuine humility . . . mixed with intense determination. He was, innately, Sam thought, one of the most introverted people who had ever come into the studio." Guralnick quotes Phillips as saying that Presley's "insecurity was so markedly like that of a black person."
It wasn't Elvis who handed Phillips his first real smash. Carl Perkins did that, with "Blue Suede Shoes," after Phillips, who perpetually needed money, sold Presley's contract to RCA. He demanded $40,000 for his star, which included $5000 in royalties Phillips owed Presley—more than a popular singer's contract had ever brought. After brokering the deal, Colonel Tom Parker, the wily manager who invariably used the honorary title a Louisiana governor had conferred on him, made Elvis a commodity.
The welcome infusion of capital let Phillips crank up the volume for other Sun artists, who included Perkins, J.R. Cash—J.R. was his actual given name, but he became John R. in the Air Force, then Johnny on stage—and a brash, boundlessly energetic Louisiana boy initially billed as "Jerry Lee Lewis With His Pumping Piano." When Phillips first heard Lewis, "he practically jumped out of his skin."
In the late 1950s, Perkins and Cash defected to Columbia Records, which paid higher royalties. Lewis had to scrap a British tour that would have been a bonanza for Sun after his wife's age was revealed: Myra, his third wife and the daughter of his first cousin, was 13. The bankable pumping-piano player, who hadn't even bothered to divorce his second wife, instantly became a dry well, and owning an independent record company began to seem to Phillips more a burden than a boon.
Phillips began recording sessions for other labels again, and teamed up with his friend Kemmons Wilson, founder of Holiday Inn, to build a record label that would profit from the hotel chain's name. Having already started one radio station, Phillips focused on buying others. In 1969, Phillips sold his 80% interest in Sun Records, formally putting his glory days behind him.
Although Guralnick admits that his use of Invented in his book's title is an overstatement, he makes it clear that Sam Phillips exerted considerable influence on rock'n'roll, in recording sessions spurring and steering his seminal artists through take after take. "Sam had an uncanny knack for pulling stuff out of you [and] wouldn't let go until he got that little something extra," stated guitarist Scotty Moore (footnote 1) one of Elvis's original bandmates; Carl Perkins said Phillips would encourage him to "walk out on a limb [and] try things I knew I couldn't do." If the artists thought some of the touches that made it onto their records were mistakes, Phillips deemed them "original." For him, that was the heart of the matter: "Most of all, individualism . . . individualism in the extreme," insists Guralnick. "To Sam, if you weren't doing something different then you weren't doing anything at all."—David Lander
Footnote 1: See www.scottymoore.net/hillbillycat.html.