AudioQuest's Forthcoming Niagara 7000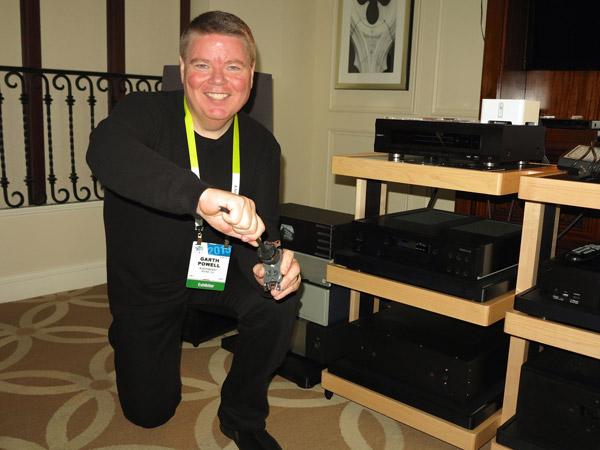 It's not every show that a cable company invites a publication's staff to breakfast to preview a power conditioner whose faceplate isn't even ready for viewing. But after a short but most impressive listen to the patent pending circuitry in AudioQuest's forthcoming Niagara 7000 Low-Z Power–AC Grounded Noise-Dissipation System ($TBD), I'm convinced that something special is coming our way.
The Niagara's designer, Garth Powell, an active jazz musician/percussionist who is now Director of Power Products, Engineering at AudioQuest, claims that differential sample tests and spectrum analysis demonstrate that up to a third of a high-res (low-level) audio signal "can be lost, masked, or highly distorted" by the continually increasing barrage of noise that rides along power lines. Thus, Powell has developed the Niagara 7000, which claims to use "the world's first Dielectric-Biased AC Isolation Transformers, and the widest bandwidth-linearized AC filter in the industry." Specifically designed for today's current-starved power amplifiers, the Niagara, which is mostly built by hand, is claimed to include a unique passive/active Power Correction Circuit with an instantaneous current reservoir of over 90A peak.
The 95 lb Niagara 7000's 12 AC outlets, four of which are specifically intended for high current amplifiers, grip a plug so tightly that I had to struggle to pull one loose. AQ claims that their outlets contain 30–40% greater base metal mass than other Edison-type outlets. (The outlets are sold separately for $149/each).
At the end of the demo, Powell displayed power products from four well-known companies. After choosing one, and playing a bit of Muddy Waters Folk Singer through both it and the Niagara 7000, I heard far more specificity of image, room ambience, incisive attack, instrumental color, and dynamic peaks through the AudioQuest unit. The final test, of course, will come after the Niagara comes to market, and a lucky reviewer from Stereophile gets the opportunity to hear it in his own, well-known reference system. Until then, I remain stoked for the Niagara 7000's release.