Audio Streams #7 Page 2
Neil Young's PonoPlayer ($399) houses digital and analog circuitry designed by Ayre Acoustics, including Ayre's oh-so-musical minimum-phase filter. If you've read
John Atkinson's review
of the Pono in the April 2015 issue, or my review on
AudioStream
in
January 2015
, you already know that it's a superb DAC that comes close to
Ayre's QB-9DSD
DAC at a fraction of the price, while throwing in a music server and headphone amp gratis. The PonoPlayer attaches to your computer via its micro-USB input, for transferring files to the Pono's internal 64GB of flash memory, or its MicroSD card capable of holding another 64GB, for a total storage capacity of 128GB. I prefer just dragging and dropping my files into the Player, and skipping the Pono app altogether.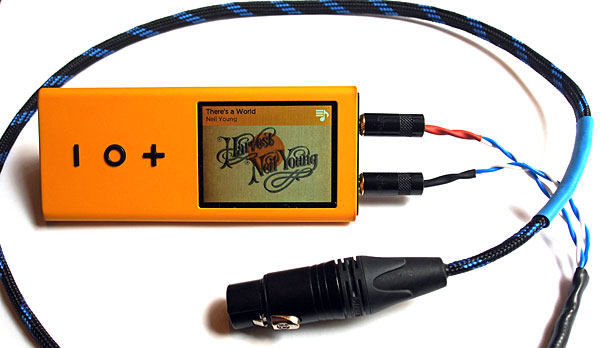 Outputs include a 3.5mm headphone jack and 3.5mm analog output. But if you want to get the best sound out of this portable player, go balanced, for which you'll need a pair of 3.5mm-to-XLR cables, to connect to the ADAM's XLR inputs. (I used a borrowed pair of Cardas Parsec interconnects.) What you'll hear when you go balanced is smoother, richer, more natural sound. The PonoPlayer supports FLAC, WAV, AIFF, ALAC, DFF, and DSF file formats. Its DAC is the ESS ES9018M, which can pass PCM resolutions up to 24/192, as well as single- and double-rate DSD. Playback control is handled through the Player's 2.5" color touchscreen, which some people find too small (but I'm not one of them).
The A3X active speaker hails from the pro-audio line of ADAM Audio GmbH. Each A3X ($329/each) has a 4.5" carbon-fiber mid/woofer with a 1" voice-coil and—the star of this show—ADAM's X-ART (for eXtended Accelerating Ribbon Technology) tweeter, based on the famous Heil Air Motion Transformer. Each driver has its own dedicated 25W class-A/B amplifier, and each speaker has a single XLR and an RCA input. Around back are a Tweeter Level control, which you can dial in or out + or –4dB, and an IEC inlet for the included power cord. Claimed frequency range is 60Hz–50kHz. On the front of each A3X is a port, a volume control, and an on/off switch. The cabinet is 10" high by 6" wide by 7.5" deep and finished in matte-black vinyl with beveled edges at the top front. I think they're ruggedly handsome.
If you're anything like me, when you first play music through a properly set-up pair of ADAM A3Xes, you'll smile that big "Holy crap!" smile. Largely due to the excellent dispersion characteristics of their X-ART ribbon tweeters, the A3Xes were capable of sounding as if the music they were playing was being made directly inside my head—like headphones, only better. There was nothing edgy about their sound: Coupled with the PonoPlayer's remarkable sense of ease and rich tonal qualities, we're talking highly engaging music reproduction. I've owned ADAM A3Xes for nearly three years, and use them every day with a Mytek Stereo192-DSD DAC (see System 3)—a combo I also recommend, assuming you don't care about portability.
System 3: Mytek Stereo192-DSD DAC + Dynaudio Excite X14A = $3495 total
Hold on to your music-lovin' hat: This system is big-rig quality, scaled down to desktop size.
Mytek got its start in 1992 in professional audio, with a line of A/D converters; the Stereo192-DSD DAC ($1495), which hit the market in 2011 and was reviewed by Kalman Rubinson in July 2013, is their first consumer product. The DAC chip used is an ESS Sabre that can handle PCM resolutions up to 32/192 as well single- and double-rate DSD. The Mytek's host of inputs include AES/EBU, coax S/PDIF (RCA), TosLink, USB 1.1, asynchronous USB 2.0, FireWire 400 (six-pin), Wordclock (BNC), and unbalanced (RCA). Outputs include balanced (XLR), unbalanced (RCA), ¼" headphone, and Wordclock (BNC).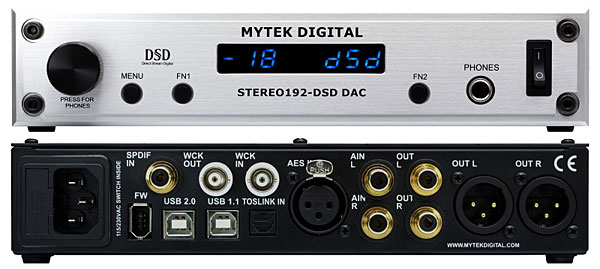 The Stereo192-DSD offers a number of features, including: upsampling all PCM data to 192kHz, filters (PCM, sharp or slow rolloff; DSD, 50, 60, or 70kHz cutoff), volume-control mode (analog, digital, or bypass), volume trim levels (–14 to –18dB), Mute, Phase, summed Mono, L–R (subtracts one channel from the other), Mid Side (combines Mono and L–R), Dim Volume (cuts the output level by 20dB), Display (Brightness, Meters on/off, Auto Off), and Remote (Enable, Address). Two user-programmable Function buttons can be set to control any of the aforementioned functions for quick access, and the LED display shows volume level and the current sample rate. For both Mac and PC users, Mytek requires the installation of custom drivers for USB and FireWire.
Dynaudio's Excite X14A speaker ($2000/pair) is the active version of their well-regarded Excite X14. Each X14A includes two 50W class-D amps, one for each driver. Dynaudio's proprietary drivers are a soft-dome tweeter and a long-throw woofer with a cone of magnesium-silicate polymer (MSP). The X14A's claimed frequency range is 45Hz–23kHz, and its rear-ported, bass-reflex cabinet is solid as a rock. Each speaker measures 11.1" high by 6.7" wide by 10.3" deep and is built at Dynaudio's headquarters in Skanderborg, Denmark.
On the X14A's backside are three equalizer switches for adjusting the bass, midrange, and treble to suit your environment. The high-pass filter (switchable between 60 and 80Hz) is for using the X14A with a subwoofer, although 45Hz on the desktop is pretty full-range, in my opinion. There are an input-sensitivity switch (three levels) and an Auto On/Off button—or you can choose to leave the X14As on all the time. Also on the rear panel are the On/Off switch and the power inlet for the included power cord. The Excite X14A comes in a number of finishes, including real-wood Walnut and Rosewood veneers (lovely), and Satin Black and Satin White lacquers.
I connected my iMac to the Mytek via FireWire, and the Mytek to the X14As by means of an XLR-to-XLR cable. This combination offered the most full-range, engaging sound I've experienced on my desktop: refined, powerful, dynamic as all get-out, and as rich as music itself. The Mytek DAC is detailed yet not overly so, balancing incisiveness with body, and the Dynaudios are excellent all around, throwing out an all-encompassingly rich and physical sound. In a word, enchanting.
It's Just the Nearness of You
There's an intimacy to sound reproduced at roughly arm's length, offering a different yet equally immersive experience as compared to traditional—farfield?—in-room listening. While I wouldn't say that one is better than the other, I will say that it's nice to have both. Variety is the spice of the hi-fi life.
While I'm tempted to bemoan how much time we spend sitting in front of an impersonal soft-light information source, I prefer to make the most of it by using components that can deliver the power and beauty of music directly to my ears, and add the experience of art to an otherwise artless experience.