Audio Research Reference 150 power amplifier Page 2
I first listened to the Ref150 with its stock power cord plugged straight into the wall, then into a Shunyata Research Hydra 8 power conditioner. The ARC sounded significantly more dynamic and open plugged into the wall; the Hydra 8 obscured the amp's drive and punch in a very obvious way. I then replaced the Ref150's stock cord with a 20A cord used in-house by ARC and designed by Sain Line Systems, the maker of most of my cables. The Sain cord was a definite step up in every way, reducing the grain structure of the sound, extending and sweetening the treble, fleshing out the midrange, and increasing bass weight and speed. Hearing how much improvement ARC's Sain cord made in the Ref150's sound, I thought I'd try the 20A Sain Line System Reference cord I already owned.
Holy smokes! The Sain Reference further opened up my system's sound, offering greater immediacy, staggering depth, a wider soundstage, less grain, more textured and fleshy images, and extension of both ends of the audioband. I wish that fancy cables attached to the end of an inconsistent power grid and junky home wiring didn't make much difference, but they do. Although aftermarket power cables aren't something I want to believe in, I now do, based on strictly empirical evidence: what I hear. I use good power cables because I want to create the best sound in my home that I possibly can, and I trust my ears to tell me when I have. The sound of the Ref150 with Sain Line Systems' Reference cord was silly good, and that's how I powered the amp for the duration of my listening.
Listening
The Ref150 admirably played dynamic music from very different walks of life. The enormous swings of volume in Timo Nuoranne and the Finnish Radio Chamber Choir's performance of Rautavaara's Canci¢n de Nuestro Tiempo (CD, Ondine ODE 1020-2) were rendered with power and finesse. I've said it before and I'll say it again: Uncompressed classical singing is some of the most dynamic and amplifier-punishing music an audio system can be asked to play. It's rare when an amplifier and speakers can present the full ring of a soprano's forte without breaking up, limiting the loudness, or adding undue hardness. The solo and tutti lines in these settings of poems by Federico Garcia Lorca were hair-raising in their color and drama.
Speaking of hair-raising, one night I got carried away in an ear-assaulting session and played Black Sabbath's Paranoid from beginning to end (CD, Sanctuary 1782444). The Ref150 never gave up an ounce of rhythmic drive or tonal color as it pushed the Mårten Djangos through Sabbath's finest album. Bill Ward's drums were visceral yet quick and clean, while Tony Iommi's guitar had never sounded so harmonically rich or alive. That night I felt as if the Ref150 would have let me listen louder, but I have only one pair of ears; I kept things to moderately sane levels.
One thing that stood out while listening to the Ref150 was something I hadn't heard before in an amp, or at least hadn't paid much attention to. Most amps I've heard seem to amplify the music and noise of a recording and audio system. The Ref150 seemed to do a better job of amplifying only the music and leaving the noise in the background. I've heard this trick with some other systems, where the backgrounds seemed blacker and quieter than they ought to be, but those systems seemed to also lack inner detail: the finer textures of each sound, or a living sense of microdynamics. The Ref150 instead seemed more open and revealing than most amps, yet found a way to make system and recorded noise not as noticeable to my ear. While I partly thank the Mk.II upgrade of the Bel Canto DAC 3.5VB for this, I think the Ref150 played a big part in performing the trick. The result was a far less electromechanical sound than I'm used to hearing in reproduced music. The music sounded more real.
Via the Ref150, bass was full, articulate, and textured. Played on the Clearaudio Ovation turntable, the drums and synths of Kraftwerk's electromechanical The Man-Machine (LP, Stumm 306-5099996602218) conveyed the magic that only Kraftwerk can create: overcalculated, inert Teutonic modernism that also sounds supremely funky, fun, and full of feeling. Notes stopped and started with excellent articulation and weight. I did, however, hear some looseness in sustained bass notes somewhere in the 60Hz region via the Djangos. After further listening, I came to the conclusion that the double-ported Djangos sound a little overfull in this region, but that the Ref150 made this slightly loose low bass more of a problem than did the solid-state amps I had on hand. Peter Kruder's Peace Orchestra (CD, G-Stone, GCD 004) has lots of sustained low-bass notes in the 60Hz region, and those notes occasionally became a little overbearing, but this is a minor quibble. I'll be curious to see what John Atkinson discovers when he subjects the Ref150 to his simulated loudspeaker impedance.
The Ref150's midrange was exceptionally open, revealing, and colorful. The treble was very extended, highly resolved, and delicately sweet. The treble had some of the best resolution I've heard, yet this amp also sounded somewhat kind to overcooked recordings. Most important, I heard a harmonic cohesiveness that I haven't heard from other ARC amplifiers—or from many amps from any company. It was very difficult for me to separate treble from midrange from bass while listening to the Ref150. I heard the midrange adding articulation to the bass, the treble providing properly balanced overtones to instruments and voices, and the bass providing the correct harmonic foundation and drive. Through the Ref150, all was one and one was all.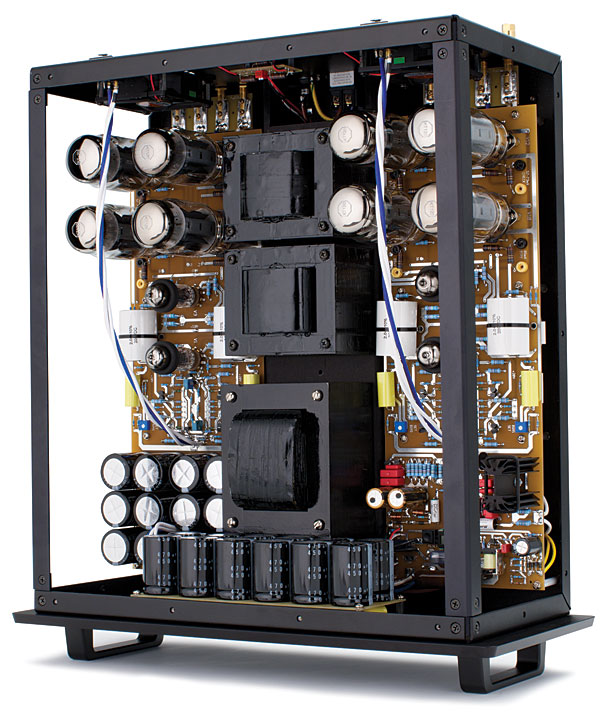 Soundstaging was lifelike and engaging, the Ref150 providing aural pictures that were wide, forward, and deep. The close-miked singers on Dirty Projectors' Mount Wittenberg Orca (CD, Domino DNO302) sounded immediate, and planted squarely in my listening room. It was almost embarrassing how little space there was between me and these singers—the ARC truly conveyed the intimacy of this album's production.
Vast choral and orchestral forces also got the proper treatment. One night, as I listened to Robert Shaw's recording of Duruflé's Requiem with the Atlanta Symphony Orchestra and Chorus (CD, Telarc CD-80135), I felt as if I could have risen from my listening chair and strolled around the orchestra and choir, visiting the violins upfront, then the choir standing unambiguously upstage. Duruflé's masterpiece needs this kind of vastness and breathing room. The Ref150 gave me plenty of space for my mind to wander and my spirit to soar through this music.
Conclusions
The Reference 150 worked flawlessly during the entire listening period, with almost no drift in tube bias, and superb bias matching between pairs of KT120s. I also found the rear fans to be effective, and quiet enough to never bother me, even during the subtlest listening sessions.
Did the Audio Research Reference 150 play music in a manner so lifelike that I couldn't distinguish it from the real thing? No. The inherent limitations of recorded sound still made their way into my listening. However, those artifacts of audio reproduction were significantly fewer through the Reference 150 than through every other amplifier I have used. With its open soundstage, neutral tonal balance, finely textured musical presentation, wide dynamics, and supremely musical feel, the ARC Reference 150 connected me with my music better than almost every other amp I've heard. Yep, that's a big statement, but one I'm willing to stand behind.
The Reference 150 may not have enough power for the most inefficient speakers or the biggest rooms, but in every other regard I feel that this Audio Research is the amp to beat. The asking price of $12,995 is more than justified by the Ref150's performance and build quality than are the prices of many other audio products. The Ref150 is an obvious candidate for Class A of Stereophile's "Recommended Components," and marks a dramatic improvement in power amplifiers from ARC. I hope each of you gets a chance to hear one in a good system. Though my ultimate reference for music remains the real thing, the Audio Research Reference 150 is my new reference power amplifier.