Audio Note Japan, aka Kondo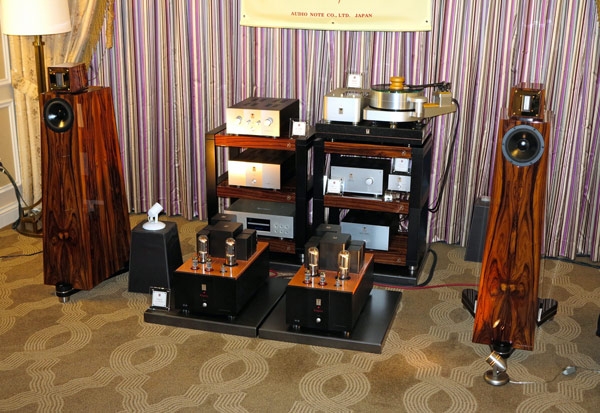 Audio Note Japan, the company whose expensive gear was designed by the late
Hiroyasu Kondo
, is poised to replace its M Series with the new G Series in the 2nd or 3rd quarter of 2016. Among the new products playing was the forthcoming flagship preamplifier, the G-1000 ($100,000 approx.). With the former 37-step attenuator replaced by a quieter 57-step attenuator, bigger and better proprietary silver capacitors, and an expanded power supply, the preamp reportedly retains the same tonal character as its predecessor.
The loudspeakers were special-edition Kaiser Kawero Classic loudspeakers (over $90,000/this particular pair), which included Kondo internal wiring, a new base, and a gold buffer around the tweeter. Those speakers, to these ears, have sounded wonderful on many occasions, but here, in the context of a system whose other components, including cabling, were all Audio Note Japan, the sound was puzzling.
I heard beautiful warm, enticingly liquid sound on an LP of the Peer Gynt Suite—perhaps the most liquid sound I heard at the show—but bass boomed and, more disturbing, there was a strange emphasis on one rather narrow frequency range that stood out from everything else in the otherwise recessed presentation. The softer the sound got, the more it seemed to retreat into the drapery. The only other complex classical recording the exhibitors could offer was a mono pressing of ballet music, whose lovely, smooth sound left me feeling, "So what?"
This leads to a major issue I encounter over and over again at shows. I have yet to understand why people who set up any system—this one certainly cost well over a half million dollars—choose to show it off with a small and inadequate collection of LPs, only a few of which can possibly demonstrate what the components can do on complex music that plumbs dynamic and range extremes. Does everyone really think that we can learn everything from a "soft female vocal with piano, bass, and drums"?