Aperion Verus Grand Bookshelf loudspeaker Page 2
Lately I've been revisiting one of my favorite Chick Corea discs,
The Mad Hatter
(LP, Polydor PD-1-6130). The first four tracks feature a wide range of acoustic and electronic textures and musical styles, and a broad spectrum of dynamic contrasts.
In 1978, when the album was released, I was shopping for my first high-end stereo, and used it to make my decision. Enamored of Dahlquist's DQ-10 speaker, I visited every Dahlquist dealer in the New York metropolitan area (there were seven or eight), excluding New Jersey. (Queens guys don't go to Jersey because of the sea monsters in the Hudson River). In every store I played those same four tracks, and the dealer whose system presented them most realistically won my business.
The winner was the now-defunct Audiocom, in Old Greenwich, Connecticut, whose owner was the only person I met on my Dahlquist quest who tried to convince me that electronic components could sound different from one another. I ended up driving my DQ-10s with a Tomlinson Holman–designed Apt Holman preamp and a James Bongiorno–designed Dynaco 416 power amp.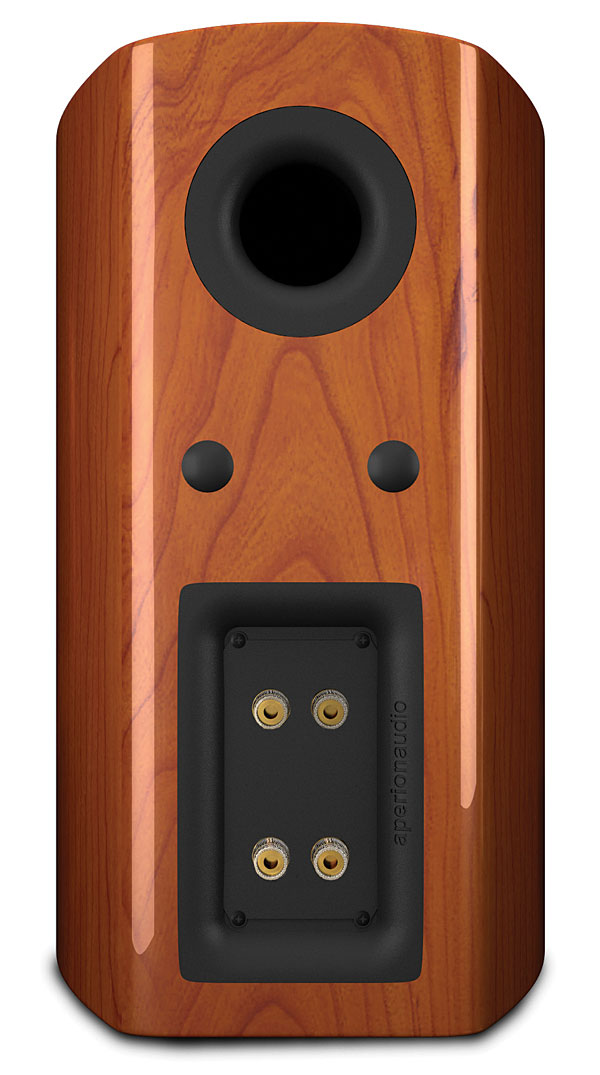 Now, 34 years later, I listened to all four tracks again. The fourth, Corea's hard-bop "Humpty Dumpty," features a smokin' bass solo by Eddie Gomez with intense but delicate drum interplay with Steve Gadd. Through the Aperion Verus Grands, Gomez's figures were rich and substantive, and perfectly integrated with Gadd's backbeat rhythm.
The Verus Grand's ability to present a coherent rhythm section like this made for enjoyable listening to well-engineered rock recordings. I tucked into Ten Years After's cover of Herman Bishop's "Woodchopper's Ball," from Undead (LP, Deram DES 18016), and reveled in the rhythm section's tuneful driving of this classic blues tune. However, the speaker's dynamic limitations at high levels were evident with the hard-rock "Born to Rock," from Buck Dharma's Flat Out (LP, Portrait AL 38124). I've heard greater high-level slam from this recording's drums and bass through other bookshelf speakers. However, Phil Collins's drums in "Back in N.Y.C.," from Genesis's The Lamb Lies Down on Broadway (LP, Atco SD 2-401), had a driving, thumping quality that served the music.
I'm a big fan of the Nonesuch recordings of 20th-century chamber music made by producer Teresa Sterne in the 1960s and '70s, several of which illustrated all of the Aperion's strengths. Lukas Foss's Baroque Variations, with the composer conducting the Buffalo Philharmonic Orchestra (LP, Nonesuch 71282), was the first recording composer John Harbison played for me, and I was hooked on the first hearing. The blasting percussive opening startled me, and as the Aperions breathed without strain, I noted how natural the solo oboe sounded, and how the tweeters reproduced the upper harmonics of the violin and the highest notes of the pipe organ with no loss of sparkle or air. Similarly with Charles Wuorinen's Speculum Speculi, with Fred Sherry conducting Speculum Musicae (LP, Nonesuch H 71319): the Aperions showcased percussionist Richard Fitz's explosive, airy percussion, and there was a sense of three-dimensional musicians performing in a large recording space with great ambience.
The Aperions' coherence with rock recordings enabled me to immerse myself in every track of The Young Rascals (LP, Atlantic AFL 8123) as I prepared myself for the band's first concert in New York in two decades. (Thanks, Stevie Van Zandt, for putting it together.) The rhythmic drive of Lawrence Williams's "Slow Down" convinced me that the Rascals' take on this classic is far superior to the Beatles'. Although I was a big Beau Brummels fan in the '60s, the Verus Grands blended the Rascals' vocal harmonies in the version of the hit "Just a Little" in perfectly sweet, angelic proportions. And though I grew up listening to Perry Como's version, the Rascals' take on Ervin Drake's "I Believe" sent chills up my spine as singer Eddie Brigati hit his upper register.
Comparisons
I compared Aperion's Verus Grand Bookshelf ($598/pair) with Wharfedale's Diamond 10.1 ($350/pair) and two models from Epos: the ELS3 ($350/pair when last offered) and M5i ($899/pair).
The midrange of the Wharfedale Diamond 10.1 was as detailed as the Aperion Verus Grand's, but the Diamond's midrange and highs were a bit more silky and liquid, and its bass was deeper and warmer. The speakers had equally satisfying high-level dynamics and transient articulation.
The Epos ELS3's midrange clarity equaled the Aperion's, but while its midbass was just as clean as the Verus Grand's, it wasn't quite as deep. Moreover, high-level dynamics in highly modulated passages seemed a touch more compressed than through the Aperion. I felt the highs were a bit purer through the ELS3, but not quite as silky as through the Wharfedale. The Aperion's low-level dynamic articulation was superior to the ELS3's.
The Epos M5i was in a different league. It had the best inner detail and low-level dynamic articulation of the four speakers, with crisp, detailed, extended highs and a delicate midrange. It also had the deepest, cleanest bass and the best high-level dynamic articulation.
Payoff
When I first listened to the Aperion Verus Grand Bookshelf, I was not bowled over. No single quality of the speaker particularly thrilled me. But by the time I'd finished my final listening session, the little Verus Grand may have impressed me more than any other bookshelf model I've reviewed. No single attribute of its sound stands out above the rest—prospective purchasers of the Verus Grand may find other bookshelf models that shine in one area or another, but I doubt they'll find one whose strengths are so well balanced across the board, and whose flaws are as virtually nonexistent as the Aperion's. I don't think any reader of Stereophile will dislike this speaker. That is a crowning achievement.