Andover Model-One turntable music system Page 2
A look at the back panel reveals that the Model-One is not merely a record player with speakers attached. Inputs include optical (TosLink) and coaxial (RCA) S/PDIF, both of which can deal with data up to 24 bit/192kHz; an Aux input via RCA plugs; and a mini-USB input/output. Outputs include line-level via RCA and a subwoofer-out for those who want more bass. (Andover offers a stackable, matching Model-One subwoofer for $799.)
The Model-One features Qualcomm aptX Bluetooth, the low-latency version. Android users get high-quality Bluetooth, and AAC is the codec for Apple devices, so it's not just a standard Bluetooth codec unit, Hazelwood says. Andover recommends running your phone at as high a volume level as possible and using the Model-One's volume control. As a compressed digital broadcast system, Bluetooth can sound noisy and glitchy at lower levels, he says, though DSP in the Model-One helps compensate for this. In addition to critical listening, I'll admit to enjoying Bluetooth background music via Qobuz and Tidal. On Calexico's The Black Light (20th Anniversary Edition, 16/44.1 Qobuz stream), pedal-steel guitar swirls and Joey Burns's half-spoken, half-sung delivery of lyrics, by turns mournful and uplifting, were conveyed with realism on tracks like "Missing." More detail meant more atmosphere.
Sound reasoning—how?
The Model-One covers a lot of territory. It seems ambitious—both in its intention to appeal to a broader market as a "non-audiophile" product and as an all-in-one system with an integrated turntable.
An old friend came over for "distance dinner" and asked what we were listening to—as in, which system—and was astonished that the jazz music (Cécile McLorin Salvant's Dreams and Daggers, via Qobuz, I think) was coming from the compact Model-One way across the room rather than my main system.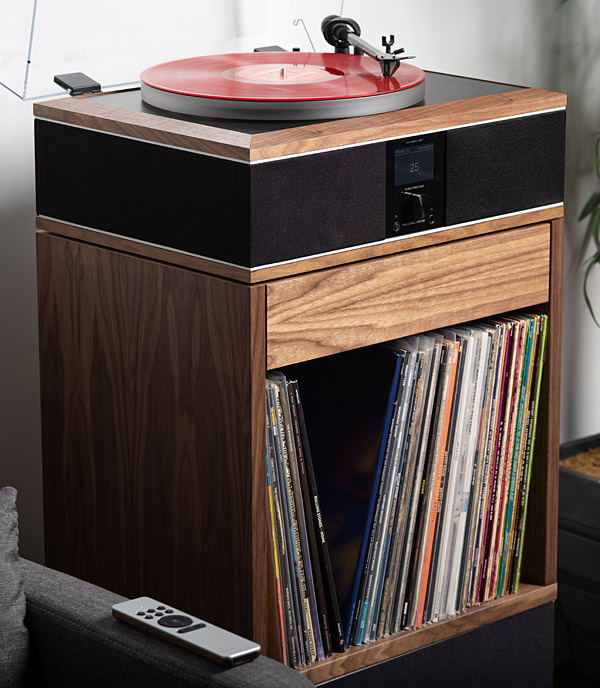 How does it provide expansive sound? In brief, DSP and digital crossovers. Hazelwood described the Model-One's atypical usage of head-related transfer (HRTF) function algorithms—a technology more commonly used for headphone and gaming applications, including some from former sister company E-mu—"so you'd know if you were going to get hit from behind," says Hazelwood of its use in video games. Here, it's utilized to give more openness along with increased spatial simulation from the speakers. Its application for the Model-One's 270° soundfield is called Panoramic, with options for small, medium, or large expansion. Other Modes, which bypass the HRTF, include Stereo and Mono. You can also select these HRTF-based Panoramic options for the headphone output. Or not.
"HRTF is pretty accurate in its spread and believability," Hazelwood said, "if you didn't compare it to other high-end speakers. Most tend to like it. Your mileage may vary."
Audiophile purists might be skeptical of or even averse to such digital sleights of hand. Hazelwood knows this. Indeed, during our conversation, Hazelwood mentioned that the Model-One had received some criticism online, for a reason that's sort of the elephant in the room here: Everybody knows you can't put a turntable on top of a box full of speakers. That couldn't possibly work. It can't possibly sound good. How are they addressing those inherent challenges of noise and vibration?
Based on Hazelwood's brief explanation, the design takes three approaches to controlling vibration. I'll keep it general, because if I shared the proprietary details, I'd have to kill you.
First, the speaker arrays are positioned within the unit's structure to cause in-phase low-frequency vibrations to cancel each other. Second, the rigid enclosure has bracing specifically optimized to deal with the vibrations. And third, the DSP has been configured for maximum vibration cancellation at the lowest frequencies. The rubber feet handle the rest, Hazelwood told me.
Use cases
Most of my critical listening was done pretty close, either in or near the nearfield, seated between 6' and 10' away from the Model-One. Some of this time was spent off-axis and farther away. Playback was primarily in "Stereo" mode, but I did check out the Panoramic settings.
The Model-One has many different use cases, and it would be impossible to cover all sources and setups I tried. So I'll comment on a few that seem most important for a product like the Model-One.
I began in the most basic plug 'n' play way: my iPhone 8 Plus and Bluetooth. A quick beep confirmed the Bluetooth connection, and I began playing back Qobuz and Tidal tracks. Volume was at low-to-moderate levels: 12 to 25, depending on source material. Occasionally, I experimented with "Panoramic L" mode to effect more dimensional "surround sound" impressions, especially on some newer music and more bass-laden electronica fare. This was fun on Billie Eilish and Phantogram tracks (Qobuz streams of 24/96 and 16/44.1, respectively). A good impression of bass was conveyed.
I deployed my MacBook Air to try the Model-One's mini-USB and TosLink connections. (My review unit showed a minor nomenclature inconsistency: The back panel input that's labeled "Optical" appears as "Digital" in the display menu for sources.) Here, I listened via the headphone amp, which Hazelwood informed me is a hybrid design with an integrated circuit front-end and discrete outputs. He told me that it's capable of driving low-impedance headphones. It easily drove my HiFiMan HE400S planar-magnetics with 22-ohm impedance and 98dB/1mW sensitivity, and the 32-ohm impedance, 118dB/1mW–sensitivity Sonus Faber Pryma headphones. (For both, I used an adapter to fit the Model-One's ¼" headphone jack.)
However, after plugging them in, I could hear a continuous high-pitched tone that varied between two frequencies, regardless of source selection. The volume of the tone was not affected by the volume control. With the HE400S it wasn't noticeable while most music was playing, but it was more audible through the very-sensitive Prymas. With headphones of average sensitivity, this noise probably wouldn't pose a problem, but it could be a problem with highly sensitive headphones.
On a couple of tracks from Andrew Bird's Are You Serious (24/96 Qobuz stream), through the HE400S 'phones, I had the rare experience of picking up a few musical details I didn't recall hearing before, including some subtle string flourishes in the background on the title track. On "Left Handed Kisses," good imaging and sense of space enhanced the interplay between Bird and Fiona Apple, adding to the duet's charm. The chimes in the distance (deep left channel) sounded like chimes. The headphone amp was almost an afterthought in my evaluation, but I spent more time digging into an array of LPs, Qobuz tracks, and other digital tracks than I intended to. It's a worthy feature for a system like this, which is likely to end up in small apartments, with roommates.
How good is the Model-One's vinyl front-end? There's an analog output, so you can send the line-level signal to your main two-channel system. (I did.) Just go into the Preferences menu to switch the internal speakers "Off."
I connected the Model-One to my MBL 126 speakers via the MBL N51 integrated amplifier. Serving as a turntable/phono pre front-end, it sounded good. Very good. It exceeded my expectations.
Now, on to the main event, the Model-One as one-box vinyl system, what it was made to be. Nearly all of my listening here was in regular Stereo mode: Only a few times did I try the Panoramic effects. I spun a wide variety of albums. In general, the system served the midrange well, with textural detail and, especially on recordings without modern mixing tricks and complications, sufficient image-placement cues to draw you in.
My pressing of Calexico's The Black Light 20th anniversary edition LP, on clear vinyl, isn't perfect, but it plays fine. The Tucson band's Tejano-tinged music (or so I would describe much of their early catalog, including this album) evokes a certain atmosphere. I closed my eyes and sank into its strange, desert-noir soundtrack. On odd instrumental tracks, such as "Fake Fur," the closely miked claves and shaker, the mellow bass line, and the faint, background guitar effects all sounded distinct and layered within more or less the same sonic hierarchy I'm used to hearing. Their leading-edge transients seemed quick enough and pretty clear. Mariachi trumpets showed hints of aggression on some higher notes, but not enough to seriously detract from the whole experience. A picture should be painted by this music, and via the Model-One, it was.
I put on Mobile Fidelity's One-Step 45rpm reissue of the classic 1961 Bill Evans Trio's Sunday at the Village Vanguard. The musicians' stage positions were respectably well-approximated: on the left, LaFaro's double bass and Motian's drums (slightly back), and Evans's piano on the right, with fairly wide separation. It was beyond what I expected from a single box. Of course, full-scale reproduction isn't possible here, nor, surely, is it the goal. Yet, the trio's spirited playing sounded smooth in delivery—some hints of cymbal sibilance and dryness aside—and delightful as always. It's hard to go wrong with this one; it is considered among the best of live jazz recordings, and it sounds good here.
On both 33.3 and 45rpm albums, speed stability seemed satisfactory, based on my listening and the RPM app's measurement for 33.3; buyers of this system probably wouldn't delve deeper.
The Model-One provides bigger sound than you'd expect from looking at it. It filled my medium-sized listening room, with 12' ceilings, pretty well at volume settings in the 20s. Cranking it up further, into the 30–40 volume range (the maximum is 50) resulted in some falloff at the top end. Known from the Yeah Yeah Yeahs, Karen O's breathy, high-pitched near-shrieking vocals on "Woman," from her Lux Prima collaboration with Modest Mouse, might not be to everyone's taste—think weird, warped Motown, but in a good way. Here it skewed harsh, the near-shrieking near-piercing. At these high volumes, some higher-note synth swells on the title track's intro teetered in and out of difficult listening territory, and the bass lost some definition.
On the plus side, Karen O's sassy singing on "Turn the Light," against a funky bass groove, brought back the fun. On "Leopard's Tongue," the transient attacks on percussion hit hard, with snap and energy from the toms to the tambourine.
This occurred at a volume that was louder than I would normally listen to, and I was, I feel, pushing the limits of what could reasonably be expected from a turntable and speakers mounted in one modest-sized box. I heard this harshness only when playing LPs through the built-in system. When I connected the MBL N31 CD player to the RCA analog inputs, that high-volume harshness went away (as it did when the Model-One's turntable/phono preamp served as a standalone front-end for my MBL system). Very likely, the measures taken to minimize feedback are only partially effective at high SPLs, or perhaps, at higher frequencies, the lows are reduced to avoid excessive vibration, resulting in sound that's tilted up.
Conclusion
The Model-One fills a niche for music lovers: a compact, single-box system that offers a wide range of sources and connectivity.
"I'm not trying to pitch that this is an audiophile product," Hazelwood says. "We're not doing that at all. It's a product for demanding music lovers who don't want to be audiophiles."
The Model-One generally hits its marks in that designated category. On the majority of music I tried, it delivered satisfying listening across the parameters that matter most. In fact, what the Model-One achieves sonically is remarkable—and surprising considering the confines of the enclosure. Any integrated system of these dimensions will require compromises, especially when there's a turntable in the mix, but for its intended use, at low-to-moderately-loud volumes, it is capable of providing enjoyable music.
Comparisons? I'm aware of nothing else out there that's comparable. Crosley's one-box systems, at prices up to a couple hundred dollars, are hardly comparable.
One could buy a system of small separates—with perhaps the same Pro-Ject player as a source. Add a phono preamplifier and a pair of modest powered monitors, and you could have a good-sounding system at a cost similar to the $1999 price of the Model-One. But if a listener wants everything in a single, stylish, essentially portable unit and/or doesn't have the space for—or want to fool around with—separates, the Model-One might make sense.
The Model-One could be a starter system for an apartment or a second system for an office or bedroom. (In connection to the latter, note the display screen dimming options.) It might inspire you to revisit your old albums, remembering school days (Queen, anyone?), except that, in contrast to my school day memory, no headphones are necessary.
Looking past our current socially distanced moment, the Model-One seems like a fine, fun thing to gather 'round.