Acoustic Research AR-M2 hi-rez portable player
In the early 1970s, I lived in a village 40 miles north of London, England, and regularly drove through an only slightly larger village called Houghton Regis. And every time I did so, this budding audiophile was thrilled to see a factory in the High Street with a nameplate proudly announcing that it was the site of Teledyne Acoustic Research's European operations. I was aware of the American brand because of a chance encounter with a pair of Acoustic Research LST speakers, and the geographical connection led to an increased interest in their speakers (footnote 1). A sort of local-boy-, er, local-multinational conglomerate-makes-good story. Sort of.
By 1967, AR was owned by Teledyne; Acoustic Research had been incorporated by Edgar Villchur in 1954 to manufacture his ground-breaking acoustic-suspension loudspeaker designs, and by the beginning of the 1960s had become a major speaker brand. Teledyne sold AR to International Jensen around 1985, and in 1996, Jensen, including AR, was sold to the Recoton Audio Corporation. In 2003, Recoton in turn sold AR to Audiovox (now Voxx International). With each change in ownership, the company's legacy of audio engineering seemed further diluted, and by 2015 I was aware of the AR brand only as a logo seen on products aimed at the mass audio market, such as Bluetooth speakers and accessories.
Then, out of the blue, I received a press release about an Acoustic Research hi-rez audio player, the AR-M2, scheduled to be launched in the US at the end of 2015. Priced at $1199, the M2 was clearly aimed at audiophiles. Wiping away a tear of nostalgia, I asked for a sample to review.
The "AR High-Resolution Reboot"
In 2011, the Voxx Corporation began what they called the "AR High-Resolution Reboot" project, based in Hong Kong. The first products were limited to the Far East, but the brand has now reached the US, and the Acoustic Research AR-M2 is the first product to appear here. In its press release, Voxx stated that "The new Acoustic Research High-Fidelity division is a very serious company . . . very well funded for R&D, manufacturing and global distribution. The designer Arex Li and his colleagues are purist audiophiles and music enthusiasts and they are bringing some great products to market. The brand is committed to long-term support of all their products and will gradually expand the range."
The AR-M2
The AR-M2 is almost the same size as an iPhone 6S, but thicker. Like the iPhone's, its front panel is a 5" glass touchscreen, and on the right of the aluminum frame are four buttons—On/Off/Wake, Play/Pause, and Song Forward and Back—plus a sliding door that conceals a slot for a microSD card of up to 128GB capacity. (The M2 comes with 64GB of internal storage.) Along its bottom edge are 3.5mm jacks for Line and Headphone outputs, plus a mini-USB port for charging and for connecting the M2 to a host computer. A single full charge of the 4200mAH battery is claimed to last nine hours, which was pretty much my experience. Inset in the top right of the case is a knurled volume control with a premium Alps potentiometer. The review sample came with a leatherette flip case; the overall effect of the industrial design is of a piece of premium gear.
The AR-M2 runs the Android operating system (v.4.3 in the review sample), and once it's booted up, it's unlocked just like a smartphone: by swiping an icon to the side. Files are played with the AR-M2 Music Player app (v.1.06 initially installed), but tapping the Menu icon brings up an array of Android apps and widgets, also just like a 'phone's. Not only are the usual Clock, Calendar, Calculator, and Web browser available, but so are apps for Tidal and Spotify streaming—yes, the M2 offers WiFi connectivity.
Under the hood are two temperature-controlled master crystals; the main processor is a quad-core Qualcomm Snapdragon. The Android OS is bypassed for playing high-resolution files with AR's Music Player app, which offers a graphic equalizer, bass boost, and something called "3D Effect." (I left these bypassed for my listening.) The DAC chip is a premium, 24-bit Burr-Brown PCM1794A, which accepts sample rates up to 192Hz. (The datasheet for this chip doesn't list DSD compatibility, so it's possible that the M2 transcodes DSD to hi-rez PCM before decoding the data.) The player's output stage is claimed to be biased into class-A; the M2 did get warm after an hour or so of use.
Context and Listening
We have reviewed several portable hi-rez players: the Astell&Kern AK100 ($699), in August 2013; the Astell&Kern AK240 ($2500), in November 2014; the PonoPlayer ($399), in April 2015; and, most recently, the Questyle QP-1R ($899), in December 2015. Following our reviews of the Astell&Kern AK100 and the PonoPlayer, I purchased the review samples to use as references. I also had on hand our review sample of the A&K AK240.
I copied files to the AR-M2's internal storage via USB, using the Android File Transfer app for Mac, and installed a 64GB microSD card loaded with my favorite music. I did most of my listening with Audeze LCD-X headphones. With the AudioQuest NightHawk headphones, the sound was rich—perhaps a little too rich. The better-defined bass of the Audezes was a more optimal match with the AR-M2's weighty low frequencies. The 16' register of Nathan East's bass guitar in "Get Lucky," from Daft Punk's Random Access Memories (24/88.2 ALAC file, Columbia/HDtracks), sounded solidly Stygian through the LCD-Xes, slightly too loose with the AudioQuests.
The rich, extended low frequencies were matched at the other end of the audioband by airy-sounding highs. The brushed snare and closed hi-hat cymbals in "Anyone Who Had a Heart," from Shelby Lynne's Just a Little Lovin' (DSD64, Lost Highway/Acoustic Sounds), were delicately palpable. And Lynne's voice—delicious, just delicious.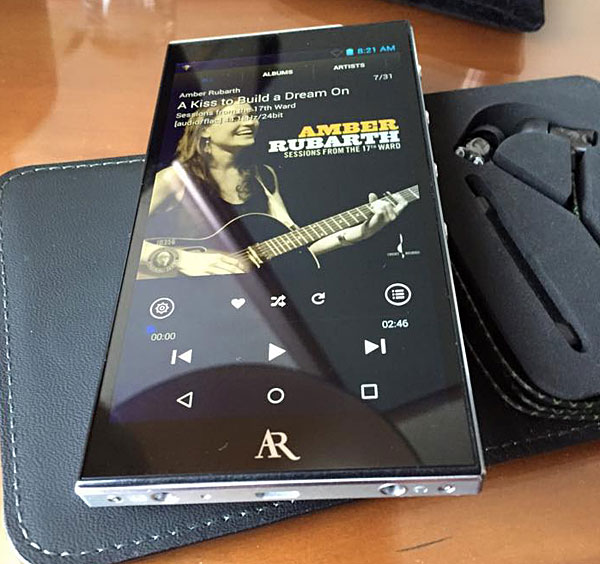 AT the time of the review, Acoustic Research didn't include lossily-compressed MP3 or AAC files in the list of formats the AR-M2 will play. This was due to a website error that has since been fixed, with MP3 and AAC now included, and the AR-M2 did play a 256kbps AAC file of Nat King Cole singing "Nature Boy" (Capitol), which I'd bought from iTunes, as well as a 256kbps MP3 file of "Bullet with Butterfly Wings," from Smashing Pumpkins' (Rotten Apples) Greatest Hits (Virgin), purchased from Amazon. Also, AR lists DXD files under the formats supported, which are sampled at 352.8kHz. I don't have any DXD files, but playing a WAV file of a 1kHz tone sampled at 384kHz resulted in pink noise.
The AR-M2 played every DSD64 and DSD128 file I tried, including Lyn Stanley's Potions: From the 50's (A.T. Music/Acoustic Sounds). Stanley's sultry voice sounded uncolored and forceful, and the double bass was rich. FLAC, AIFF, and WAV files with sample rates up to 192kHz played without any problems, and the AR-M2 sounded glorious. I was present for one of the sessions for Three's Company's We'll Be Together Again (24/192 AIFF, Chesky)—playing "Dark Eyes" from this binaurally recorded album, the AR-M2's reproduction of the space around Ron Carter's double bass, Javon Jackson's tenor sax, and Billy Drummond's drums transported me back to the dusty, deconsecrated church in Williamsburg, Brooklyn, in which this music was recorded.
---
Footnote 1: A decade later, when I was the editor of the UK's
Hi-Fi News & Record Review
magazine, we used the Houghton Regis facility's anechoic chamber to test speakers.