2016 Records To Die For Page 2
---
David R. Adler
---
Julian Lage: World's Fair
Julian Lage, acoustic guitar
Modern Lore 99767 (CD). 2015. Julian Lage, Matt Munisteri, prods.; Armand Hirsch, eng. DDD. TT: 37:56
At 26, Julian Lage sat down with his 1939 Martin 000-18 and mostly original compositions and delivered one of the great albums in the chronicles of solo guitar. From the speedy intricacy of "Peru," "Gardens," and "Missouri" to the contemplative beauty of "40's" and "Day and Age," Lage set the bar high for personal expression and unforced assimilation of influences. Echoes of folk, country, and American roots, jazz early and modern: Lage rendered it all with a singing tone and fierce yet remarkably easygoing technique, creating moments "on the knife's edge of guitar mischief," to quote co-producer Matt Munisteri from the liner notes.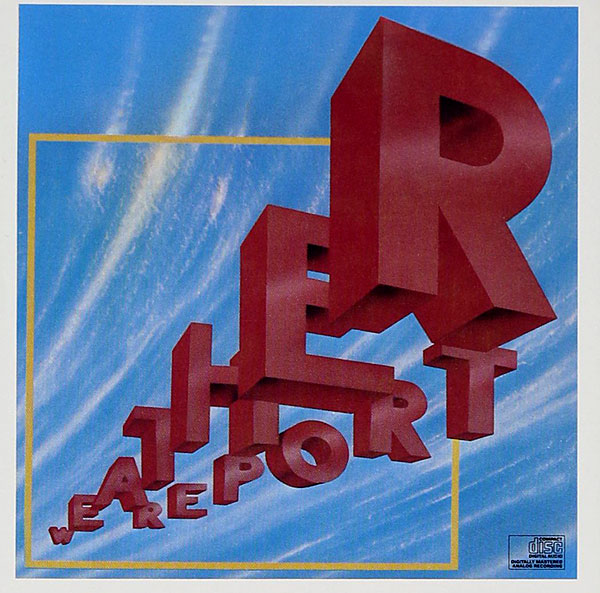 Weather Report: Weather Report
Joe Zawinul, keyboards, piano, woodwind, percussion, voice; Wayne Shorter, tenor & soprano saxophones; Jaco Pastorius, electric bass, percussion, voice; Peter Erskine, drums, drum computer, claves; Robert Thomas Jr., percussion
Columbia FC 37616 (LP). 1982. Joe Zawinul, prod.; Brian Risner, eng. AAA. TT: 40:38
The final offering of the Pastorius-Erskine years isn't widely acknowledged as a stunner, but it is. Zawinul's composing is full of depth and surprise, and Shorter's single entry, "When It Was Now," is a marvel of harmonic weirdness and quasi-mechanical groove. The ballad "Speechless" treads water a bit, but "Current Affairs" is timeless, undulating beauty, sandwiched between the ripping opener "Volcano for Hire" and the ambitious swing suite "N.Y.C." Pastorius used to knock Zawinul for "technological overkill," but dig those synth textures—they're still dynamically rich and otherworldly, without doubt rooted in a jazz aesthetic.
---
John Atkinson
---
Rachmaninoff: Piano Concerto 2; Six Moments Musicaux, Op.16
Dejan Lazic, piano; London Philharmonic Orchestra, Kirill Petrenko
Channel Classics CCS SA26308 (SACD/CD; DSD64, 24/192, 24/96, 24/44.1, MP3 downloads). 2008. Jared Sacks, prod., eng. DDD. TT: 64:15
I had always liked Rachmaninoff's music, but I fell in love with the Russian composer in February 2000. In a private recital hall in Santa Monica, I was recording Robert Silverman performing, on a Bösendorfer 290SE player piano, Beethoven's 32 piano sonatas. Our host had a file for the Bösendorfer, transcribed by Wayne Stahnke from a piano roll, of Rachmaninoff himself performing his transcription of Mendelssohn's Spinning Song. As I wrote in our January 2001 issue, "this was better than any hi-fi I had ever experienced—I actually had Sergei Rachmaninoff in the room, playing Mendelssohn just for me." Since that formative experience, I have been working—no, playing my way through his symphonies, sacred music, chamber music, music for piano, and the piano concertos, especially No.2. The DSD64 file of this live, award-winning performance by Dejan Lazic has been in constant rotation this past year. The Croatian pianist offers the perfect balance of passion, power, and lyricism, pointed by the occasional moment of hushed expectancy. He is supported by superb sound quality, with a rich, lush orchestral balance—and while the piano image is a little larger than life, it doesn't detract from the sweep of this lyrically sublime music.
Talk Talk: Laughing Stock

Verve 847-717-2 (UK CD). 1991. Tim Friese-Greene, prod.; Phill Brown, eng. AAD. TT: 43:29
Although Craig Roseberry made this fifth and final album from the UK's Talk Talk one of his 2004 "Records to Die For," I was late to the party, listening to the band's two post-rock albums only after reading engineer Phill Brown's autobiography, Are We Still Rolling? I was aware of Brown's ability to make audiophile-quality rock recordings with true dynamic range and a real-sounding sense of space from Steve Winwood's first solo record, which was one of my "R2D4" selections for 2012. But when I read how Laughing Stock had been made—drummer Lee Harris playing unaccompanied patterns and grooves for 12 hours at a time, miked with a single Neumann U47 30' away in London's Wessex Studio, with spot mikes on the snare and kick drums—I had to hear the result.
Brown ended up with 48 reels of 2" tape from which producer, keyboardist, and songwriter Tim Friese-Greene and singer-songwriter-guitarist/keyboardist Mark Hollis would select the drum take they liked best. From that take they would then create a song by overdubbing all instrumental and vocal parts. The result is a collection of sonically sophisticated explorations of space and groove that Roseberry described as "a haunting, meditative, intricate masterpiece." I can't say it better—I turn to this extraordinary album when I need to be transported into alternate worlds and different times—but the music will not be for everyone. The best summing up is given by Brown: "I settled Sally [wife], Becca and James [children] in front of my 12" Tannoy speakers and turned out all the lights. 'I just want 40 minutes of your time to play you what I have been up to for the past year,' I said. . . . I then played them the whole of Laughing Stock at a moderately loud volume. Nobody said a word. When it was finished Sally turned on the lights, and life continued as before. She made no comment on the album and never listened to it again." We've all been there! (Vol.27 No.2)
---
Jim Austin
---
Emiliana Torrini: Fisherman's Woman
Rough Trade RTRADCO185 (CD). 2005. Dan Carey, prod.; Mark Rankin, eng. DDD. TT: 39:29
Hjaltalín: Enter 4
Sena SCD588 (Icelandic CD). 2012. Hjaltalín, prod.; Sveinn Helgi Halldórsson, eng. DDD. TT: 47:28
In 2013, on a trip to Iceland, I visited 12 Tónar, Reykjavik's famous record store. I bought four CDs that day. Two of them turned out to be classics.
Even if you haven't heard of Emiliana Torrini, you've probably heard her: She sang "Gollum's Song" over the closing credits of the film The Lord of the Rings: The Two Towers; reportedly, Björk had turned down that gig. Indeed, Torrini's early work was derivative of Björk's, but by 2005, when Fisherman's Woman was released, Torrini was making classic acoustic folk pop: intimately recorded voice, acoustic guitar, subdued electric instruments, and the occasional, comfortable creaking of a ship's hull. When you're out on that fishing boat for days at a time, thinking of her late at night, you needn't worry: She'll be "Waiting for you by the window / With the brightest red lipstick on my lips."
The relationships portrayed on Hjaltalín's Enter 4 are less, um, conventional. The album is about masochism, narcissism, psychosis, and the apparently unsatisfiable desire for sufficiently intimate human connection. In "Forever Someone Else," Sigrídur Thorlacius sings Högni Egilsson's lyrics: "I want to feel your touch / I want to be felt. I want to be seen / I just want you to hit me. Don't wait, hit me." It gets weirder. It's intensely sad throughout, and it's lovely. Available in the US as an import on CD and LP, and on iTunes.
---
Robert Baird
---
Bad Brains: Bad Brains
ROIR RUSCD8223 (CD). 1982/1996. No prod. listed; Bad Brains, mix prods.; Jay Dublee, eng., mix prod.; Wayne Vican, mix; Stanley Moskowitz, mastering. ADD. TT: 36:18
It was a revolutionary idea in 1979 and it remains so today. As it was put to me, they were "four African-American cats who mixed Bob Marley and the Sex Pistols, if the Pistols could have actually known how to play their instruments." Washington, DC, native Gary Miller, better known as Dr. Know, was a fusion jazz guitar guy who veered way off the reservation, recruiting bassist Daryl Aaron Jenifer, drummer Earl Hudson, and "throat" H.R. (Paul Hudson) to form Bad Brains. Their peak did not last long, really only two records: this 1982 cassette-only debut and 1983's Rock for Light, the latter produced by, of all people, the Cars' Rick Ocasek. After that, the vision proved too fragile and the quartet split into two factions, one headed by Dr. Know and wanting to play more metal-leaning rock, the other led by H.R. and determined to move toward reggae. But for three or four years, Bad Brains were the baddest-assed live act on the planet. I had the pleasure of seeing them just after buying this ROIR Records cassette. After I'd raised my lower jaw and remembered how to breathe again, I was shocked at how much raw energy the music had: loud, fast, and very real.
Listen to the side-by-side tracks of a menacing, frenzied "Banned in D.C." and the chill "Jah Calling," and the power of the band's unique mix of speed and volume in league with/opposition to groove and soul becomes clear. Driven by Know's fast riffing, the brief, rumbling "Pay to Cum" is the Brains' best-known track; in comparison, the work of most white punk-rock bands of the era sounds weak and washed out. Clearly, anything recorded on cassette has audio problems—this is by no means an audiophile recording—but a 1990 LP reissue by Dutch East Trading Company and this 1996 ROIR CD have greatly eliminated the distortion and broadened the sound palette. At this writing, Dr. Know/Gary Miller was in the hospital, reportedly in grave condition from an unspecified disease. Hopefully, by the time you read this he will be well on his way to a full recovery.
Hank Mobley: Soul Station
Hank Mobley, tenor saxophone; Wynton Kelly, piano; Paul Chambers, bass; Art Blakey, drums
Blue Note ST-84031/AWMXR-0001 (XRCD). 1960/2009. Alfred Lion, orig. prod.; Rudy Van Gelder, orig. eng.; Joe Harley, reissue prod.; Alan Yoshida, reissue mastering; Robert Bantz, exec. prod. ADD. TT: 37:31
Rather than contemplate my exit from this mortal coil, and the marginally more cheerful subject of the records I'd take with me, I decided to choose for this, my 20th R2D4, at least one of the records that, over the past 12 months, I spent the most time with and that spoke to me most often. While this choice will be ridiculously obvious to jazz fans, Hank Mobley's Soul Station has called my name all year long. To fans of bebop, the tenor saxophone, and the original Blue Note Records, the album is one of the most familiar milestones in jazz. In all his recordings, the man had/has the proverbial "instantly recognizable" tone. The loose blues of the title track, one of four originals here, shows how enjoyable he could be in a fun, relaxed mode. And his smooth, assured take on Irving Berlin's "Remember" is perhaps the most representative cut of his entire oeuvre. Neither a restless seeker like Coltrane or Newk, nor a skronker like Ornette, nor a floater like Lester Young, Mobley had a tone and approach that occupied a very appealing middle ground in the history of that horn. Often underrated and overlooked because his records were accessible, Mobley lived at a time when groundbreaking tenor players abounded. But time has proven him to be his generation's quiet genius, with ideas that were fresh and inventive, and a tone that has become not only instantly recognizable but a classic of the bebop genre.
Like all sessions engineered by Rudy Van Gelder, this recording is full of detail and presence. In this age of Internet auctions, Mobley's original Blue Note recordings routinely command astronomical prices. I listened to a French Blue Note LP reissue (1984), a set of 45rpm LPs from Music Matters (2008), a 24-bit Super Analog XRCD from Audio Wave Music (2009), and a new, $19.95 vinyl reissue from Blue Note/Universal. I aspire to someday pull off a Lufthansa-level heist and spend all the loot on a mono pressing of this stone classic. (Vol.20 No.9, Vol.29 No.2, Vol.34 No.2)
---
Larry Birnbaum
---
Patato & Totico: Patato & Totico
Eugenio "Totico" Arango, vocals; Carlos "Patato" Valdéz, percussion; Arsenio Rodríguez, tres; Israel "Cachao" López, bass; Mario Mu§oz "Papaito" Salazar, Francisco "Panchín" Valdéz, percussion; Hector Cadavieco, Mario Cadavieco, Juan "Curba" Dreke, Virgilio Mart°, Tony Mayari, vocals
Verve 86244 (CD). 1968/2004. Teddy Reig, Pete Spargo, prods.; Val Valentin, eng. ADD? TT: 36:19
Unlike the pure vocal-and-percussion folk rumbas of resident Cuban troupes such as Los Muñequitos, these expatriate street rumbas are accompanied by the tres guitar of Arsenio Rodríguez and the bass of Israel "Cachao" López, two of Cuba's musical legends. Still, the album's main draw is the blazingly intense conga drumming of Patato Valdéz, along with the trenchant lead singing of Totico Arango. Among the highlights are a transformation into a rumba of Jorge Ben Jor's Brazilian samba "Mas Que Nada," and the irresistibly throbbing "En el Callejón," whose scattered pop-culture references include the chorus "Lleg¢ Superman, bailando rock'n'roll" (Superman came dancing rock'n'roll).
Muddy Waters: The Best of Muddy Waters
Chess/MCA CHD-31268 (CD). 1958/1987. Leonard Chess, prod.; Bill Putnam (?), eng. AAD? TT: 35:40
One of the first best-of albums by a blues artist, this one, despite many subsequent Waters collections, remains a landmark. Containing virtually all his early Chess hits, it captures Waters as he morphs the Delta blues of his native Mississippi into the electric blues of his adopted Chicago. Brilliantly assisted by harmonica ace Little Walter and others, Waters brings bottomless depth of feeling to material such as "Long Distance Call," "Louisiana Blues," and "Hoochie Coochie Man." But he's just as profound when accompanied only by his guitar and Big Crawford's bass in "I Can't Be Satisfied," his debut hit, and "Rollin' Stone," the song that gave that English rock band their name. (Vol.20 No.7)
---
Thomas Conrad
---
Chet Baker: The Touch of Your Lips
Chet Baker, trumpet, vocal; Doug Raney, guitar; Niels-Henning Ørsted Pedersen, bass
SteepleChase SCCD-31122 (CD). 1979/1986. Nils Winther, prod.; Freddy Hansson, eng. AAD? TT: 42:56
Chet Baker made lots of records. With his drug habit, he had no choice. From his vast, uneven discography comes this little-known album, a jewel in his tarnished, battered crown. (Had Baker really owned a crown, he would have pawned it.) It is a low-key session recorded in Copenhagen, doubtless with minimal preparation, in 1979. There are only two sidemen: Jimmy Raney's son on luminous guitar, and one of the great bass players in jazz history. In 1979, Baker still had the chops to support his existential knowledge of the darkness within the human soul. With his spare, rapt trumpet lines, he could touch feelings you never knew you had until he played them.
Stefano Bollani, Jesper Bodilsen, Morton Lund: Gleda
Stefano Bollani, piano; Jesper Bodilsen, bass; Morton Lund, drums
Stunt STUCD 05012 (CD). 2005. Jesper Bodilsen, prod.; Hans Nielsen, eng. DDD? TT: 57:05
The single best way to hear Stefano Bollani, one of the world's great piano players, is in what he calls his Danish trio. Gleda comes from 2004, only two years into their association. The program of traditional and popular songs from Scandinavia spans 100 years, and is rich in melodies only Scandinavians will have heard before. The songs were also new to Bollani of Italy, and the way he respectfully renders them, then expands and transforms and ascends from them, is extraordinary. They provoke him to ecstasy. Secure within one of the tightest piano trios on the planet, he takes audacious, brilliant liberties.