2015 Records to Die For Page 7
---
MARKUS SAUER
---
Vincent Segal: T-Bone Guarnerius
Vincent Segal, electric & acoustic cello; Magic Malik, flute, vocals; Glenn Ferris, trombone; Gilles Coronado, Seb Martel, guitar; Piers Faccini, guitar, vocals; Vic Mona, mandolin; Pascal Palisco, accordion; Mama Chandja, vocals
Label Bleu LBLC 6646 (CD). 2003. Pierre Walfisz, prod.; Philippe Teissier Du Cros, eng. ADD? TT: 66:06
Hot on the heels of my selection for R2D4 2014 of Chamber Music, his collaboration with Ballaké Sissoko, let me introduce you to another Vincent Segal album. T-Bone Guarnerius is a collection of solo and duo tracks that showcase Segal's extremely wide horizon, including a bare-bones reworking of the Rolling Stones' "Under My Thumb," two tracks with American trombonist Glenn Ferris, and collaborations with Afro-French musician Mama Chandja. One critic labeled the album "transcultural zapping," and yes, you get a series of glimpses into different musical universes, but zapping may imply a certain superficiality or arbitrariness, and there's none of that. Each track stands up to scrutiny, and all are informed by Segal's sheer genius; I mean, what other musician would even dare to make an interesting piece of music out of the most irritating sound known to mankind: the bleeps of a pocket alarm (in "Mercurial Gramofon," partly recorded on the Paris Périphérique at 4am)? Every time I listen to this album, I find new beauty in it.
The tracks were recorded on a portable Nagra at various inspirational places in France, including a very small chapel on St. Michel Island, the woods of St. Germain, a flat in Marseille, and the courtyard of Segal's Paris home. The sound is honest, with a no-nonsense simplicity that I find very appealing.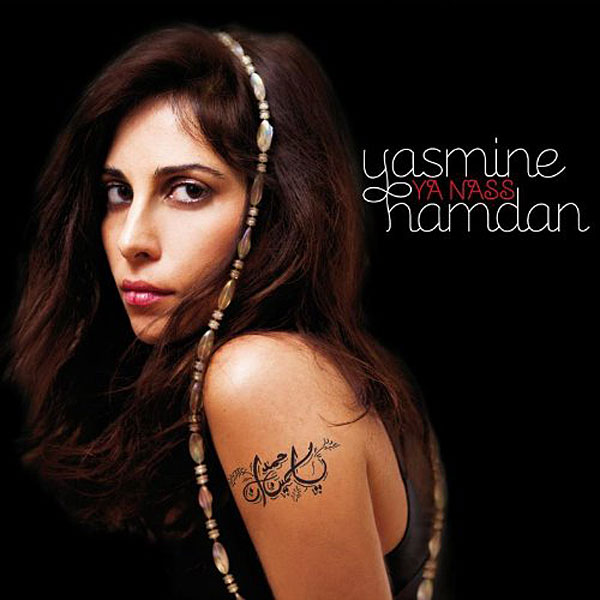 Yasmine Hamdan: Ya Nass
Crammed Discs Cram 210 (CD, 2013). Marc Collin, prod., eng.; Yasmine Hamdan, eng. DDD? TT: 62:59
My second selection comes from another Paris-based artist, Lebanon-born singer Yasmine Hamdan. After founding Soapkills, the only electro-pop duo in the Arab world, she ended up in France, where she eventually teamed up with Marc Collin, of Nouvelle Vague fame, who produced and co-wrote much of this album.
Ya Nass is a rewarding mixture of cultures that marries Arabic elements—though fluent in English and French, Hamdan sings entirely in various Arabic dialects, and takes some melodies from such classic Arabic singers as Oum Khaltoum—to Western song structures, rhythms, and instrumentation (including a host of old analog synths from Collin's collection, such as a Roland Jupiter 8 and a Chroma Polaris). This is very much music for grown-ups: reflective, seductive, generally mid-tempo or slower, and dominated by Hamdan's fairly deep, hugely expressive voice. Wonderful.
---
JASON VICTOR SERINUS
---
Joyce DiDonato: Stella di Napoli
Joyce DiDonato, mezzo-soprano; Orchestra & Chorus of the National Opera of Lyon, Riccardo Minasi
Erato 463656 2 (CD). 2014. Alain Lanceron, Daniel Zalay, prods.; Hugues Deschaux, eng. DDD. TT: 72:15
Corn-fed in Kansas and impeccably schooled in bel canto technique, mezzo Joyce DiDonato was at her absolute peak when, in October 2013, she recorded this recital of 10 operatic arias from early 19th-century Naples. While some of the music is of top quality—prime examples are "Io vi rivedo alfin," from Donizetti's Maria Stuarda, and "Tu sola, o mia Giulietta," from Bellini's I Capuleti e i Montecchi—some lesser-known works are best received as high camp. These include the premiere recording of "Lasciami . . . ad ogni sguardo," from Carlo Valentini's Il sonnambulo, whose melody and lyrics seem worlds apart—and even "Par che me dica ancora," from Donizetti's Elisabetta al castello di Kenilworth, whose wild, keyboard-played glass harmonica and joyful melody seem distinctly out of sync with the drama's suffering. What matter most, however, are DiDonato's beauty of voice, sincerity of approach, and melding of astounding coloratura technique with a plethora of nuance that gifts every track with consummate artistry. Other artists may be capable of greater emotional range or have a more distinctive sound, but when all is said and sung, DiDonato's phenomenal gifts (enjoyable in hi-rez from HDtracks) are to die for. When she gets going in "Riedi al soglio," from Rossini's Zelmira, prepare to capitulate.
The Portland State Chamber Choir: Into Unknown Worlds
Ethan Sperry, dir.; Erick Lichte, asst dir.
CD Baby 888295153546 (CD). 2014. Erick Lichte, prod.; John Atkinson, eng. DDD. TT: 46:43
This marvelously recorded compendium of "modern choral music from the far reaches of the globe" rises to the top thanks to the quality of its music and singing and to its captivating sense of space. Perhaps taking their cue from the album's title's implied "to boldly go where no man has gone before," Stereophile's John Atkinson (engineer) and Erick Lichte (producer) exploited the reverberant acoustic of Portland, Oregon's St. Stephen's Catholic Church to frame the Portland State Chamber Choir in wondrous warmth and light. While all will have their favorite selections—JA is especially captivated by the surprisingly modern harmonies of Purcell's 400-year-old "Hear my Prayer, O Lord"—I keep returning to the music from Eriks Esenvalds, Latvia's answer to Eric Whitacre and Morten Lauridsen. To balance the choir with the radiant sound of the glockenspiel that emerges near the end of Esenvalds's Northern Lights, JA positioned the instrument at the very rear of the church. The results are magical.
I'm equally entranced by the sweet innocence of the young soprano soloist in "Amazing Grace," whose voice helps soothe the pain of words intended to save a wretch like me or you. Although the choir's execution of Sperry's arrangement of the Indian raga Desh suggests that none of these singers has ever heard someone speak with an Indian accent, the music's upbeat rhythms and energetic outbursts make a fitting conclusion to a wonderful musical journey. I've been spoiled by JA's superb 24/88.2k master mixes, which he occasionally plays at audio shows; here's hoping that he and EL can find a way to make them available for all to enjoy.
---
DAVID SOKOL
---
Bill Lloyd: Reset 2014
Whole in One (CD). 2014. Bill Lloyd, prod., eng.; Jonathan Bright, Doug Kahan, Jim DeMain, engs. DDD? TT: 59:39
It's not easy to improve on perfection, and that was never the intention. But Bill Lloyd's idea of marking the 20th anniversary of his Set to Pop—perhaps the greatest power-pop album of all time—with a new companion album of its songs, including remakes, live recordings, and early mixes, was most inspired. Presented in their original running order with a couple bonus songs thrown in, song after song on Reset 2014 rings out with fresh energy, like seeing dear old friends with new sparkle in their eyes. STP is so good because every one of its songs is lyrically keen, well crafted, and damn catchy. While the newly minted remake of "I Went Electric" rocks more than the original, "The Man Who Knew Too Much" takes on a softer tone, with piano and jangly mandolin. A live version of the tourist-trap misadventure "Niagara Falls," with its wink at Moe, Larry, and Curly, is grungier and even funnier than the original, while "Anything Less Than Love," one of rock's best album-closers and a wonderful ode to optimism, feels a bit more Beatles-esque in this early mix. Another gem is a live version of "The S.W.A.T. Team of Love," recorded in 1994 at the Ace of Clubs, in Nashville, with Al Kooper on organ and Kim Richey on harmony vocal. As with that joyful reunion with old friends, you just don't want Reset 2014 to end. (For more info, and to get a taste of Reset 2014, visit billlloydmusic.net.)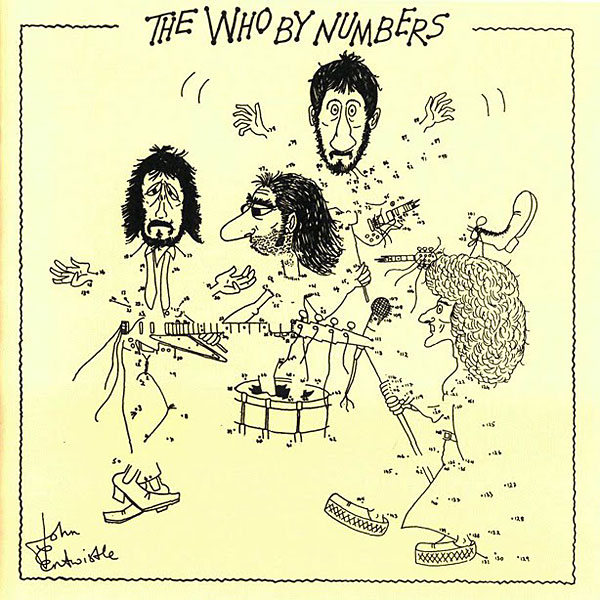 The Who: By Numbers
MCA MCAD-11493 (CD). 1975/1996. Glyn Johns, orig. prod.; Jon Astley, Andy Macpherson, reissue prods., remix. AAD? TT: 49:51
Released in October 1975, By Numbers was the Who's first studio release following the ultra-ambitious Quadrophenia of two years earlier, and their last before Keith Moon's death. Kind of the Led Zeppelin III of Who albums, it's one of their most understated and underappreciated—and one of their best. Pete Townshend was in an introspective mindset at the time, and while he could lighten things up with ear candy like "Squeeze Box," for most of the rest of this album he went deep. He examines companionship in the chilling "How Many Friends," in which singer Roger Daltrey asks, "How many friends have I really got?" and quickly answers himself: "You can count 'em on one hand." And in the gorgeous "Blue, Red and Grey," Townshend, who sings this song and accompanies himself on ukulele, takes a deep breath and exults in the oft-overlooked beauty that is everywhere, concluding, "I like every minute of the day." The band, especially Moon, sounds superb throughout, abetted on four tracks by the great Nicky Hopkins on piano, who helps accentuate the songs' gentler sides. Bassist and cover artist John Entwistle's "Success Story" is a gem, a prescient three-minute glimpse into the fickle, fleeting realities of rock stardom. The three live bonus tracks are fierce, and include Moon's loopy introduction to "Squeeze Box." Making this stellar CD reissue even better is a fascinating contextual essay by omnipresent journalist John Swenson. And if you're in the market for a Memoir to Die For, check out Townshend's Who I Am. Like much of the Who's best work, it's probing and intensely honest.
---
JOHN SWENSON
---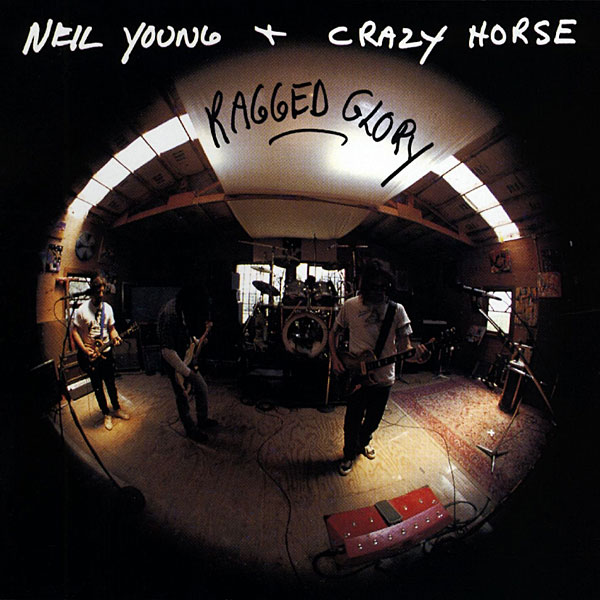 Neil Young and Crazy Horse: Ragged Glory
Reprise 26315-2 (CD). 1990. Neil Young, David Briggs, prods.; John Hanlon, eng.; Tim Mulligan, digital eng. DDD. TT: 62:42
It took a lifetime to make this the unlikely choice for my favorite Neil Young album, but if I had to choose only one to take with me to that desert island, it would be this grunge-era masterpiece of rustic metal music. Crazy Horse was locked in behind Young's guitar eruptions and emotive singing throughout these 10 songs, and Young was dealing characteristic observations about skewed life on planet Earth, from the anthemic cry "F*!#in' Up" to the utopian fantasy of "Mansion on the Hill," the raging intensity of "Love to Burn," and the pastoral hymn "Mother Earth." Neil himself showed his preference for this set by including so many of these songs in the set lists for what was probably his final tour with Crazy Horse, two years ago. (XIV-2, XVII-2, XXXII-2)
Davis Rogan: The Once and Future DJ
Sousaphonk 004 (CD). 2005. Tim Stambaugh, prod.; Bruce Bennet, eng. DDD? TT: 73:26
This album is Davis Rogan's answer to a loaded question asked by editors of Louisiana's OffBeat magazine in the early '00s: "Is New Orleans R&B Dead?" The answer is a resounding NO (as in New Orleans). Though he's a pasty-complexioned Irishman, Rogan channels such potentates of New Orleans R&B as Allen Toussaint, Ernie K-Doe, Fats Domino, and Professor Longhair in this all-original set of contemporary R&B classics. The songs are so good that, after listening to the album, TV producer David Simon tracked Davis down to rural France, where his Katrina evacuation tour had taken him, and hired him as a consultant for Treme, Simon's HBO series set in New Orleans. Simon went on to make a character based on Davis one of the central figures in the drama. Songs from this album, including "Hurricane," "I Quit," and "Godzilla vs. MLK," figure prominently in the Treme storyline.