2015 Records to Die For Page 3
---
BRIAN DAMKROGER
---
The Smithereens: Especially for You
Enigma ST-73208 (LP). 1986. Don Dixon, prod.; James A. Ball, Gray Russell, Carol Cafiero, Paul Special, Frank Pekoc, engs. AAA. TT: 44:14
Especially for You isn't just a great and great-sounding rock album, it might just be the rock album. "Blood and Roses" got all the attention, and yes, it truly does reach in and grab your soul. But the real stunners are the two cuts that precede it, "In a Lonely Place" and "Behind the Wall of Sleep." Suzanne Vega's background vocal in the former is spectacular, and gorgeously showcased by the production. And "Wall of Sleep" is pure adrenaline. The opening riff is like a '70 Hemi 'Cuda dumping the clutch at 5000rpm—the tires light up and time stops for a split-second, but before you can take a breath, they grab, and you'd better hang on: it's going to be a wild ride.
The Marshall Tucker Band: Carolina Dreams
Capricorn CPN-0180 (LP). 1977. Paul Hornsby, prod.; Kurt Kinzel, engs. AAA. TT: 37:18
You know those songs that get stuck in your head, and run over and over in an endless loop? For most people, they're usually something like a jingle about laundry detergent that they want to get rid of before they go insane. Maybe it's because I'm already pretty much insane, but my earworms aren't unwanted intruders; they're like old friends dropping in, and remind me how much I like and have missed them. Carolina Dreams is kind of . . . well, let's just say "uneven"—but "Heard It in a Love Song" may be my favorite earworm, and the one that visits most often. I'm picking Carolina Dreams as an R2D4 because of one song? Absolutely.
---
ROBERT DEUTSCH
---
Johann Strauss Jr.: Die Fledermaus: Gala Performance
Waldemar Kmentt, Hilde Gueden, Erika Köth, Walter Berry, Eberhard Wächter, Giuseppe Zampieri, Regina Resnik; Vienna Philharmonic, Vienna State Opera Chorus; Herbert von Karajan
London 421 046-2 (2 CDs). 1960/1987. John Culshaw, Christopher Raeburn, prods.; Gordon Parry, James Brown, engs. ADD. TT: 2:29:09
Why, you may ask, having in 1991 already designated as an R2D4 a recording of Die Fledermaus, would I bestow the same honor on another recording of it?
The answer is simple: Each is a great recording, and, for an operetta fan like me, both are indispensable. Here is the lush sound of the Vienna Philharmonic, conducted by von Karajan, and a cast that's as strong as the one led by Willi Boskovsky (Angel). But what distinguishes the present recording is the so-called Gala sequence. Decca/London assembled the greatest stars of their opera recordings—Tebaldi, Nilsson, del Monaco, Berganza, Sutherland, Björling—and gave them a chance to sing their party pieces. You ain't heard nothin' till you've heard Birgit Nilsson sing "I Could Have Danced All Night."
Simon and Garfunkel: Bridge Over Troubled Water
Columbia CK 9914 (CD). 1970/1990. Paul Simon, Arthur Garfunkel, prods.; Roy Halee, prod., eng.; Ted Brosnan, eng. ADD. TT: 37:13
A classic, for sure. Wikipedia describes this recording as folk/rock, and although I'm not a particular fan of folk or rock, I absolutely love Bridge Over Troubled Water—the song and the album. Most albums include tracks that make me reach for the remote and press Next. Bridge Over Troubled Water doesn't. Each song has an effective melodic hook and something interesting to say. Other than the title track, my favorite is "The Only Living Boy in New York," which also happens to sound fabulous, and shows improvements with the latest generation of digital playback.
---
ART DUDLEY
---
Mal Waldron: The Quest
Mal Waldron, piano; Eric Dolphy, alto saxophone, clarinet; Booker Ervin, tenor saxophone; Ron Carter, cello; Joe Benjamin, bass; Charles Persip, drums
New Jazz NJ-8269 (LP). 1961. Esmond Edwards, prod.; Rudy Van Gelder, eng. AAA. TT: 42:17
An early-1970s LP reissue of The Quest is labeled as an Eric Dolphy album—an understandable mistake, since it's Dolphy's adventurous alto-sax work that first grabs the listener's attention. Also in the front line are Mingus alum Booker Ervin on tenor sax and the great Ron Carter, appearing here not as a bassist but as a soloist on cello (bowed and plucked). Waldron, whose piano is somewhat quieter in the mix than one would expect, almost seems to be in a supporting role—yet his exquisitely crafted, consistently understated solos stay with the listener. Waldron composed all of the music, the highlight of which is "Warm Canto," a plaintive yet oddly sunny melody that sounds resolutely French.
As I write this, Ron Carter and drummer Charles Persip are still very much with us. So, too, is The Quest's recording engineer, the legendary Rudy Van Gelder—but while the recording quality is good enough, those looking for one of Van Gelder's typically vivid, colorful-sounding sessions won't find it here. The sound of the eminently findable Original Jazz Classics LP reissue (OJC-082) is more than acceptable. (XXXVI-2)
Eric Weissberg & Marshall Brickman: New Dimensions in Banjo and Bluegrass
Eric Weissberg, banjo, mandolin; Marshall Brickman, banjo, guitar; Clarence White, guitar; Gordon Terry, fiddle; Jimmy Bond, bass
Elektra EKL 238 (mono LP). 1963. Jac Holzman, exec. prod.; Dino Lappas, eng. AAA. TT: 33:50
Shortly before the musicians of the so-called British Invasion began teaching Americans a thing or two about rock'n'roll, a similar movement took place in folk clubs and coffeehouses throughout the Northeast: Kids from New York and Massachusetts and Maine and New Jersey started playing bluegrass. Some of them—people like Bill Keith, Peter Rowan, Tony Trischka, Russ Barenberg, Clarence White, Roland White, Pete Wernick, and David Grisman—brought to the music so much talent, and so deep an affinity for the stylings of Bill Monroe, Earl Scruggs, and other rural Southerners, that these Yankees soon put their own stamp on an entire genre.
Another such artist is Eric Weissberg, the dazzling banjoist behind the Deliverance soundtrack, who first made his mark in this collaboration with the multi-instrumentalist (and, later, Annie Hall and Manhattan screenwriter) Marshall Brickman. More than just another Scruggs imitator, Weissberg was noted for exploring, in his own way, the melodicism pioneered by Bill Keith. This LP, which can be found in stereo or mono—the former is fine, but the latter kicks its ass—also features on guitar the late Clarence White, who had yet to record under his own name, yet whose groundbreaking syncopated style was already in place.
---
MICHAEL FREMER
---
The Beatles: The Beatles in Mono
Apple 6337971 (14 180gm LPs). 1963–1968/2014. George Martin, orig. prod.; Norman Smith, Geoff Emerick, Ken Scott, others, engs; Sean Magee, Steve Berkowitz, mastering. AAA. TT: 7:36:22
That in 2014 a major entertainment conglomerate released an all-analog, superbly packaged set of 14 LPs is, by any definition, miraculous—almost as miraculous as what the Beatles accomplished musically in seven years (compare with 2007–2014).
Meticulously mastered from the original master tapes by Sean Magee and Steve Berkowitz (tape copies were used for first LP and Mono Masters 2-LP compilation), and well pressed by Optimal, in Germany, the discs in this set are arguably the best-sounding mono Beatles albums ever released—and that includes the original pressings, which were bass-shy in order to be playable on that era's kiddie phonographs. At $328 including a hardcover book, it's a bargain that won't be around forever.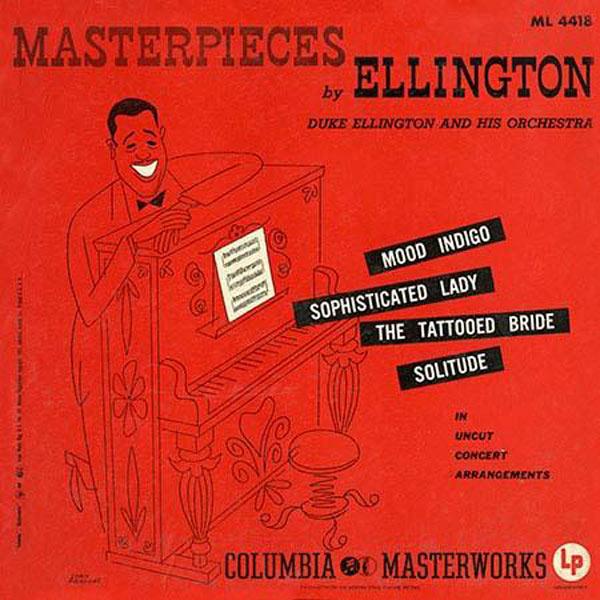 Duke Ellington and His Orchestra: Masterpieces by Ellington
Duke Ellington, piano; and big band
Columbia Masterworks/Analogue Productions ML 4418 (180gm mono LP). 1950/2014. George Avakian, prod.; Fred Plaut, eng.; Ryan Smith, remastering. AAA. TT: 46:59
Among the first recordings arranged and produced to take advantage of the LP's longer playing time, this album was released in 1950 on Columbia Records' classical imprint, Masterworks, with a whimsical cover by Stan Fraydas (author of Hoppy, the Curious Kangaroo) that's reproduced for this edition. (Columbia soon replaced it with an image more "modern" and more mundane.)
Freed from the 78rpm single's three-minute constraint, Ellington could score and record concert-length arrangements similar to those enjoyed by his concert audiences. Three of the four selections, including "Mood Indigo" and "Sophisticated Lady," are familiar Ellington classics stretched and elasticized to luxurious effect. The harmonically saturated, transparent mono sound is astonishing for any era of recording. It's sure to leave you swooning, and wondering how and why recorded sound has since gone so far south. (XXVII-9, XXXV-2)
---
LARRY GREENHILL
---
Beethoven: Symphony 9
June Anderson, soprano; Sara Walker, mezzo-soprano; Klaus König, tenor; Jan-Hendrick Rootering, bass; Children's Chorus of the Dresden Philharmonic; Bavarian Radio Symphony & Chorus, London Symphony Orchestra, New York Philharmonic, Orchestra of Paris, Staatskapelle Dresden; Leonard Bernstein
Deutsche Grammophon 429861-2 (CD). 1990. DDD. TT: 74:03
This year marks the 25th anniversary of the fall of the Berlin Wall. Germans began passing back and forth between East and West Berlin on November 9, 1989, at the Bornholmer Strasse crossing. In the following days, jubilant Berliners began to dismantle the wall and celebrate their new freedom. The historic liberation of Germany attracted musicians to commemorate the event. On Christmas Day, 1989, an ailing Leonard Bernstein conducted a gala performance of Beethoven's Symphony 9 in the Schausspielhaus of East Berlin, as played by five prominent multinational orchestras—the Bavarian Radio Orchestra, the Kirov Opera Orchestra, the New York Philharmonic, the London Symphony Orchestra, and the Orchestra of Paris—and choirs and soloists from East and West. In the final, choral movement, Bernstein replaced the word Freude (joy) with Freiheit (freedom). Although Bernstein's tempos are slower than in other Ninths I've heard, the emotion and sense of occasion of this recording are tremendously moving. The separation of instruments, the passion of the soloists and choirs, and the spaciousness of the soundstage make this recording my favorite Ninth, for its choral qualities. Perhaps my infatuation comes from the concert's historical significance, but I don't care. An album to die for.
Coldplay: Parachutes
Parlophone 5 40504 2 (CD). 2000. Ken Nelson, prod., eng.; Mark & Ken Phythian, engs.; Andrea Wright, Jim Coles, Paul Read, Simon Biernicott, Jon Bailey, Ben Thackeray, Jon Withnal, asst. engs. AAD? TT: 54:14
This album hooked me when, listening to Sirius XM, I heard "Yellow," remixed by Alpha for Coldplay's EP Mince Spies (2001). I couldn't get frontman Chris Martin's plaintive, haunting voice out of my head. I preferred the original version from Coldplay's first album, Parachutes. "Yellow"'s simple but intensely romantic lyrics, its intoxicatingly slow and dark atmosphere, and Martin's plaintive falsetto totally captivated me. Mackenzie Wilson of Rolling Stone aptly describes how the band's "gauzy acoustics and airy percussion" create "dream pop landscapes," as heard in "High Speed" and "Shivers." The guitar chords and large soundstage of "Spies" create a sad, eerie, chilling feeling I can't shake off. This album's a keeper.