2015 Records to Die For Page 5
---
RICHARD LEHNERT
---
Molly Drake: Molly Drake
Squirrel Thing ST-4 (mono CD). 2012. Recorded by Rodney Drake; John Wood, Cally, prods.; Simon Heyworth, mastering. A–D. TT: 37:31
In my small town is a shop, less an antique shop than a compendium of ephemera—things not valued in their own time, or ever intended to be kept or cherished. The shopkeeper sometimes binds together similar items—postcards, concert programs, tickets—in small albums of plastic sleeves. I once opened one of these tiny volumes to find a series of strips of thin, colored pasteboard, each the size and shape of a small bookmark, some edged with an embossed floral pattern. On each was a column of horizontal lines, on some of which were written masculine names: a first name followed by an initial. It was a collection of the dance cards of one young girl's débutante season, from a century ago. Some cards were full; others bore only a few names. I wondered who this girl had been. What had those evenings been like? Had she married one of these boys? How long she had lived? Who had she become?
My fingers began to shake. I closed the album carefully, as if it were made of moths' wings. I felt I had violated a privacy, seen something I had no right to see. I was tempted to buy the thing, if only to take it home and burn it, bury it—let this poor dead girl and her lost world rest in peace. Instead, I replaced it on a table full of such revenants.
This collection of the songs of Molly Drake (1915–1993) evokes that sense of intimacies almost too fragile and tender to survive their revelation. A member of the upper class and a daughter of the British Raj, Mary (Molly) Lloyd was born in Burma, where she returned after schooling in England. She married Rodney Drake in Rangoon, and they resettled in England, for good, in 1952. Molly wrote these 19 songs in the 1940s and '50s, and these performances of her singing them and playing piano were recorded in the '50s by Rodney in their living room, first on lacquers and then on a primitive tape recorder. She never performed them in public. The sound quality is poor, if sometimes surprisingly good for their age and source. It's amazing they exist at all.
The songs themselves are mood pieces, sometimes of surprisingly unpredictable structure, by a woman with a fine-tuned sensibility and, apparently, a rich inner life. The musical language is that of songs of the 1930s and early '40s mixed with Edwardian parlor pastorales, hints of Scots folk songs, Anglican hymns, tiny drops of tango, and the blues as filtered through Noâl Coward. Some, mere fragments, break off in mid-verse; others ("Love Isn't a Right") are naãvely earnest, artless in the best sense. Many speak of or hint at darker experience, of bright hopes dimmed by disappointment and grief, of the futility of trying to hold on to happiness ("Happiness"). The words may be upbeat or wondering, or put a brave face on small things that loom large in the heart—as in "I Remember," about how even the most precious memories, treasured because shared with a loved one, can turn out not to be shared at all: "Now we can be grateful / for the gifts of memories / for I remember having fun / two happy hearts that beat as one / when I had thought that we were one / but we were you and me."
Listening through the hiss and crackle, it is the sadness and deep loneliness in Drake's voice that I find almost unbearable. Even "Breakfast at Bradenham Woods," on the face of it a glowing recollection of a happy outing, becomes an elegy for the last good time enjoyed by someone who can now expect no more, someone who knows she "could never go back without breaking the spell." The songs are almost whispered, as if sung to herself. Drake may sound over-elocuted, even prim, to a modern ear, but she would not have sounded so to her own era and class. Professional singers work all their lives to sing so expressively with so little apparent effort. The intimacies revealed are not shocking or surprising; what makes them powerful is how deeply and unaffectedly felt they were by the woman who wrote and sang them, who seems never to have been interested in having anyone else hear them. Each time I hear these songs, I am not sure I should have, and am so glad I have.
In 1974, a more lasting sadness came for Molly Drake, when her only son killed himself. That son was Nick Drake, of whose music I have yet to hear a single note. Whether that has best or worst prepared me to write this, only Nick and Molly will ever know—but I thought at least one appreciation of this woman and her songs might be written by someone whose hearing of the mother is neither expanded nor shrunk by having heard the son.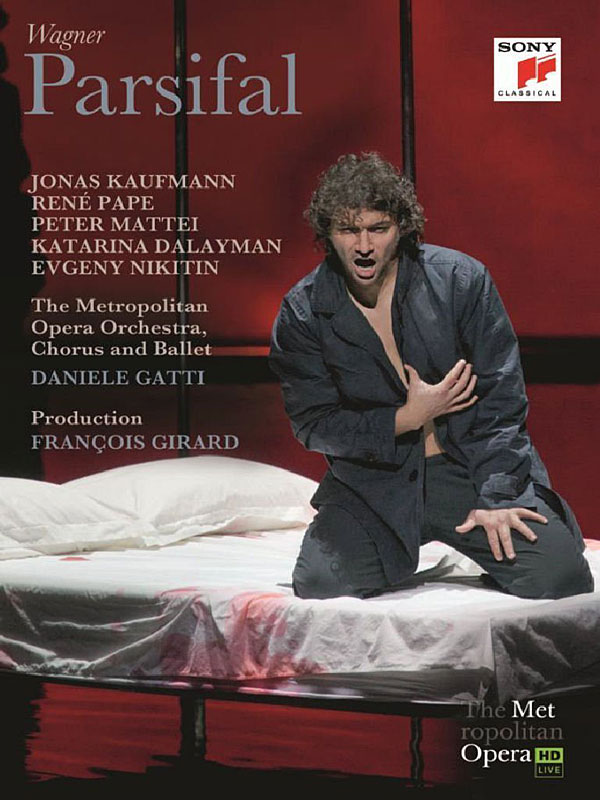 Wagner: Parsifal
Jonas Kaufmann, Parsifal; Katarina Dalayman, Kundry; Peter Mattei, Amfortas; René Pape, Gurnemanz; Evgeny Nikitin, Klingsor; Metropolitan Opera Orchestra & Chorus, Daniele Gatti
Sony Classical 88883725589 (2 DVDs: LPCM 2.0, Dolby Digital 5.1 Surround). 2013/2014. Jay David Saks, Louisa Briccetti, Victoria Warivonchik, prods. DDD. TT: 4:20:42
Productions of Richard Wagner's barely stageable final work, Parsifal, seem to take one of two equally unsatisfactory paths: to follow Wagner's stage directions as literally as possible in telling a medieval, incense-infused romance of the Grail; or to ignore those directions to pursue other ends, sociopolitical or intellectual, in pointed opposition to such interpretations. But for this Metropolitan Opera production of 2013, producer François Girard found a direct way in to what seems to me to be the heart and soul of a deeply spiritual work usually mistaken for a religious one. Michael Levine's set design has been called "post-apocalyptic"; if so, it is an outer manifestation of the inner ruin created when any psyche is set at war with itself: the soul tyrannized by the ego, the masculine and feminine principles present in all of us fighting a war each can only lose—apocalypse enough for anyone. As such, it is the story of Everyman and Everywoman, in a mystery play for the 12th, the 19th, or the 21st century, in which each character and object and place, theme and chord and word, is an aspect of a single soul—Parsifal's or Wagner's, yours or mine. Parsifal is Jung before Jung: a variant of the one great human story. That understanding of the work seems to have been where Girard began, and this is the best production of any opera by any composer I have ever seen.
Sometimes, everything comes together. This Parsifal is sung by perhaps the finest cast ever assembled. Jonas Kaufmann, our reigning heldentenor, powerfully and committedly acts and voices Parsifal, a character confused, perplexed, almost entirely ignorant of himself. Kaufmann's dark-toned voice never falters, and neither does that of René Pape, whose Gurnemanz is one for the ages: troubled, rock solid, precisely intelligent, deeply compassionate. Katarina Dalayman's Kundry is a brave performance by a fine, intelligent singer with a warm, expressive voice. Most moving—agonizing, really—is Peter Mattei as the Grail King, Amfortas, who suffers a mortal wound that will not grant his deepest desire, for death. The opera is as much his story as Parsifal's, and never more than in this staging. The role has never been sung this well. Carolyn Choa has given the Met chorus incisive, dramatically pointed choreography that singers can actually dance, especially in the astonishing Flower Maidens scenes of Act II.
The conducting of Daniele Gatti often seems not like conducting at all; the music is simply presented, as if emerging from a place where it has always been and is always going on. Of course, Gatti has "interpreted" the score, but the result—by turns glowing, stately, overpowering, bleak, loving, impersonal, light, dark, diaphanous, thick, transparent, delicate—sounds inevitable. Which is how the best interpretations of the greatest music always sound. And the sound is gorgeous. I have several other recordings of Parsifal that I sometimes think I prefer—but never when listening to this one.
---
ROBERT LEVINE
---
Britten: Peter Grimes
Jon Vickers, Peter Grimes; Heather Harper, Ellen Orford; Jonathan Summers, Captain Balstrode; Patricia Payne, Mrs. Sedley; others; Royal Opera House Chorus & Orchestra, Sir Colin Davis
Philips 462 847 (2 CDs). 1978. No prod., eng. credit. ADD. TT: 2:26:18
A great performance of a great opera. When Peter Grimes premiered in 1945, it was arguably the first great English opera since Purcell's Dido and Aeneas. Peter Pears sang Grimes in the premiere and owned the role for many years thereafter. Then came Wagnerian tenor Jon Vickers with a new take: His Grimes was no longer merely a misfit/dreamer (the homosexual undertone so important to Pears and Britten was of little interest to Vickers), but angry, brutal, and eventually unhinged, invariably attempting to keep his rage in check. His performance is almost visual, his mad scene both terrifying and pathetic. Heather Harper sings Ellen Orford with beauty of tone, and a strong will not quite strong enough for Grimes's madness. Jonathan Summers's Balstrode is both tough and understanding. Sir Colin Davis's leadership can be amazingly tender and nuanced, but he contrasts those traits with the unforgivable nastiness and cruelty of the chorus of villagers. The Sea Interludes have rarely been better played. A huge and terrifying performance, superbly recorded.
Pärt: Für Anna Maria: Complete Piano Music
Jeroen van Veen, Sandra van Veen, pianos
Brilliant Classics 94775 (2 CDs). Jeroen van Veen, prod.; Pianomania, eng. DDD. TT: 1:59:22
This exquisite, gentle two hours of music hit me like a ton of bricks. Wrong image, perhaps, but this set of Arvo Pärt's piano music—some from his pre-tintinnabular days (the 1950s), most from after he became the "holy minimalist" we now know—are, quite simply, to die for. The early works—four easy pieces for children's dance theater, and two sonatinas and a partita that are more "modern" and challengingly busy—are fascinating in and of themselves. But most of these two CDs are taken up with Pärt's later music: quiet, almost hypnotically repetitive, and boring only if you're not listening. If you don't know what to expect, think Satie's Gymnopédies but with depth and subtext: not exercises, but experiences. Jeroen van Veen plays four versions of Für Alina, two short and two long—while sticking to the two-page score, he plays the notes in different registers of the piano. A two-piano arrangement of Pärt's most famous work, Fratres (it exists in at least a dozen arrangements), is deep, dark, and meditative. A little waltz is adorable. The tiny Für Anna Maria is played twice, one performance slightly faster than the other. In a world going by all too quickly, Pärt makes us slow down. This set is for listening, contemplating, adoring—you'll want to ingest it.
---
JOHN MARKS
---
L'Oiseau-Lyre Records: The Baroque Era
Music from Monteverdi (1641) to C.P.E. Bach (1773)
Catherine Bott, Libby Crabtree, Michael George, Christopher Hogwood, Emma Kirkby, Philip Pickett, Joshua Rifkin, Christophe Rousset, many others; Academy of Ancient Music, New London Consort Orchestra, Westminster Abbey School Choristers Choir, others
L'Oiseau-Lyre/Decca 002072902 (50 CDs). 1973–2009. Various orig. prods, engs. ADD/DDD. TT: 48:07:59
I recommended this set in the Holiday Gift Guide included in my December 2014 column. Between the writing of that column and its appearance in print, Christopher Hogwood died. That more than half of these 50 CDs feature him makes this set an even more compelling release.
There are contrasts between this set and one of my R2D4s of last year, DG's Arkiv Produktion 1947–2012 (55 CDs). At the risk of overemphasizing subtleties, I'm tempted to say that the Arkiv set is a bit more musicologically oriented, while the L'Oiseau-Lyre box tends slightly more toward entertainment. DG's sound is a little crisper, Decca's a bit warmer. If you liked that one, you should love this one. At about $150, a genuine bargain. (XXXVII-12)
David Leisner: Favorites
Music of J.S. Bach, Britten, Ivanov-Kramskoi, Leisner, Paganini
David Leisner, guitar
Azica ACD-71268 (CD). 2011. David Leisner, Alan Bise, prods.; Bruce Egre, eng. DDD. TT: 66:32
I fear that the title Favorites fails to do justice to the gravitas of this rather astonishing solo-guitar recital. However, that might be because I've seen too many albums of violin encores whose titles include "Favorites." In that context, the word is almost certain to guarantee "thoroughly innocuous Kreislerian exercises in charm-laden circularity."
The two granitic foundation stones of this CD are Britten's dark, mysterious Nocturnal and, in Leisner's own guitaristic and respectful transcription, the somber and multifaceted Ciaccone of J.S. Bach's Sonata 3 for Unaccompanied Violin. Piped-in classical-guitar music at your local brass-rail-and-fern bar these are not. A weighty and entirely musical CD. Miss it at your peril.