2015 Records to Die For Page 2
---
DAVID R. ADLER
---
Reid Anderson: The Vastness of Space
Reid Anderson, bass; Andrew D'Angelo, alto saxophone; Bill McHenry, tenor saxophone; Ben Monder, guitar; Marlon Browden, drums
Fresh Sound New Talent FSNT 096 (CD). 2000. Reid Anderson, prod.; James Farber, eng. DDD? TT: 64:35
Before he rose to jazz renown as bassist of the Bad Plus, Reid Anderson put out two keeper Fresh Sound albums and then this, a quintet session that should rank as a classic of turn-of-the-millennium New York jazz. Two tracks, "Prehensile Dream" and "Silence Is the Question," became Bad Plus numbers. Others—"Foxy," "The Enthusiast," "The Owl"—are rock-inflected anthems with a direct and inescapable lyricism, but also an element of raw free jazz. Anderson wrote in his liner note: "I find that having a tune called 'Foxy' is good for the image of this band." Too bad this band has been forgotten.
David Kikoski: Dave Kikoski
David Kikoski, piano; Essiet Essiet, bass; Al Foster, drums
Sony Epicure EK 64441 (CD). 1994. David Kikoski, Michael Caplan, prods.; Jim Anderson, eng. DDD? TT: 60:19
David Kikoski, piano demon and former Roy Haynes sideman, had a one-album fling with a major label while in his early 30s. The translucent light-green tint of the jewel case, the abstract graphic design, the crude handwriting of the booklet: all seemed to promise that the music would stand apart as well. It does. Playing mostly originals, as well as a heart-stopping "Giant Steps" and a poetic "Long Ago (And Far Away)," Kikoski soars to the skies, his inconceivable chops never obscuring his melodic subtlety. Al Foster swings like mad while supplying a funky lilt in "E," "B-flat Tune," and "The Shadow." (XVIII-2)
---
JOHN ATKINSON
---
Antônio Meneses & Maria-João Pires: The Wigmore Hall Recital
Schubert: Arpeggione Sonata, D.821. Brahms: 3 Intermezzi, Op.117; Cello Sonata 1, Op.38. Mendelssohn: Song Without Words, Op.109. J.S. Bach: Aria from Pastorale in F, BWV590.
Antônio Meneses, cello; Maria-João Pires, piano
Deutsche Grammophon 4790965 (CD). 2013. Matthias Spindler, exec. prod.; Renaud Loranger, prod.; John Fraser, recording prod.; Daniel Kemper, Andrew Mellor, engs. DDD. TT: 76:36
It has been more than 25 years since I last heard a performance in London's Wigmore Hall, but this recital, recorded in concert there and recommended by Sam Tellig, transported me back to one of my favorite venues for listening to chamber music when I lived in the UK. Sam described the Schubert "as one of the finest performances ever released of the Sonata for Arpeggione," and yes, it is. Antônio Meneses, cellist with the Beaux Arts Trio from 1998 to 2008, rejoices in the melodic richness of Schubert's writing for the arpeggione, a fretted, six-string instrument similar to a viola da gamba but tuned like a guitar that was briefly in vogue in the early 19th century. Meneses plays an arrangement for cello, of course, and also turns in a soul-stirring reading of the Brahms E-minor sonata for that instrument. But the highlight on this album, for me, is Meneses's accompanist, Maria-João Pires, whose performance of the three Brahms Intermezzi, Op.117, has displaced in my affections my own recording, Intermezzo, of Robert Silverman performing these delicate piano works (CD, Stereophile STPH003-2). I have been a fan of Pires since her early digitally mastered Mozart recordings for Denon in the 1980s; she exposes the emotional depths in these superficially simple works.
Moving Hearts: The Storm
Tara 1304 (LP). 1985. Dónal Lunny, prod.; Andrew Boland, eng.; Connor Barry, John Grimes, asst. engs. AAA/AAD. TT: 37:47
This instrumental album, mixing traditional Irish melodies and instruments with a rock rhythm section, was in constant rotation in the mid-1980s, but I hadn't listened to it in years. It was my 2012 purchase of an Ayre Acoustics QA-9 A/D converter, which triggered my transferring to 24-bit/192kHz PCM many of my favorite LPs, that caused me to dig out The Storm from the darker recesses of my shelves of vinyl. Mixed at Dublin's famed Windmill Lane Studios, the album's marriage of two apparently disparate families of instruments works superbly well. The rock rhythm section adds a propulsive groove, and the use of such "alien" melody instruments as bouzouki, saxophones, electric guitar, and bass clarinet adds to the appeal.
The musical form is generally that of Irish traditional music, with different double-time reels cascaded and repeated. The opening cut, the 13-minute "The Lark," for example, comprises seven sections in different but related keys: "The Lark in the Morning," "Earl the Breakfast Boiler," "O'Broin's Flightcase," "In the Mountains of Holland," "Oh Hag! You've Killed Me," "Peter O'Byrne's Fancy," and "Langstrom's Pony." The opening fades in over an ostinato D-major riff on marimba, with punctuating synthesizer chords and bass-guitar notes joined by drums, and then with Davy Spillane introducing the first theme on low whistle, joined by Declan Masterson on Uilleann pipes. A modulation to A takes us to a new melody, which is where the work stays, despite excursions to E, G, and back to D, while increasingly complex instrumentation and doubling of the melodies builds tension. And with a peak–loudness ratio of 20–25dB, this is not only a musical masterpiece but an audiophile one as well!
---
ROBERT BAIRD
---
Skull Snaps: Skull Snaps
GSF GSF-S-1011 (LP). 1973/2009. George Kerr, prod.; Ed Stasium, eng. AAA. TT: 30:71
Donald Byrd: Places and Spaces
Blue Note BN-LA549-G (LP). 1975. Larry Mizell, Fonce Mizell, prods.; Jim Nipar, Steve Maslow, Val Garay, engs.; Jeff Hawks, asst. eng.; David Hassinger, remix. AAA. TT: 32:81
Go ahead, admit it: Many of us harbor the same secret, and while the objects of our affection may differ, the process is the same. No, I'm not talking about uppers, downers, or sidewayers (eg, tequila). I'm speaking of the world of satisfying your whims on eBay, specifically the quest for old vinyl.
Funk LPs of the 1970s are a constant simmering obsession with me and many others. And while well-known masterpieces like Funkadelic's Uncle Jam Wants You or One Nation Under a Groove are of course great, it's the obscure titles, the one-offs, the out-of-print records, the bands that made a single great album and vanished, that are the holy grails that inspire delicious multi-year hunts.
One hard-to-find classic that's well known among deejays is the self-titled sole album by Skull Snaps, a short-lived, New York–based funk outfit. Originally released in 1973 on GSF Records, Skull Snaps in VG or better condition routinely sells in online auctions for upward of $500. It was reissued on CD in the UK by Charly in the 1990s, and there have been three recent LP reissues, all on GSF: on black vinyl (2005), red vinyl (2009), and remastered in a set of two black LPs (2011) that has become as rare as the original pressing. The sound is typical early-'70s analog: warm in the extreme, but lacking some of the detail that comes from more careful recording in a more exacting studio.
While Skull Snaps will never be a landmark of music history, it's enjoyable and enthusiastically played, with fairly hard-edged horns, wah-wah pedal funk, and vocals that make up in eagerness what they lack in pitch control. What really makes this a Record to Die For are the rhythms and drum patterns that have been sampled by the hip-hop world (Gang Starr, Ol' Dirty Bastard, etc.) to the point where tracks that used samples from this album are themselves now sampled. While "Didn't I Do It to You" leans toward Marvin Gaye, without Gaye's vocal gifts, "It's a New Day" is classic high-steppin' funk, with a tambourine, vocal, and drum break. Great cover art and the D°a de los Muertos image inside.
While it was made by a jazz artist (albeit one who'd strayed into R&B/fusion) and released on Blue Note, Donald Byrd's Places and Spaces is also funk, but of a more polished and polite variety. For the jazz police, this record and several others made by Byrd and producer Larry Mizell in this period, particularly Black Byrd (1973), are nothing short of heresy. And while it may have also been one of the gateway records to that horribly banal strain of jazz that forever poisoned the musical sense of the word smooth, this is a Blaxploitation soundtrack taken to new heights. The modus operandi is simple: raise up a groove, repeat a line or two of vocals here and there, and provide lots of space underneath for Byrd to burble away on flugelhorn. "Wind Parade" and "Night Whistler" (love the titles!) hone this formula to a fine edge. Well recorded and as yet unremastered, Places and Spaces is short and joyous and so much fun!
---
LARRY BIRNBAUM
---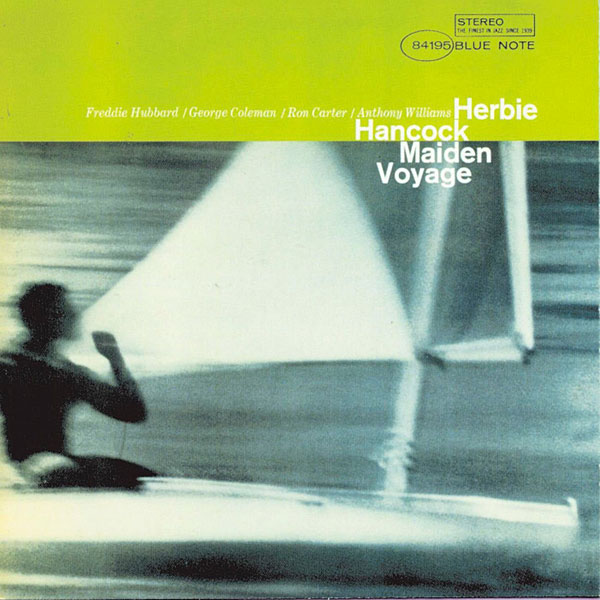 Herbie Hancock: Maiden Voyage
Herbie Hancock, piano; Freddie Hubbard, trumpet; George Coleman, tenor saxophone; Ron Carter, bass; Anthony Williams, drums
Blue Note 4 95221 2 (CD). 1965. Alfred Lion, prod.; Rudy Van Gelder, eng. ADD. TT: 42:03
Hancock's fifth album as a leader (not his first, as its title implies) is a modern-jazz classic, three of whose five Hancock compositions—"Maiden Voyage," "The Eye of the Hurricane," and "Dolphin Dance"—have become standards. Featuring Miles Davis's band from 1963–64 with Freddie Hubbard in place of Davis, it scintillates with post-bop energy. Hubbard is brash, Coleman Coltrane-esque, Carter buoyant, Williams dazzling, and Hancock vividly impressionistic, dancing deftly over the keyboard with a light and luminous touch. Every tune is a winner, but the often-covered title track, a modal masterpiece built on four suspended chords, stands out. (XX-9)
Barrister: New Fuji Garbage
GlobeStyle CDORBD 067 (CD). 1991. GlobeStyle, prods.; David Young, eng. AAD? TT: 57:13
Despite the late Sikuru Ayinde Barrister's announcement here that "I'm taking my sound to European countries / I'm taking my sound to America," fuji, the style that he originated in the late 1960s and that has since become the most popular musical genre in his native Nigeria, has yet to catch on in the West. Combining his Islam-inflected singing with keyboards, steel guitar, and some dozen percussion instruments, Barrister fashions hypnotic grooves from multilayered Yoruba rhythms. The first of his albums made expressly for CD, this one revisits Barrister's multiply recorded anthem, "Fuji Garbage," adding a steel-guitar quote from Jimmy Cliff's "Rivers of Babylon."
---
THOMAS CONRAD
---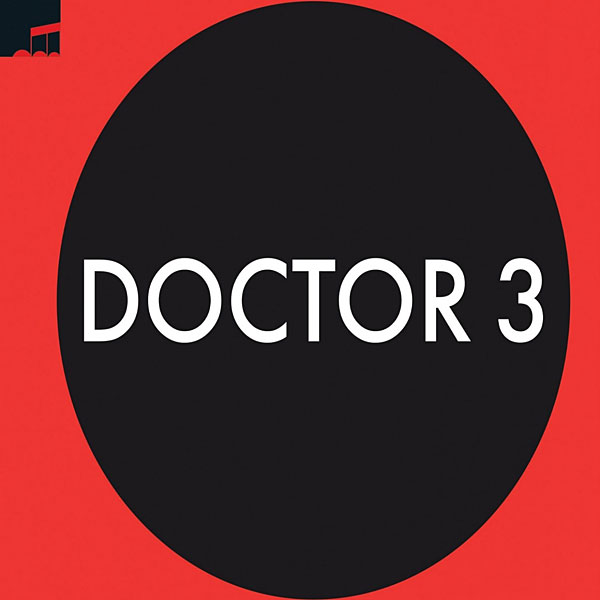 Doctor 3: Doctor 3
Danilo Rea, piano; Enzo Pietropaoli, bass; Fabrizio Sferra, drums
Jando MPR 59 CD (CD). 2014. Fondazione Musica per Roma, prods.; Massimo Aluzzi, eng. DDD? TT: 54:25
Many jazz musicians now draw on popular culture for repertoire, but no one does it with the melodic grace of Danilo Rea. Sometimes he barely decorates a song, as in "Will You Still Love Me Tomorrow." He hesitates over it, thoughtfully arrays it, and renders its question, its plea, its vulnerability, as universal to the human condition. "Hallelujah," Leonard Cohen's masterpiece, has received many fine interpretations. They now sound like the works of children—the adult version is Rea's. A hush falls over "Hallelujah." He marks out the song almost painfully, one necessary note at a time, as if finding it deep in himself.
Ambrose Akinmusire: When the Heart Emerges Glistening
Ambrose Akinmusire, trumpet; Walter Smith III, tenor saxophone; Gerald Clayton, piano; Harish Raghavan, bass; Justin Brown, drums; with Jason Moran, Fender Rhodes
Blue Note 70619 2 (CD). 2011. Ambrose Akinmusire, Jason Moran, prods.; Dave Darlington, eng. DDD? TT: 53:43
Ambrose Akinmusire is the most important artist to enter jazz in the new millennium. This is the record that started the buzz, recorded when he was 28. The opening track, "Confessions to My Unborn Daughter," demonstrates trumpet chops in the general vicinity of Clifford Brown. But Akinmusire's technique enables his wild imagination. His song forms and solos honor the jazz tradition by exploding it with shattering free ascents, juxtaposed jagged shapes, cryptic mid-narrative digressions, ecstatic cadenzas, misshapen notes, and apocalyptic codas. Ballads like "Henya" burn even hotter than the screamers. And everyone in the band is a badass.