The 2015 California Audio Show: Sunday
Greek actress Melina Mercouri may have abstained on Sunday, but for audiophiles and distributors, slow slow Sunday is the day when systems are at their best. It's also the time when attendance dips markedly, and visitors can often spend all the time they want in rooms without preventing others from joining in the fun.
Sunday, for Stereophile, began in the larger rooms on the 2nd floor of the Westin SFO. In the first I visited, Pass Labs mated its INT-60 integrated amplifier ($9000) and XP-15 phono preamp ($3800) with a modified Technics SP10 Mk.II turntable fitted with a My Sonic Lab Hyper Eminent cartridge, Oppo BDP-105, YG Carmel 2 loudspeakers ($26,300/pair), and a mixture of ART, Sound Source, homemade, and stock power cables. Pass Labs' signature midrange was gorgeous, and the sense of air supreme.
Operatic voices are especially difficult to reproduce in their entirety, with undertones and overtones intact while the center of the voice predominates. When I listened to an LP of Anna Netrebko singing arias from Verdi's La traviata, I really felt that I was hearing her voice's entire tonal envelope, in correct proportion.
I'd love to know what was above the ceilings in the rooms on the second floor, because every single audio system on this floor had some degree of sharp edge on treble frequencies. This was not true of both the rooms on floor 3, which I visited the two days prior, and on the ground floor, which I visited Sunday afternoon.
There's this thing that happens when I walk into rooms wearing my Stereophile badge. Some people who think they know my taste quickly ditch their Diana Krall and Dire Straits and reach for, God help me, The Dance of the Tumblers. Others love to surprise me with music from multiple genres.
In this case, Irv Gross of Constellation Audio, who knows that I'm a classical opera and art song queen, was eager to share a recording of Mozart's Exsultate, Jubilate (Shout for Joy!), sung by a soprano he had recently discovered, early music pioneer Emma Kirkby. The divine Emma sounded her youthful best, the voice as clear as could be, and the natural sense of space around voice and period instruments compelling.
"You can hear it all," I wrote in my notes, before Irv switched to Jacintha's "Boulevard of Broken Dreams." There again, the midrange was very fine, and the sound invitingly warm.
There was only one copy of the equipment list left, which I managed to photograph in blurry fashion. With mea culpas for any mistakes, I believe we heard Magico Q3 loudspeakers ($49,950/pair); Constellation Audio's Inspiration preamp 1.0 ($9000), Inspiration mono amp 1.0s ($20,000/pair), and Cygnus music server/DAC ($36,000); and MIT's Oracle MA-X SHD interconnects ($19,999/1m pair), Oracle Matrix SHD 120 Rev.2 speaker interfaces ($29,999 for a pair), Z-Powerbar ($2499), and Oracle Z-Cords ($1999/each).
Via Facebook, I had read quite a lot about Angel City Audio's new Seraphim loudspeakers. One reference was to Brent Butterworth's report on the 2015 Newport Beach Show, where he wrote that audio writer and former and now current cable manufacturer Roger Skoff of XLO had "practically dragged" Ray Kimber of Kimber Kable into the room where the speakers were playing. Skoff later commented on the 'net, "I heard them for the first time at T.H.E. Show Newport, and, starting at $7999, they were unquestionably and by far the best things I heard under $40,000!" (For the record, I did not hear them in Newport, because they were not in my assigned territory.)
Flip ahead to the California Audio Show, and what do we discover but the Seraphim XLO Edition in Cocobolo ($16,999/pair). The speakers held forth in a system that also included born again XLO cabling, with Skoff present. XLO prices ranged from a 10' pair of XLO Signature 3 "Shotgun" speaker cables at $5400/pair to a 3ft XLO Reference 3 power cable at $440.
When I entered the room, once the chatter ceased, I heard lots of nice, airy spatial effects and bright sound on some forgettable track of synthetic pop. Roger next wanted to me to hear an early CD transfer of Bernard Haitink's Shostakovich Symphony 15. Instead, I put it on my mental "must-hear" list, and opted for the CD layer of the same hybrid Channel Classics SACD of Iván Fischer's Mahler Symphony 9 that I'm using to tune my own reference system. (See Robert Levine's 5-star review of this performance and recording in the September issue of Stereophile.) The midrange was lovely, but colors were somewhat muted, highs a bit wiry and lacking grace and finesse, and the bottom M.IA.
Was the missing bottom due to an over-damped room, or perhaps to the electronics? Who knows? What I do know is that also playing, from Melody, was at least one of the four different models of amplifiers listed on the room's equipment sheet (priced between $6299 and $7399) and, perhaps, the P2688 preamplifier ($6999). Sources included an Onix OC103 Reference media player ($13,000) and Triangle Art Symphony Turntable. Also present: Argentum Acoustics XP3 Multiplexer ($1500).
Brian Ackerman of Aaudio Imports was showing the Lansche No.3.1 plasma-ion tweeter loudspeakers ($36,000/pair). Powered by Ypsilon's Phaethon integrated amp ($24,800), VPS-100 valve phono stage ($26,000), and MC26L step up transformer ($6200), the system used, as its source, a Thales TTT Compact turntable ($13,200) with Simplicity II tonearm ($9200), the company's own line cable interconnects, and a KAI MC cartridge ($8500).
There was more, of course–Stage III cabling, Finite Elemente Pagode APS HiFI rack, and HB Cable Design PowerSlave marble power distributor–but what matters most is the sound. As with so many systems on the 2nd floor, its midrange was one of its key strengths. But as an instrumental track by Patricia Barber and consorts made clear, the Lansche loudspeakers and Ypsilon electronics are also very, very fast. The soundstage was deliciously high, but the highs were a bit less than deliciously brittle and lacking in warmth.
Curiously, on a Reference Recordings LP of Copland's Symphony 3, depth was superb but drums sounded surprisingly flat and hollow, with the reverberant core of the sound diminished. Once again, the curse of floor 2 took its toll on what I expect, in other environments, would be a mighty fine-sounding system.
Given that Rick Schultz of High Fidelity cables presented daily 50-minute seminars entitled "High Fidelity Cables: Secrets of Magnetism," I was eager to hear what all the fuss was about. "We don't actually classify as a cable," Schultz told me as he referred me to the company's website for an understanding of his new technology.
In his room handout, Schultz claims that he uses an array of powerful magnets "to protect and propel music through your system." He also asserts that electrical conduction, which is the basis for "almost all cables on the market today (and for the past century)," is an antiquated approach.
With magnetic conduction, he says, "free electrons in the electrical audio signal are so powerfully attracted to the guiding forces of our magnetic array that they have no choice but to be pulled toward the extreme center of the conductor . . . Electrical current is pulled through with such force that the electrons are unable to break free from the magnetic pathway created by our design. As a result, the noise and distortion of external EMI is simply overpowered by [our] proprietary magnetic conductance technology."
Schultz announced to all present that his cables take a week to settle in, and that he had already heard a big change since the day before. I felt the system sounded poor, however, and I can't blame the sound on any of the unidentified components in the system, none of which are currently available. Schultz chose them intentionally so that we would focus solely on the effects of his cables.
It was time to head to the ground floor. There I encountered Brad O'Toole of Meridian and HRS (Harmonic Resolution Systems), who was hanging out near AudioVision SF's active headphone amplifier/headphone display in the hallway. Between talking to folks about the HRS equipment racks used in AudioVision's two systems, Brad (left) demmed Meridian's MQA-ready Explorer2 Pocket USB DAC to Shane Drew of Honolulu's HiFi Hawaii (right). The cans were Audeze EL-8 Closed Back, courtesy of AudioVision.
Behind Brad and Shane you can spy the huge display of "Musical Rarities" from Keith Cotas of Concord, CA. There were even more goodies for sale in the marketplace ballroom, including some from Reference Recordings. But since my focus was on active exhibits, I passed those by. In fact, much to my regret, I also skipped the HeadMasters room so that I could spend far more time with individual exhibits than is possible when covering larger shows.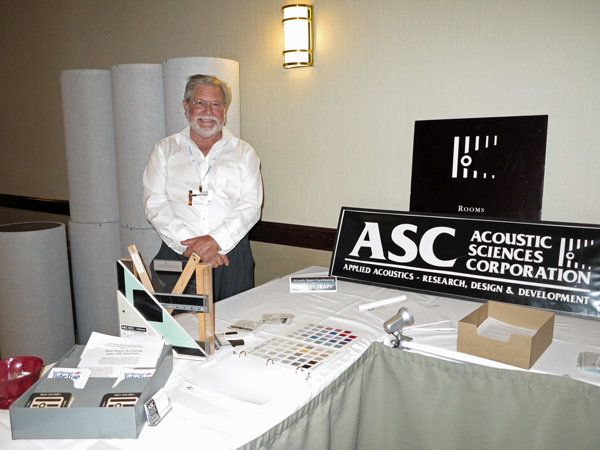 Let's give credit where credit is due. Although a few exhibitors were less than judicious in their use of ASC Tube Traps, the savvy setter-uppers scored major points by using traps of the correct diameter to tame room nodes and (gasp) mitigate design imperfections. Justifiably smiling at all the good his huge truckload of loaner Tube Traps had accomplished, ASC President and Chief Designer Arthur (Art) Noxon devoted many hours to helping audiophiles control their listening rooms so that music could flow unimpeded from system to soul.