Thiel's New SCS4T Loudspeaker
On Friday, John Atkinson and I visited the lovely home of
WIRC Media
's Micah Sheveloff, press representative for Thiel and Bryston.
I first met Micah in January 2005 at the Consumer Electronics Show in Las Vegas. You can read about that experience here. It was my first time in Vegas, my first time attending a CES, and my first-ever press demo. Jim Thiel was discussing his CS3.7. All at once, and just off a plane, I was being introduced to Jim Thiel, Kathy Gornik, and the latest iteration of a classic loudspeaker design. Jim Thiel was vibrating with an incredible kind of energy. I watched, sort of in awe, as Thiel drew pictures and made wild hand motions, attempting to describe his latest driver technology. And still, I could not comprehend the magnitude of the situation. Though I was a complete newbie, Micah made me feel very comfortable. On Friday, Micah again did a wonderful job of making us feel at home.
We sat down in Micah's living room to listen to Thiel Audio's latest model, the SCS4T, which carries on the memory of the company's energetic designer. The SCS4T is a compact, floorstander derivative of Thiel's popular SCS4 bookshelf model.
The SCS4T is the product of popular demand from dealers and customers longing for a speaker that incorporated all of the sound quality from the bookshelf model, while eliminating any troublesome variables caused by the necessary stands. It employs Thiel's coaxial Power Driver unit, and has the same cabinet volume and crossover network as the bookshelf model. In fact, it looks identical to the bookshelf speaker in every way, but for that new extended cabinet, which has been sealed from the rest of the speaker. That base cavity, Micah told us, has been well-braced to prevent cabinet resonances, and the speaker has been carefully re-voiced to accommodate the new cabinet geometry.
The SCS4T is available in natural cherry, dark cherry, and black finishes, and I was immediately impressed by its looks and build quality. The speaker very nicely complemented Micah's attractive furnishings.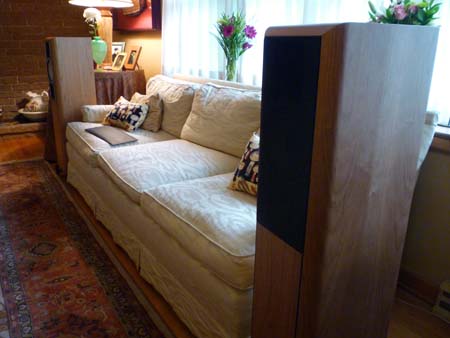 In Micah's living room, the Thiels were being driven by a Bryston 14B-SST2 power amplifier; preamp was Bryston's BP6, the source was Bryston's BCD-1 CD player, and cables were from Goertz. The first track Micah played for us was Johnny Hartman's "Almost Like A Song." The music bloomed into the room and immediately put a smile on my face. Just like a song, indeed, the system had a great sense of ease, painting an extremely detailed picture with tons of air. Next up was the Beach Boys' "Disney Girl" from Surf's Up, another album with which I was unfamiliar. I was touched by the lines, "I've got my love to give / And a place to live / Guess I'm gonna stay / It'd be a peaceful life / With a forever wife / and a kid someday," and I mentioned to John and Micah that I'd never heard the album.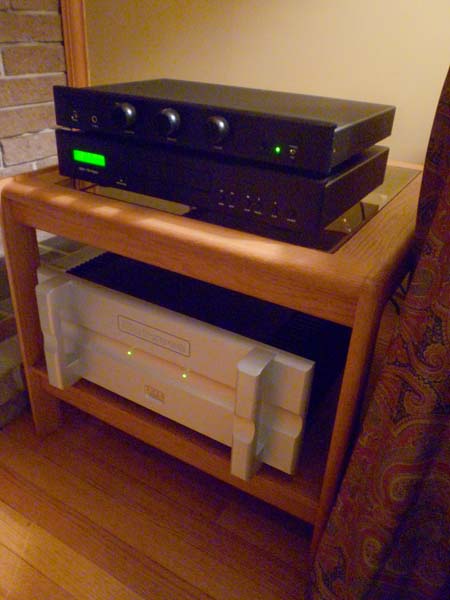 They were both fairly shocked.
"You've never heard it?" asked Micah.
"No," I confessed.
"Would you like to borrow a copy? I've got three."
I happily accepted. Before we left, but only after a delicious lunch and dessert, Micah wrapped up one of his vinyl copies for me.
A track from jazz guitarist Adrian Legg, another artist completely new to me, highlighted the system's speed and clarity. Both the guitarist's technical performance and the system's hyper-detailed, forward overall presentation were impressive. A piano piece by composer Josh Rifkin, a colleague of Micah's dad, showed beautiful tone and placed the tightly focused piano in a fine soundstage. This was followed by a track from the Tony Purrone Trio's Electric Poetry, showcasing the system's ability to unravel complex arrangements. Everything in the mix sounded clear, tight, and controlled, with powerful impact and awesome jump. And the system also loved drums and voices: Prince sounded larger than life on "Strollin,'" while a track from the Ginger Baker Trio with Bill Frisell, produced by former Stereophile contributor Chip Stern, had a superbly taut, round drum sound. The Thiel SCS4Ts seemed to have no problem filling the room with sound.
"These speakers really are doing well for having just a single 6" driver," commented John Atkinson.
Micah nodded, stood up, and lifted a tablecloth: "No subwoofer under here," he said.
The price of the new SCS4T hasn't been determined yet, but Thiel is targeting $3500/pair–$4000/pair. The company hopes to have units shipping to dealers this fall.
***
After lunch (during which I confessed my ignorance of 10cc's classic hit, "I'm Not In Love"), Micah invited me and John into his big listening room, where he keeps his beloved CS6s, a badass, old-school VPI turntable, and tons of vinyl LPs. I sat down and listened and immediately recognized the track. I had actually heard "I'm Not In Love" millions of times before, but it never—really, never—sounded like this. It was enormous and awesome and thrilling. I pretty much fell in love with Micah's listening room and gear, and I could've stayed all day, exploring Micah's wonderful library, but John and I had to get back on the road.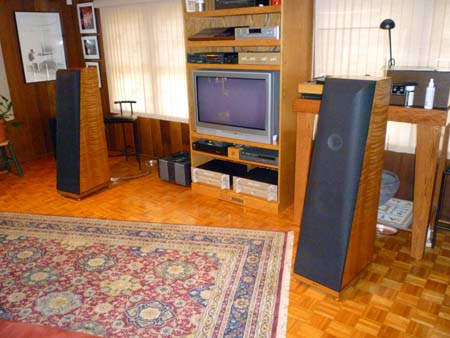 ***
For more on Jim Thiel, read this interview with John Atkinson.