Recording of May 2010: American VI: Ain't No Grave
Johnny Cash: American VI: Ain't No Grave
Lost Highways/American Recordings B0013954-02 (CD). 2010. Rick Rubin, prod.; David Ferguson, eng.; Greg Fidelman, Jimmy Tittle, Paul Fig, Dan Leffler, asst. engs. AAD.? TT: 32:23
Performance ****½
Sonics ***½
A second career is a luxury that few artists ever consider, let alone attempt—yet that is essentially what Johnny Cash had via the six records he made at the end of his life with producer Rick Rubin.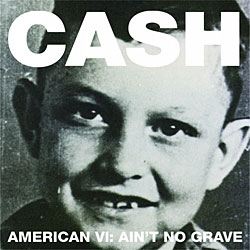 Following at least one previous "final" volume, American VI: Ain't No Grave may truly be the last word to come from this incredibly fruitful pairing. There are no doubt other Cash recordings, mostly of live shows, yet to be released on other labels, to go with the dozen or more that have been released since his death, at age 71, on September 12, 2003, in Nashville. What makes the Cash-Rubin collaborations so captivating is that they're utterly unlike the rest of Cash's massive recording catalog. Someone wading into the six American Recordings who had no prior knowledge of Cash and, for example, the 40-odd records he made for Columbia between 1958 and 1986, would have an entirely different view of his career that, in many ways, jibes only with that final sextet. Sun Studios rock'n'roller, country-music rebel, outlaw country superstar, and, finally, towering old man dressed in black with an acoustic guitar, singing unlikely covers in his iconic voice and suddenly, with the six American Recordings, becoming a cause célèbre for the alt-rock crowd—I can't think of another artist of Johnny Cash's stature who made a 180° turn so late in his or her career that proved so successful.
The first two records of this set, American Recordings (1994) and Unchained (1996, backed by Tom Petty and the Heartbreakers), were lively and adventurous, Cash famously branching out to cover tunes like Tom Waits's "Down There by the Train" (American) and Chris Cornell's (Soundgarden) "Rusty Cage" (Unchained). But American IV: The Man Comes Around (2002) balanced its by-then-obligatory surprising rock cover—in this case, Nine Inch Nails' "Hurt"—with a poignant version of "Danny Boy" that was achingly heavy-hearted.
The final two records, beginning with American V: A Hundred Highways (2006), have continued down a path so etched with a refined and living sadness that this final volume—emotive in the extreme, Cash's cracked voice singing and searching through lines like "Well, there ain't no grave / Gonna hold my body down"—is an acquired taste. Recorded in May 2003, just three months before his death, Ain't No Grave has that conclusive, last-word edge common to final recordings. Listening to it at home and in the Stereophile offices drew a spectrum of reactions, from "That's horrible!" (yelled with maximum vehemence) to "My God—is that Johnny Cash?" (with widened eyes and a reverent tone). Ain't No Grave needs to come with a printed disclaimer: "THIS IS ONE SAD RECORD: BE PREPARED."
All that said, for Cash fans, and fans of vocal music in general, Ain't No Grave is filled with resonant riches. His voice, once a booming bass-baritone, is here a thinner yet still very expressive instrument that, despite some funereal song choices, can still more than carry a pop tune (as long as it's about heartbreak)—such as Kris Kristofferson's "For the Good Times," or the delightful closer, that archetypal Hawaiian farewell, Queen Lili'uokalani's "Aloha Oe," which shows that Cash kept his sense of humor till the end. Using Cash's vocal takes as a base, Rubin built up the tracks using a group of musicians who'd worked on most of the singer's American Recordings: veteran guitarists Mike Campbell and Smokey Hormel, as well as young bucks Scott and Seth Avett, whose Avett Brothers record, I and Love and You, Rubin recently produced. The album also lists a large group of musicians who "offered invaluable contributions"—presumably spiritual advice—including Marty Stuart, Larry Gatlin, and June Carter Cash.
Rubin has sequenced the collection in such a way as to make a coherent album that flows naturally as a final statement, touches on many of Cash's beliefs and interests, and, most important, remains true to the man's unshakable faith in himself, in the songs, and, ultimately, in a higher power. When I asked Rubin about this, he was brief and to the point: "He was a mythical storyteller who told the truth. We looked for songs with depth that would make sense for him to deliver."
Recorded mostly at Cash's Cabin Studio in Henderson, Tennessee, by his longtime engineer, the closely miked sound feels a little claustrophobic; it could have used more space, more air. I asked Rubin what sound he was looking for. "We always spent time on mike choice, placement, and vocal chain for every recording. I leave the technical details to the engineers and express what I'm hearing or how I'd like to hear it differently, and they make it happen."
In a brilliant bit of song choice, the only Cash original on the record, "I Corinthians 15:55," a previously unreleased tune, seems to draw not only on the powerful and at-peace spirit of J.R. Cash, but also on the essence of the American Recordings that gave him a second artistic life:
Oh death, where is thy sting?
Oh Grave, where is thy victory?
—Robert Baird