Vinyl Record Day 2003
Vinyl junkies again converged on San Luis Obispo, California on Saturday, August 16 for the second annual
Vinyl Record Day
celebration. Vinyl is clearly red hot among audiophiles and music collectors, and VRD organizer Gary Freiberg commented that momentum for the event continues to grow, with this year's turnout easily bigger than
last year's
.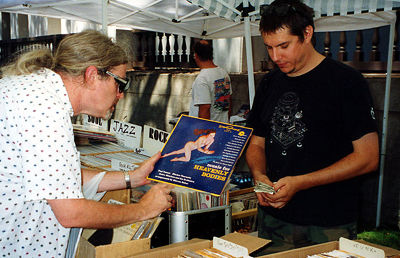 Indeed, twice as many record vendors were on hand this year with used and new vinyl of every persuasion. Boxes of classical, jazz, and rock audiophile favorites were everywhere, and great deals were easy to find (your scribe picked up a mint copy of Pink Floyd's A Piper at the Gates of Dawn on Tower for only $18!) Record fan Bruce Miller, wearing his "I Love Vinyl" T-shirt, explained that he has exactly 1999 LPs in his collection and was at VRD looking for something special for record number 2000.
Spinning vinyl for attendees was DJ Ronnie Simons, who noted that he's been playing records for crowds since 1966. Simons says he began his career in London and even spent time as a DJ at a club owned by the Beatles. Also on hand were several displays of vintage playback gear dating back to the Edison cylinder. Local retailer Audio Ecstasy had turntables, record products, and a large jar filled with hundreds of spent cartridges on display. Shop owner Jim Moyer explained that a brand new and properly tweaked Pro-Ject turntable would be waiting at the end of the day for the person who made the best guess as to how many cartridges were in the jar.
But the highlight of this year's festivities was a personal appearance and lecture by 86-year-old Alex Steinweiss, who is credited with creating the very first album cover art over 60 years ago. Steinweiss was visiting the West Coast from his home in Florida to take part in Medialine's first annual "Alex Awards" on August 19th to recognize outstanding music packaging. Steinweiss says there will be 16 categories for Alex Awards nominees, and he describes the awards as the album cover art equivalent of the Grammys. Steinweiss himself will also receive a Lifetime Achievement Award for his contribution to the music packaging business.
As we walked through the dozens of vinyl vendors, Steinweiss explained that music was marketed very differently back in the '30s. The "grand old dame of the record business," as Steinweiss calls RCA Victor, "completely dominated the market at the time, and its 78rpm shellac discs were stuffed into paper and cardboard sleeves that would have simple text titles printed on muted or plain paper."
A young Steinweiss was hired by the fledgling Columbia label in 1939 as its first art director and immediately asked, "Why should such beautiful music be put into those pieces of cardboard junk?" He explained that competitor RCA Victor was selling its releases for $2 each at the time, and to grab some market share, Columbia was going to try a new process and lower the price of its discs to $1. The Columbia execs wondered why they should add a few more cents to the cost for a nice cover, but Steinweiss prevailed and the first disc with an artistic cover, a Rodgers and Hart album called Smash Songs, hit the shelves in 1940.
To create the cover, Steinweiss had an outdoor marquee at the Imperial Theater dressed up with the album title and artists' names and then shot a picture of it at night. He then combined this black and white photo with a set of concentric red "grooves" and a cutout where the red Columbia label could show through.
It was a huge success, because of both the fresh-looking cover and the lower price, and sales shot up over 800% for the label. Steinweiss recalled that, in those days, folks thought of the plain old album covers lined up in the rack as "looking like a bunch of tombstones" with their simple inscriptions describing the music buried inside. As soon as he started putting colorful art on the covers, "the retailers would put them in the store windows and boost sales even more."
"Those first covers shook up the industry and opened the door for hundreds of young designers," said Steinweiss. "I approached it as fine art, and wanted to do whatever I could to promote classical music." In 1947, for the first LP format record, Steinweiss invented the paperboard jacket which went on to become the standard for the vinyl industry ever since.
To date, Steinweiss has designed 892 covers for several labels including Decca, Everest, RCA, and Columbia, and says that his original sketches for various projects are now coveted by collectors. Still going strong, he is currently designing a cover for "one of those postage stamp size CDs" for a new classical release.