Music in the Round #25
I've been reading and sometimes participating in a number of Internet discussions that begin with something like "Is SACD (and/or DVD-Audio) Dead?" Regardless of your one-word answer, it seems that the issue is still quite lively. I won't address the question here (you know where I stand), but it almost doesn't matter. Many high-resolution multichannel recordings are still being made. It's just that they may be distributed in different ways.
I asked Robert von Bahr of BIS Records about the fiscal viability of making SACDs. I wondered if the small numbers of sales to audiophiles might be enough to justify the small increase in cost of making SACD/CDs instead of CDs. Bahr said that while he had no specific numbers, his impression was that "the extra cost of producing an SACD—today—is not offset by incremental selling, not yet. . . . However, I am firmly convinced that the future will be surround, especially if done with taste. . . . Therefore it would be stupid not to do the recording in surround today, and, having done them anyway, it would be quite idiotic not to release them as such. Since we don't charge anything extra to Joe Public, it is a win/no-lose situation for him, and, anyway, the forward compatibility is there, if SACD survives. . . . If it doesn't, we can easily translate the product into whatever system will come."
My immediate response to this was to consider the very large number of multichannel music DVD-Vs that, while released with only two-channel PCM and compressed Dolby Digital or DTS surround, are being archived on master media with greater potential. Witness (I mean it: the video is luscious!) the live recording of Bruckner's Symphony 5 recently released by Euroarts on DVD-V. Franz Welser-Möst and the Cleveland Orchestra's marvelously luminous and vigorous performance can be appreciated in any format, but the DVD offers only the frustrating choice of two-channel 16-bit/48kHz or compressed multichannel DD or DTS. I dithered, then finally settled for the clarity of the two-channel track, which barely suggests the warm acoustic of the Abbey of St. Florian, where Bruckner served as chorister, teacher, and organist. Surely, the uncompressed multichannel audio that is the source for all the tracks is in the vaults, and surely it will someday be released. The new HD DVD and Blu-ray media can easily accommodate it (along with even more eye-candy), but it could also appear in a format yet to be conjured.
Before Naxos stopped releasing recordings on SACD and DVD-A, I had a discussion with them about their support of the formats. It was clear that they felt that the physical discs were merely today's media, and that the valuable asset was the recordings themselves, to be marketed in whichever formats future markets demand. Their commitment to Web-based distribution of monophonic and two-channel recordings is substantial (www.naxosmusiclibrary.com/home.asp), and downloads of Naxos recordings, albeit only compressed ones for now, are available from many Web vendors. Surely, Naxos would take advantage of a demand for multichannel downloads, if and when a distribution channel becomes available.
Such a distribution channel may be here by the time you read this. At several hi-fi shows, Mark Waldrep, of AIX Records, has demonstrated the feasibility of distributing uncompressed multichannel programs in downloadable form. His new website, www.itrax.com, is scheduled to be up in June. Its downloads won't include digital-rights-management (DRM) protections—you'll be able to play them on any equipment you own, in many different formats both two-channel (192kbps MP3, 24/96 PCM) and multichannel (Dolby Digital, DTS, WMA Pro or Lossless). In multichannel, you'll be able to select between AIX's traditional Audience and immersive Stage perspectives.
Also heavily engaged in hi-rez downloads is MusicGiants (www.musicgiants.com). Although their library is drawn from the standard repertoire, with most recordings of no higher than 16/44.1 resolution, MusicGiants says that it offers "Super HD downloads (as in re-mastered DVD-Audio or SACDs available in either 5.1 surround sound or 2.0 stereo) which play at sample rates up to 11,000kbps." The new Niveus Vista-based media centers will be shipping with the capability to download high-resolution two-channel and 5.1 surround sound from the Music Giants website.
In the long run, arguments about the viability of this or that medium don't really matter. Vinyl came, flourished, and still lingers. CDs continue to be made and sold, as do SACDs. In fact, many great recordings have appeared in all three media, and will appear again in whatever format comes down the pike. More sources will join my turntables and disc players, and I'll welcome them—because that's where the old and the new music will come from.
The SACD Bandwagon
Amazing as it may seem in light of all the above, record labels continue to embrace SACD. In the past few months, three more have joined the fold.
While BSO Classics has so far released only one disc, the fact that the Boston Symphony Orchestra is embracing SACD is encouraging. That release, Chamber Music for Music and Strings by Mozart (BSO Classics 0601), includes quintets with clarinet (K.581) and horn (K.407), and quartets with oboe (K.370) and flute (K.298), performed by the Boston Symphony Chamber Players. The bold, flavorful performances were recorded fairly closely—instead of being transported to the recording site, I welcomed the performers into my room.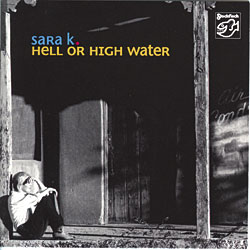 Hänssler Classics has a deep catalog of interesting recordings, but their first two SACDs are among their best. In this latest stop in his continuing traversal of the works of Berlioz, conductor Roger Norrington and the Stuttgart Radio Symphony Orchestra give us one of the most exciting and powerful recordings of the Requiem (Hänssler SACD 93.131). Recorded with great clarity and exquisite detail despite the concert conditions, the surround effects are positively hair-raising. J.S. Bach's B-Minor Mass, with Helmuth Rilling conducting the Bach Collegium Stuttgart and the Gachinger Kantorei (Hänssler SACD 98.274), sounds equally thrilling, especially as the transparency and spaciousness serve to reveal the details of Bach's lovely polyphony.
Jumping in with both feet is Stockfisch Records, of Northeim, Germany (www.stockfisch-records.de). This prototypical audiophile label has releases on vinyl (some direct-to-disc), CD, SACD, and even XRCD. Their repertoire is equally catholic, ranging from the Dutch baroque to contemporary blues and pop. The common thread, at least of the half dozen or so discs I sampled, is directness and clarity, with powerful bass and warm ambience. From this catalog, a few stood out. Sara K.'s latest, Hell or High Water (Stockfisch SFR 357.4039.2), is another of her gripping and personal programs. The sound is closer and more weighty, if marginally less transparent, than some of her earlier albums for Chesky, but she receives admirable support from the late Chris Jones (guitar, dobro), whose own Stockfisch discs are worth hearing.
Stockfisch also offers a brilliantly performed and recorded Liszt recital by the young Hungarian virtuoso Péter Tóth. Sinestre: Late Piano Works (Stockfisch SFR 357.4040.2) contains none of the familiar showpieces, but the more mysterious works of Liszt's old age. Stockfisch captures a big sound from the piano and the room, and Tóth generates considerable power and poetry in these fascinating works. On a more tempered emotional plane, The Spirit of Gambo (Stockfisch SFR 357.4042.2) is a collection of lovely and nuanced pieces from 17th-century Holland, all featuring the viola da gamba, accompanied by harpsichord, violin, and/or another gamba. This warm, soothing bath of melody and harmony is the perfect antidote to a cold, rainy weekend (it's late March as I write this). Surely, royalty of the time had no more delightful musical companions than these.
Cary Audio Design Cinema 11 digital surround processor
Sometimes I wonder why there are so many A/V receivers and preamp-processors. Within a given line of AVRs, manufacturers seem to struggle to differentiate the models at different prices by adding or deleting features and, of course, by changing the output power. Pre-pros, too, are generally based on a limited number of "platforms" developed by OEM suppliers, and seem more distinctive on their spec sheets than they do under their own skins. Still, I'm continually surprised by how much individuality there is when I finally get a new box installed in my own system.