Naim Uniti CD player/receiver
In an industry whose newest products are often as discouragingly unaffordable as they are short of the sonic mark, the Naim Audio Uniti ($3795) stands out. In a single reasonably sized box, the Uniti combines the guts of Naim's Nait 5i integrated amplifier and CD5i CD player with various additional sources: an FM/DAB tuner, and interfaces for an iPod, a USB memory stick, an iRadio, and a UPnP-compatible connected computer or server—all for the price of a very good television set.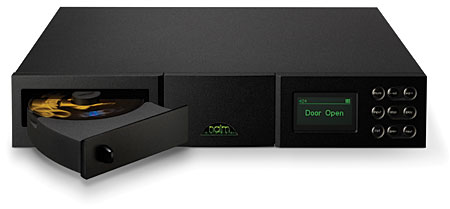 One could argue that, with the Uniti, this veteran audio manufacturer has set its sights on someone other than the veteran audio consumer. (For their part, companies such as Peachtree, Carat, and Shanling, who also offer perfectionist versions of such new and digitally savvy source-amp combos, are themselves just that: new.) So the question before us isn't merely How good is the Naim Uniti?, but rather How close have they come to hitting their target?
Description
At the heart of the Naim Uniti is a line-level preamplifier and a relatively low-power amplifier, designed for optimal performance with each other and with certain source components and loudspeakers. Naim Audio has been rather good at this sort of thing since the days of their first Nait integrated amplifier—but whereas the Naim buyer of 30 years ago could virtually be counted on to use a Linn or Rega phonograph as a source, and to choose from a limited range of English boxes as loudspeakers, the integrated amp of 2010 must be considerably more catholic.
Naim has also established a newer reputation, for their more generally popular CD players. Yet it's fair to say that Naim's digital players have also been among the least compromising in the perfectionist market, with their reliance on older, more conservative chipsets and their resolutely manual approach to disc loading.
Thus, a combined integrated amplifier and CD player from Naim seems natural, if not inevitable. In the Uniti, the former takes shape as a 50Wpc amp with five line-level inputs of the analog sort (three with phono sockets, one with a DIN socket (footnote 1), and one with a 3.5mm mini-jack) and five of the digital sort (two with phono sockets, two with TosLink sockets, and one with a 3.5mm mini-TosLink). The CD-playing part of the equation will be familiar to anyone who's visited a Naim Audio dealer within the past 10 years: The Uniti's disc transport is built into one of Naim's swing-out, sickle-shaped drawers, created with both acoustic isolation and the elimination of needless electronic junk in mind, while the details of its various functions are relayed to the user on a smallish screen at the other end of the front panel. All of the control buttons one might expect to find, and a few that one might not, appear on both that front panel and on the nicely laid-out remote handset.
But the Uniti has a great many more good tricks. The first of these is its built-in radio, capable of playing any and all FM or DAB broadcasts to which the user's antenna can respond. (Said antenna—not included—plugs into an F-style connector on the Uniti's rear panel.) Of course, DAB broadcasts, the likes of which have been available for years in most developed nations, are not available to those of us who live in the US (footnote 2). But I hesitate to complain, for fear of giving the impression that I hate our freedom.
Uniti owners can also avail themselves of iRadio broadcasts, which the Uniti can receive either through its Ethernet input socket or by means of a removable wireless network antenna (included). That same interface can also be used to play music data streamed from sources compatible with the Universal Plug-n-Play (UPnP) protocol, such as a Roku Soundbridge, a Philips Streamium, or a PC or Mac running such digital-media-player software as Allegro or EyeConnect.
Up next is the Uniti's memory-stick interface, addressed by means of a front-mounted USB (Type A) jack. This feature works only with Windows-formatted memory devices, and supports MP3, AAC, Apple Lossless, WAV, FLAC, WMA, and Ogg Vorbis files, but not Apple's AIF format.

Finally, the Uniti has a rear-panel iPod socket, the use of which requires an accessory Naim n-Link cable—not included, although Naim kindly sent along a sample of the n-Link with my Uniti review sample. As with most such products, the Uniti's socket provides the appropriate voltage for charging an iPod during playback.
The Uniti was that rare review sample that I did not pry apart for a look inside. Naim electronics in general have become more and more difficult for the consumer to dissect—one can no longer tell for sure which chassis bolt fastens the lid, and which secures a 3-lb transformer whose unmooring might prove a nuisance during shipping. The Uniti was in keeping with that trend. The casing was Naim's usual aluminum extrusion, painted with their usual textured black paint. Beyond that I haven't a clue, and can only wait to read what John Atkinson's lab tests reveal.
Installation and setup
One might expect so comprehensive a product to require more than the usual degree of involvement from the user, both during and after installation. So it goes here—and thus a review of the product itself can't be complete without a review of its user manual.
---
Footnote 1: Commendably—and perhaps as expected by veteran Naim owners—the analog DIN input socket is also a 24V DC output socket, for use with a Stageline or one of Naim's other accessory phono preamps.
Footnote 2: Other than Sirius-XM.—Ed.