The Women of Warpaint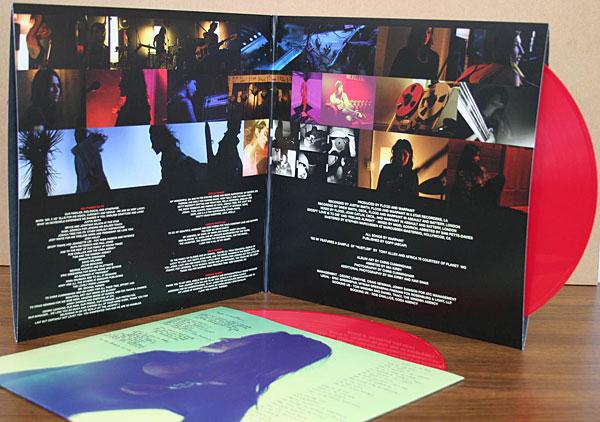 In the tornado of music and gear better known as, let's say, audiophilisma, there are a lot of guilty pleasures. In fact you could argue that the entire enthusiasm, for (choose your poison) knobs needing a twist, tiny lights beckoning, sexy brushed metal boxes, objet's d'art speakers that routinely cost more than luxury automobiles, stacks of LPs, shelves clogged with CDs or terabyte drives bulging with downloads, is one big, obsessive black hole. And that friends is just the way we like it!
The problem, your loved ones might say, is that gear manufacturers, and record pressers keep coming up with new stuff that you have to have. Damn capitalists! Clearly, there are fish somewhere back in my family tree because as a friend always tells me, I find myself attracted to bright, shiny and in this case, colorful objects. The latest wave of colored vinyl LPs is beginning to reach the level of an art form. The Jagjaguwar/Secretly Canadian/Dead Oceans indie rock conglomerate have issued limited editions of colored vinyl for several new releases (Mark McGuire, War on Drugs) that are exquisite. There's also the latest fire engine red double vinyl set of L.A. trip hop/indie rock band Warpaint.
Three years ago the band's debut, The Fool was released to great acclaim. On Warpaint the band's winding sinuosity, its serious, often wordless vocals, its explorative, psychedelic jams, which can admittedly can go on too long, all make for a smoky, downtempo atmosphericism that lures and lulls. While you can hear echoes of Le Tigre and master wizards like Massive Attack in the sound of Emily Kokal, Theresa Wayman, Jenny Lee Lindberg and Stella Mozgawa (now there's a drummer name!), it's shoe gaze that's really at the bottom of much of their style. While one could wish for more pop turns, theirs is a musical universe worth entering. At SXSW 2014 where they played innumerable gigs, and at a recent show in NYC, their music came off as having a studied, groove heavy cool. They are a band with a vision and a future.
For their second album they have brought in the heavy artillery in the form of producer Flood (U2, Nick Cave, PJ Harvey) and producer/engineer Nigel Goodrich (Radiohead), who add polish and layering to the sound, and an immediacy to the mix, which is spacious in the extreme. The drums and bass mixed forward as lead instruments is an especially satisfying touch. Somewhere near the center of Warpaint is where the band finds it's groove. The ethereal, dreamy, echo'y trip hop vibe works best on "Biggie" whose lyrics refer not to Christopher Wallace but towards well, dreamy, ethereal love: "Other worlds are spinning/dance above the clouds/hold my word to something/let it make a sound/I felt it/the words that I want/I believe in love." In "Disco//Very" the tempo, as the name implies, picks up and processed voices lead what is a trance jam that works because of its rhythmic intensity. The single from the record, "Love is to Die," as close to a pop tune as this record gets, has drive and a melody. Warpaint has a witchiness that makes it all work. And they are yet another example of the good new distinctly female energies that are saving, or at least massively enlivening indie rock/electronica these days.