Vinyl Flat: An Affordable Record Flattener?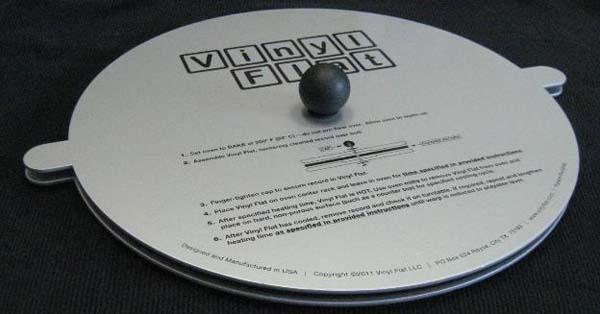 Do you own any warped records? I do, unfortunately. It's always a major disappointment to find that a promising new record is warped. You could take it back to the store, of course, but who's got time for that? Most often, I wind up keeping those sad, warped records, but I rarely play them. No fun, no fun.
I've often wondered about the Furutech Disc Flattener, recommended by Mikey Fremer, but $2000 is a lot of money to spend on what is, essentially, an accessory.
So, I'm anxious to learn more about the new Vinyl Flat Record Flattener ($129.95). From the website: "With Vinyl Flat, a precise amount of gravitational force is combined with a simple, low-heat approach that is proven safe for practically all vinyl records."
Vinyl Flat's John Martindale says the unit can be used with a kitchen oven or with the Vinyl Flat Heating Pouch ($99.95 with heavy-duty DC power supply, available in July). According to Martindale, the Heating Pouch would be safer than the oven: "It operates at a low, precision-regulated temperature, and it is also much more energy efficient."
Customers who would rather use their kitchen oven can also purchase the pouch, minus heating element and power supply, as a simple storage case for $19.95.
Vinyl Flat will be sold direct and through "most of the major audio retailers." For more info, visit the Vinyl Flat website. Units should be shipping soon.