Unison Research Demos at the Audio Doctor
On Saturday, March 3rd, during an unusually warm and sunny afternoon in Jersey City, the Audio Doctor held an open house to introduce new products from Unison Research. Our hosts for the event were Dave and Paula Lalin of the Audio Doctor and Colleen Cardas and Marc Phillips of Colleen Cardas Imports (CCI), the exclusive US distributor for Unison Research and Opera Loudspeakers.
Before listening, Lalin invited us into the kitchen for some delicious food and drink. "This is a party!" he said. After I stuffed my face with meatballs, chicken wings, chips, and cookies, we headed into my favorite of Lalin's four listening rooms—a medium-sized room at one corner of his beautiful Victorian home, packed with hi-fi gear, and home to "The Rack."
There, Colleen Cardas introduced herself and told us the story of how she and her business partner, Marc Phillips, the Vinyl Anachronist, became involved with Unison Research and Opera. (The two Italian companies are separate entities with separate production and development teams, but exist under the same ownership and share facilities.) She explained that after 20 years as president of Cardas Audio, she felt it was time to explore other opportunities, but nevertheless wanted to remain in the audio industry. Throughout her tenure at Cardas, she developed many long-lasting relationships, including an especially important one with Unison Research and Opera—the companies often used Cardas cables while voicing their products and in demonstrations at dealers and hi-fi shows, Colleen explained.
She had been thinking about importing a brand. Her ideal client would be one that was well-established, but one that didn't already have a strong presence in the market, giving her the freedom to build a dealer network. As it turned out, Unison/Opera was looking for new US distribution. It was a perfect fit for all parties. CCI's goal is to acquire 20 Unison Research/Opera dealers; the company is almost halfway there, with nine. The Audio Doctor was the first.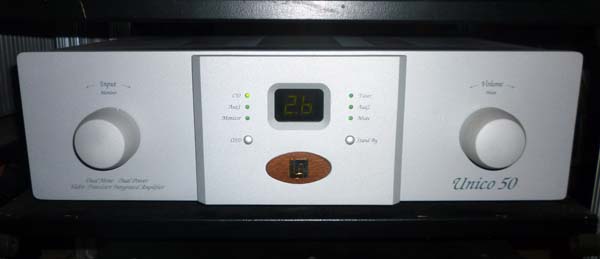 The Unison Research products are solid, handsome, and appear to be extremely well-built. The look may not be for everyone—I tend to think the wood badges seem out of place on the clean matte faceplates of the hybrid products, while the wood faceplates lend an air of sophistication and luxury to the all-tube products—but you certainly know a Unison Research product when you see one. They are totally Italian. (Or "Eyetalian," if your grandmother is from Bayonne.)
We listened first to the Unison Research Unico 50 hybrid integrated amplifier ($4495). This amp is rated to deliver 120Wpc into 8 ohms and uses two ECC82 tubes in its preamp stage. It has four unbalanced line-level inputs, one balanced input, and a subwoofer output. Speakers were the Dali Helicon 400 Mk.II ($7000/pair). The source for all demos was Unison's CDE hybrid CD player ($3895–$4295, depending on options). Speaker cables and interconnects were Nordost Frey. Lalin played a nice jazz piece with drums, bass, electric guitar, and sax. It was completely new to me. I thought the sound was good, but lacked overall coherence—the highs were extended and percussion was quick, but the electric guitar sounded a bit distant and flat, and the bass, though robust, was a bit out of time with the rest of the music.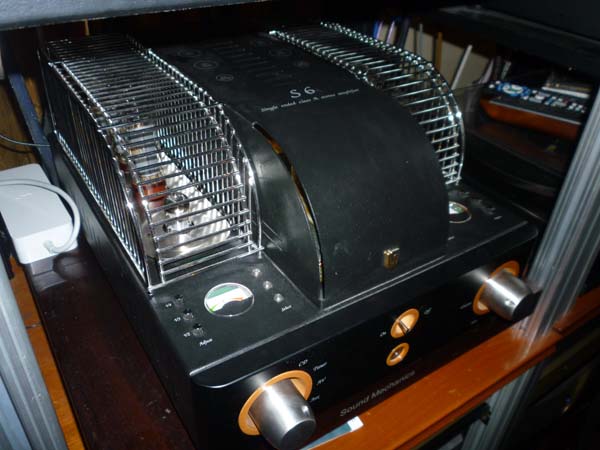 We next listened to the Unison S 6 integrated amplifier ($4895). This is an all-tube, single-ended, class-A design. It uses the same ECC82 preamp tubes as the Unico 50, but employs six EL34 power tubes for a rated 35Wpc. It offers five line inputs and a tape out. Switching to the S 6 resulted in a subtle, but significant change in the overall presentation. Bass was less robust, but more tightly drawn, resulting in better top-to-bottom coherence. The saxophone may have lost some edge and extension, but I heard more space around it, and the guitar sounded appropriately vibrant. I felt the S 6 to be a better match for the Dali loudspeakers. That combination more easily transported us from Dave Lalin's room to the recording space.
But the most synergistic combination of all turned out to be the Unison Research S 6 amplifier with the Paradigm Signature S6 loudspeakers ($5995/pair). The "Sweet S6 System," as it came to be known, delivered the tightest, most rhythmic bass; the sweetest, most extended highs; and improved midrange clarity and image focus, for an all-around involving, dynamic sound.
One of the great things about hi-fi is that we can create the sound that best suits our needs and interests. The Audio Doctor provides a fine setting for experimenting with different combinations. Larry Borden, of Dagogo, was also on hand for the event, and, while we agreed on most other aspects of the afternoon's sounds (and food), Larry preferred the fast, detailed delivery of Anthony Gallo Acoustics's Reference 3.5 loudspeakers mated to the Unison S 6 amplifier. All guests seemed to enjoy the sound of the KEF Blade loudspeakers driven by Chord amplification, and I was especially impressed by the smooth, coherent sound of the wild Scaena loudspeakers driven by Conrad-Johnson amps.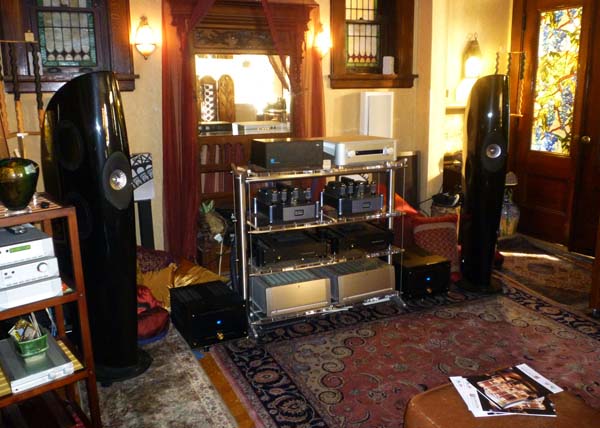 It was a lovely afternoon in Jersey City, shared by colleagues and friends, filled with great music and smiles. I'll look forward to the next event at the Audio Doctor. (Hopefully, there'll be meatballs.) For more info on the Audio Doctor, see my report. To make an appointment with the Audio Doctor, call (877) 428-2873 or e-mail sales@audiodoctor.com.