Thumbs Up to Blue Light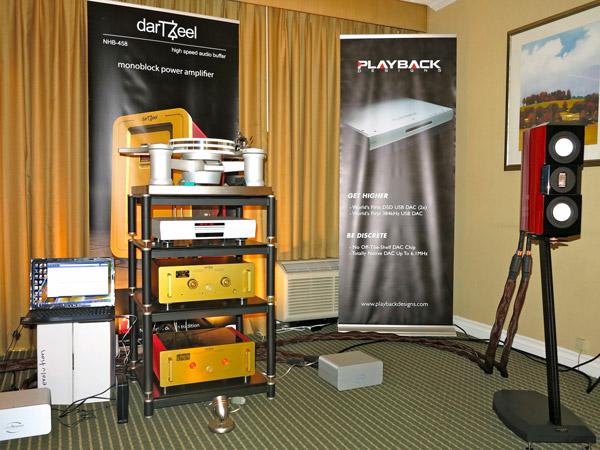 One of my fondest memories of a past CES was sitting with John Atkinson at T.H.E. Show, playing a track from one of his superb recordings of Cantus on an all-out darTZeel /Evolution Acoustics system from Jonathan Tinn's Blue Light Audio. Here, on more modest speakers and electronics, I was again blown away, this time by the fabulous soundstage height, three-dimensionality, and realistic depiction of horns and cymbals on Michael Tilson Thomas' recording of Mahler's Symphony 3.
Doing the honors were Evolution Acoustics' MMMicro One loudspeakers—Reference 2-way ($2500/pair), complete with the company's own SRSC loudspeaker cables ($6000/pair), interconnects, and power cables; the darTZeel NHB-108 Model B reference stereo amplifier (25000 Swiss francs) and NHB-18 NS reference preamplifier with MC phono section (30,000 Swiss francs); Playbach Designs MPS-3 384kHz PCM & 6.1MHz DSD player ($8500); and Audience Adept Response aR6-T power conditioner ($4600). Analog equipment from Wave Kinetics, Ortofon, and Durand tonearms sadly remained unplayed due to time constraints.