Three New from Nordost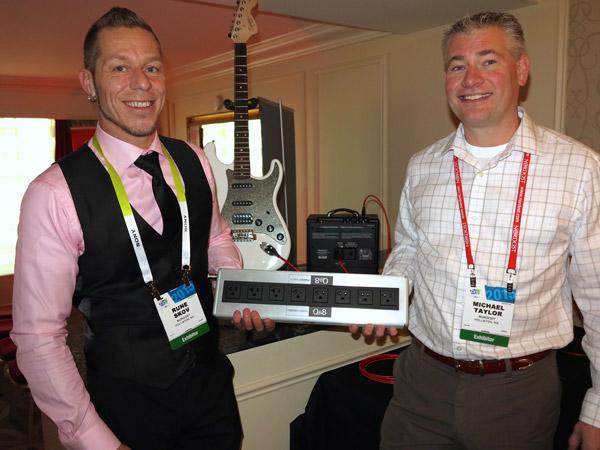 Nordost has just crossed the audiophile–musician border with their first Pro Audio products, the Ax Angel guitar cable ($250/3m) and Ax Angel power cables for keyboards and guitar amps ($200/1m). Said to be the world's first monofilament instrument cable, the Ax Angel guitar cable terminates with Neutrik connectors in either right angle or straight configuration, and includes a static shield. The cable lays flat, and is claimed to be so durable that you can stand it. Expect a higher-level model, as well as microphone cables, in the future.
For the high-performance market, Nordost's eminently stylish Rune Skov and lovely Michael Taylor display the improved QBASE-Mark II ($1599 for the 15A version, or $1899 for the 20A version). Far more than a "power strip," Nordost's star-ground power distribution system, aka the QB8-Mark II, now sports better rubber feet, a fuse for system protection, an improved IEC, improved power receptacles with a heavier grade of gold, heavier gauge micro-monofilament internal wire, and a better quality internal circuit board. There are different outputs for the US, EU, UK, and Australia.