TDK A73 Life on Record Wireless Boombox
With its asphalt black casework, divine symmetry, and two front-facing gold-capped passive radiators, the gently-curved TDK Life on Record Wireless boombox screams thick gold chains and Adidas track-suits, but its elegant layout and sleek lines keep the design from being retro. At Pepcom, three whisky-sodas deep, the pulsing passive radiators beckoned me. I know this is Stereophile, a magazine committed to stereo listening, but how could I say no to a boombox I could hold on my shoulder at a basketball game at the Parade Grounds and actually look like I fit in. Well, maybe not me, but the boombox for sure.
The TDK A73 Life on Record Wireless boombox ($399.95 MSRP) features a 2.1 stereo configuration. At the corners of the boombox's plastic face, two 2" full-range drivers pump out most of the music you hear from the TDK. Centered under the full-range drivers are two 5.25" passive radiators whose domes are painted in lust-worthy gold. In the rear of boombox is a 5.25" subwoofer which provides booty-shaking bass.
Sloping backwards from the top faceplate is a translucent black strip with two dusty gold knobs, one on each end. The left knob acts as a power switch when pressed on and a volume knob when rotated. The volume is indicated by a series of orange dashes circling the knob. The right knob acts as an input selector and bass and treble equalization access point. Inputs available on the boombox include a 3.5mm Auxiliary jack, Bluetooth connection, and FM Radio. Next to this knob is an easy-to-read LED display indicating the radio station, Bluetooth activation, or the equalization level being adjusted. The rear panel features a USB port for iPod/iPhone charging as well as a 3.5mm headphone jack. The unit is powered on by selecting the "On" position on a rear panel switch, followed by pushing the left knob. A built-in rechargeable battery provides up-to six hours of wireless playback.
Speaking of wireless, the primary intention of this boombox is for wireless audio playback via Bluetooth. The TDK A73 Life on Record Wireless Boombox utilizes Bluetooth v2.1 + EDR which is fully backward compatible with Bluetooth 1.2. To activate Bluetooth connectivity for the device, one must scroll the right knob to the blue Bluetooth icon and hold down the knob until the device beeps. Search for the "A73" device on the Bluetooth settings application and connect. Once your device connects, the TDK A73 Life on Record Boombox will beep again.
Nearly all listening tests were done via Bluetooth. This Bluetooth connection operates on the Advanced Audio Distribution Profile (A2DP) and transfers audio using the AAC codec, a lossy format. Regardless, I just wanted to see if this thing could sound good enough for its primary intended use of wireless listening in relation to its $400 price point.
Stephen Mejias's first reaction to the TDK Boombox was, "That thing is so 1980s." John Atkinson let off an audible sigh and grumbled something about 'those darn kids' and walked away.
Over a period of two weeks, my roommates and I broke in the boombox. They were thrilled by the wireless capabilities. Darryl loved that he could just keep listening to the music he was hearing on his headphones the second he came home through an instant connection to the boombox as he walked into the living room. Despite the ultra-convenience of a Bluetooth connection, the question remained: how does it sound?
In a new musical endeavor titled R.E.L's Hebrew School, I select different groups of musicians who have never played together to improvise for a set of semi-themed music. On November 8th, 2012, we strutted our way through a jazz-funk set. The recording linked above was used as a reference for listening to the boombox streamed as a .wav file via Bluetooth from my iPhone to the A73.
At the intro, bass player Matt Domser's finger-plucks multiple muted bass strings to replicate the throb of a heartbeat. Through the TDK, the lowest frequencies of Domser's bass scrapes were not audibly present thus the percussive nature of Domser's beginning phrase was lost. Once Domser starts playing fretted notes, this activated the upper bass frequencies in the music and made his bass boomy.
My 1999 American Fender Stratocaster maintained a little bit of its stratty bite with a thin extension up into the treble but not as aggressive as what would be heard live. For example, if tone knob were on eight on my guitar, the TDK made it sound like it was on five.
When I turn on my tube screamer pedal and very obviously get louder, the TDK didn't necessarily replicate the volume increase, and it lacked girth when recreating my power chords. Strangely, while the piano sounds low in this recording's mix, the TDK's emphasis on lower midrange brought out Reverend Crawford Forbes's hypnotic phrasing.
Bass feedback at the end of the second jam caused the TDK to distort and break up, something I had never experienced on any other piece of gear! What should be a clean although obnoxious feedback tone made this machine crackle and puff smoke from its radiators (an exaggeration).
This recording captured the short-brick walled ambience of the sixty-person capacity Sidewalk Café, which maybe fifteen people occupied that night. The TDK failed to recreate this recording space giving off no ambient details or layers of depth to the sound. This all being said, I do not believe that this machine was created for serious, time and space warping stereo listening. Instead, it's for the person who wants to come home and just keep the music rolling while they wash dishes or play FIFA. That doesn't mean it can sound unbalanced as seen through my blunted guitar tone and over-reactivity in upper bass response, but maybe we can show it some leeway.
Halfway through my listening sessions, friend Alex Pine stopped by to shoot some pictures with the TDK. Here we used the A73 as was meant to be used: on-the-go and totally wireless.
The A73 is lightweight and easy to carry, featuring a plastic handle, which at times did feel a little flimsy. Battery power did not last for our entire adventure, but that is because the machine was not fully charged. An indicator for how much battery life is left on the display would have been helpful.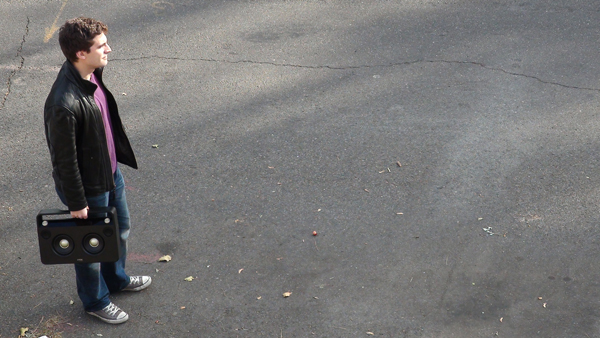 We hung out at the basketball courts. We went to the soccer fields. We put up some spray paint tags and serenaded women from their top-floor bedrooms, all while the A73 played our soundtrack. The ballers didn't ogle the machine as I wished they had and instead focused on their game, but with Kurtis Blow bumping "Basketball is my favorite sport / I like the way they dribble up and down the court", I'm sure the tunes provided a rhythm to their bounces. Standing outside of courtyard windows also didn't win us any dates, despite Alex's chiseled chin, but it did fill the air of Kensington, Brooklyn with Peter Gabriel's "In Your Eyes". As far as a lightweight sound-projecting companion for social situations, the A73 is a good-looking choice.
For a change of pace, I switched to Laura Marling's "Old Stone" (Streamed via Bluetooth, Ogg Vorbis 320kbps Spotify Synced Track) from her precious and perfect debut album Alas, I Cannot Swim. On "Old Stone", her compressed vocals and acoustic guitar emitted powerfully through the TDK where it rested comfortably in the midrange. When all the other instruments on the song break in, the acoustic guitar became non-existent in the mix. Vocal transient information softened as well like the transparent "d" at the end of "change your mind." Background vocals existed but were not well distinguished. The TDK was surprisingly complimentary towards the isolated compressed vocals and acoustic guitar, but the mix lost clarity when other instruments entered the song.
On Feist's "Secret Heart" (Streamed via Bluetooth, Ogg Vorbis 320kbps Spotify Synced Track), the TDK handled the pulpy midrange female vocalist with ease, giving her voice a dominating command on the sound and flow. The kick drum on the track was tuned directly to the subwoofer in the back and created lots of impact, and the passive radiators at the front kicked with the drummer. Despite this visceral effect, the song lacked the perfumed air and delicacy I'm used to hanging around the velvety acoustic guitar and floating synths.
Listening to Schubert's "Death & The Maiden" (Streamed via Bluetooth, Ogg Vorbis 320kbps Spotify Streamed Track) as performed by Wihan Quartet, the cello came across as surprisingly buzzy with each bow. The contrast between the louder and quieter sections was hardly drastic.
On Wagner's Parsifal as performed by St. Martin's Symphony of London, the orchestral swells and layering at the start sound like they are building the song with intensity, but rather than this increased energy be reflected in the addition of instruments, its became added layers of noise. Each instrument entering has a presence but not a clear one.
?uest Love, drummer for the Roots, has a snare sound that should pop with a big high and round bubble of air around it. It is struck with a jazz player's ease but bursts like a hip-hop snare. On The Roots' The Roots Come Alive's "Proceed – Live (1999 Elysee Mountmartre)" (Streamed via Bluetooth, Ogg Vorbis 320kbps Spotify Streamed Track), instead of sounding round and airy, his snare sounded hashy and thin. In addition, the bass was bloated. The combination of the bloated bass plus ?uest's grainy snare sound made the song especially sluggish.
On Foster the People's "Waste" from their Grammy-winning Torches the hashy snare sound returned, this time accompanied by a distorted kick drum. The chorus of the song features a church bell melody doubled with a piano, which were audible through the TDK, but their entrance was subdued and served as orchestral filler rather than as a grand crescendo of instrumentation.
There is one thing I can say about the TDK. It sounds great with raw hip-hop. The subwoofer in the back is tuned high at 350hz so the bass is visceral, and you can see it as the passive radiators bump and grind. On Yelawolf's "Billy Crystal" (Streamed via Bluetooth, Ogg Vorbis 320kbps Spotify Streamed Track), the bass thumped and his sub synths growled yet the reoccurring bell on each quarter note sounded pinched and painful. When I connected Yelawolf directly via 3.5mm connector into the Aux input, the mix clarified by bringing the sounds forward and offered a little more low-end extension but the high-pitched bell tweaking out still hurt my ears.
Recognizing that the mix clarified when plugging into the boombox directly via the auxiliary cable, I attempted to do more comparison with my laptop plugged in directly versus a Bluetooth connection, but my Bluetooth connection cut in-and-out repeatedly during comparisons. Either way, this thing is meant to be used wirelessly. Sorry to be lazy, but that's the truth. And if it doesn't sound good like that, then it's not doing its job. And at $399.95, you the buyer have to choose whether you can afford to lose sound quality for the sake of lightweight portability, wireless playback and good looks.
I wish this boombox sounded better. It looks so darn good, but even at one point after listening for an extended period to some more dynamic recordings, roommate Darryl commented, "This thing sounds weird." The question remains, "Was it the Bluetooth?" My answer is, "Does it matter?" For its purpose in Stereophile, the TDK's inability to decipher a mix, limited dynamics, and difficulty handling intense highs and lows by reacting with distortion rather than a lack of response altogether make this product hard to recommend. Yet, Darryl, this same roommate, also repeatedly asked if he could take the boombox to his room. He was always excited by its looks and how the passive radiators jumped when the A73's bass slammed. He's convinced he needs to buy this, or something like it. It fit his needs and Brooklyn-born aesthetic completely. Is the TDK worth $400 of sound and usefulness and good looks? I don't think so, but to someone else, it might.