Tasteless, puzzling and absolutely classic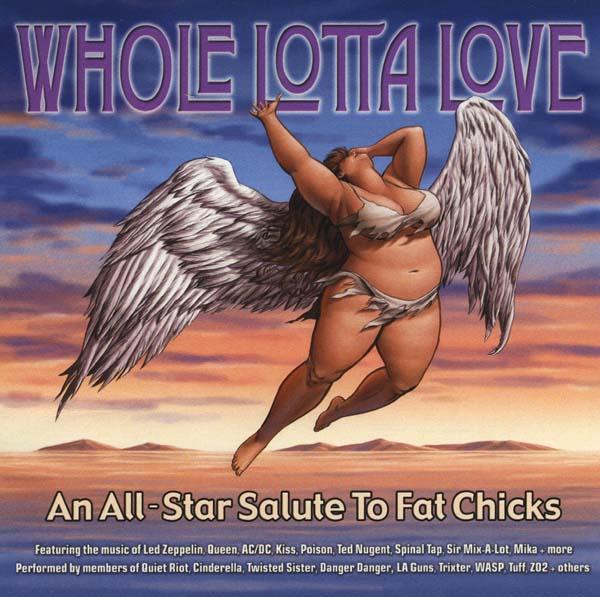 Talk about your bad ideas. I can't decide whether
Whole Lotta Rosie
subtitled "An All Star Salute to Fat Chicks," exists just to be obnoxious or whether Paul LaPlaca and A.J.Confessore
really
are the kind of hard rock dudes that actually love large women. More an excuse for a gaggle of B grade 80's hair band refugees from bands like Cinderella, Poison, and W.A.S.P. [getting' the picture?] to cover tunes like "Whole Lotta Love," "Big Bottom," and Ted Nugent's "Thunder Thighs," than anything else, this is one of the more warped projects that's come across my desk in quite some time. And talk about your marketing challenges! The terms "Fat Chicks" emblazoned prominently across the cover and "Runaway Sales" have nothing in common. So maybe it's a goof in which case, oh well. And you have to give them credit for having the stones to actually put this out on the street with their names on it. This one is for cheesy hard rock aficionados only.
From the offensive to the merely weird. Tina Turner, who clearly has some of the best genes seen amongst human kind—the woman is now 71 years of age and looks about 50 if that—is part of a new Buddhist Chant/Christian Prayer record Beyond. Tina who has not made a record since 1999's Twenty Four Seven, and hasn't made a great record since her mid to late eighties run that began with 1984's Private Dancerand is a committed Buddhist, is kind of a guest star here. Although she appears on seven tracks it's mostly to say things like ,"We all need a repeated discipline, a genuine training to let go our old habits of mind and to find and sustain a new way of seeing." Soprano Dechen Shak–Dagsay is the vocal star on most of these chants. Hard to say much about this project because it's kind of a religious experience of sorts. You either believe or you don't. It's calming pleasant music with chanting and an ethereal soprano singing wordless vocals in the background. Again, it's an odd project.
And now here's something we hope you'll really like! [To quote Rocky J. Squirrel]. There are a handful or artists that I will never, ever get enough of; I want all their official releases as well as any gray area stuff that may be available; any video; any anything that I can get my hands on. At or near the top of that list is the work of pianist Bill Evans which for many reasons gets bigger and better for me with each passing year. The man never had a bad idea. Nor did he box himself musically into corners he couldn't play his way out of, often with stunning results. On the newly released two disc set, The Definitive Bill Evans on Riverside and Fantasy,, the pianist never fails to delight. Although this set is only a tiny sliver of his genius, and all his albums are worth having, you can hear brilliance here on every track. For me his meandering way with a ballad is always the most special part of his talent. Here the live version of "My Foolish Heart," the 1949 Young/Washington standard written for the film of the same name is one of the standouts. Recorded live at the Village Vanguard with his great trio that included Scott LaFaro on bass and drummer Paul Motian, and included on what may be Evans most famous album, Waltz for Debby" the track is timeless, which can actually also be said for most of his music. Another killer track, only this time upbeat, is "You and the Night and the Music," with Evans, Freddie Hubbard, guitarist Jim Hall, Percy Heath on bass and Philly Joe Jones on drums. Being a completist geek, I'm not a huge fan of compilations or greatest hits collections, but this set, now a solid favorite around the Stereophile offices, is a good introduction to his music. There are tons of things that didn't make the cut for this set, which is always too bad, but what's here is spectacular.