SOtM sMS-1000 SQ Music Server/Player/DAC
Another music server that caught my eye was the latest offering from SOtM, which will hit retailers in February for around $3k. Though the front of the box is plain, this is a full-featured machine, as evidenced by the back panel. USB inputs and outputs support up to 32/384 PCM and native DSD, and networking support for DLNA is included.
There is also an auto-ripping CD slot, as well as balanced and unbalanced analog outputs. Several choices for digital out are listed in the brochure, though the photo I took at the show doesn't reveal these on the prototype. There is an HDMI and VGA jack on the back in the photo however.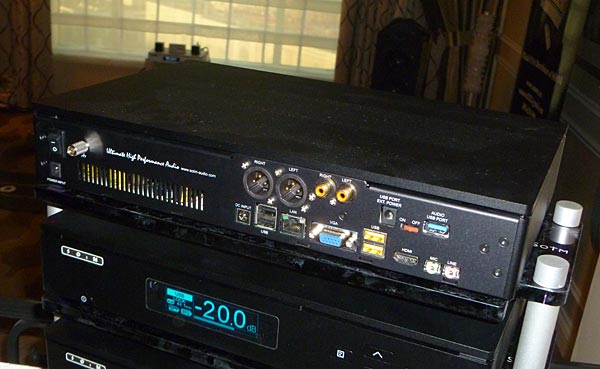 An optional power supply, the sPS-1000 can be added and you can bolster the internal storage up to 8TB, though SOtM's May Park suggested to me that setting up NAS drives on a network might be a better option.