SOTA's $800 Moonbeam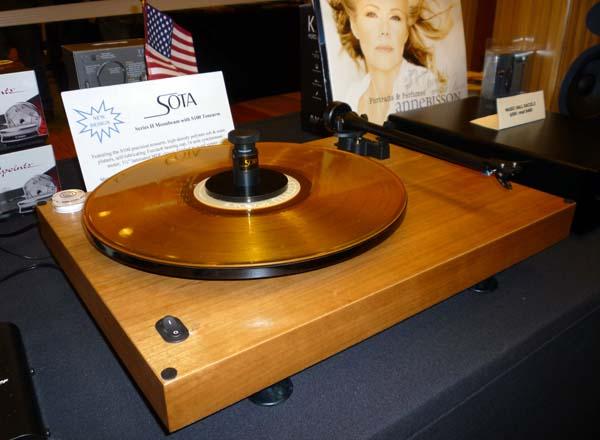 John Atkinson told me I should go see SOTA's Donna Bodinet, so I did, and this is what I found: SOTA's Series II Moonbeam turntable ($800 with S100 tonearm and Ortofon OM5E phono cartridge). The Moonbean features a platter and subplatter of high-density polymer, has a self-lubricating Turcite bearing cup, and a 24-pole synchronous motor. It weighs a solid 18 lbs.
Custom wood finishes add $100, but I think the Moonbeam is beautiful exactly as it is. (Gah: I sound like a pop song. Swoon.)
I suspect the Moonbeam can handle a higher-quality cartridge than the stock OM5E. To that end, Bodinet explained that SOTA will mount and align the cartridge of your choice, so long as you purchase it through SOTA. The Moonbeam, like all SOTA turntables, is made in the USA and comes with a lifetime trade-in guarantee, so your investment is secure and you can upgrade as you see fit.
Hmm…