The Sony MDR-ZX700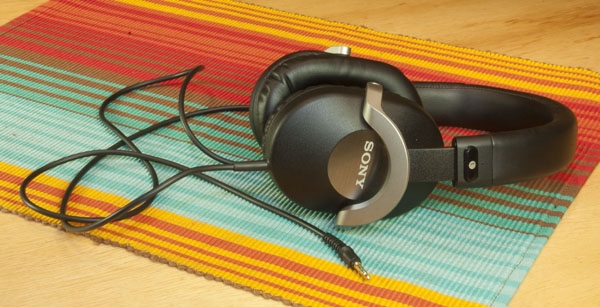 This story originally appeared at InnerFidelity.com
Out of the blue, a Sony PR agent dropped me an email.
"Sony has recently introduced the new high-quality Studio Monitor Series headphones that boast premium sound and technology, and I wanted to see if you are interested in reviewing them."
She referred to four headphones in her email (two full size sealed MDR-ZX700 ($119.99) and MDR-Z1000 ($499.99), and two IEMs MDR-EX600 ($199.99) and MDR-EX1000 ($499.99)), but only had the inexpensive ones for review samples at the moment.
Oh .... okay. I'll take the cheap ones and have a listen. Glad I did.
The Sony MDR-ZX700 ($119.99)
Hundred dollar, sealed, full-size headphones is a tough category. Not so much because of the competition, but rather because it's so hard to make a satisfying headphone of this type and price. Sony makes it look refreshingly easy with these headphones.
Styling
I'll over generalize and say headphones tend to fall into two categories: Bling over substance, and butt-ugly utilitarian. The latter is fine with me; the former is annoying to no end. The Sony MDR-ZX700 hit a sweet spot I didn't even know was there.
This headphone is industrial design at its classic best. A simple curved and nicely padded headband; clean, black earcups with an uncluttered look; and a silver painted bail with a hefty and interesting shape to bring it all together. I find them very inviting. They speak to me: "Hi. I'm a headphone. Put me on and listen." Simple.
Ergonomics and Build Quality
Most "Pro" headphones have numerous features like folding for smaller storage size, replaceable cables, and earpieces that flip around for DJ use. The MDR-ZX700 has none of these. But so often it's these very features that bring complexity to a pair of headphones, which leads to points of failure rather than improved usefulness. Some of the DJ cans are hard to pick up without having the earpieces flop around. The simplicity of the ZX700 is its strength; put them on to listen, throw them in the milk crate when you're done. I think they likely will be a very good general purpose can to have around the studio, they couldn't be simpler to use.
At 47 1/2", the cord is quite short. It's a very good length for portable players and listening to laptops, but it's not a good length for the studio where you'll likely need an extension if you don't have a headphone out attached to a mic stand. The cable is terminated with an 1/8" miniplug, and the plug housing is small so will reach inside protective cases on portable devices. No 1/8" to 1/4" adapter is included.
The build quality and materials on these headphones are quite good for a can at this price. Sony's website refers to the housing with this statement:
Built for precise sound and durability, the aluminum housing provides strength with low mass, helping reduce unnecessary vibration.
If they're referring the earpieces, that's just not true. They're plastic; they're stamped "ABS" (acrylonitrile butadiene styrene), a plastic, on the inside of the cups. I think the marketing people got their wires crossed a bit.
Nonetheless, ABS plastic is good stuff, and I found the fit and finish on these headphones quite well executed. I did some disassembly on the headband and one of the earcups and found the innards to be nice and tidy. All the big bits are held together with Philips head screws; these headphones should be fairly easily repaired or modified. In fact, I think these headphones would be a good base for DIYers to tweak up with stiffening, damping, and/or driver replacement.
Comfort
I found the MDR-ZX700 to be fairly comfortable on my modestly larger-than-normal head. The clamping pressure is moderate, and the fit close; with their light weight, this combination felt very secure on my head. The earcups are somewhat on the small and shallow side; though the pads did fully encircle my ears, they did touch both the pad and the baffle plate within the earcup. I would characterize them as a bit confining, but not uncomfortable. With long listening sessions they did become a little bothersome.
The headband is nicely padded, and with the light weight and close fit of the earpieces, the headband can be adjusted so that some weight is born by the seal around your ear. I didn't experience any "hot spot" where the headband rests at the top of my head.
So, how does it sound?