RMAF 2016: Day 1 Liftoff
On Friday morning at 9am, the blogging team of (left to right) yours truly, John Atkinson, Herb Reichert, and Jana Dagdagan gathered for a strategy meeting in the newly remodeled restaurant of the Denver Marriott Tech Center. As it ended up, I opted to cover rooms in the lobby, on the mezzanine, and on floors 5, 6, and 10 (45 rooms). John, who could only stay for two days, went with floors 7 and 11, and the independent Magico exhibit at the nearby Hyatt (24 rooms)—as well as all the other things you need to do when you're the Editor of the world's largest-circulation audiophile magazine. Herb went for floors 3, 4, 8, and 9 (45 rooms). Jana, in her first time covering an audio show, added ad-lib blogs to floor 2 (11 rooms). On the last day, Herb and I also chose to pick up what had not yet been completed.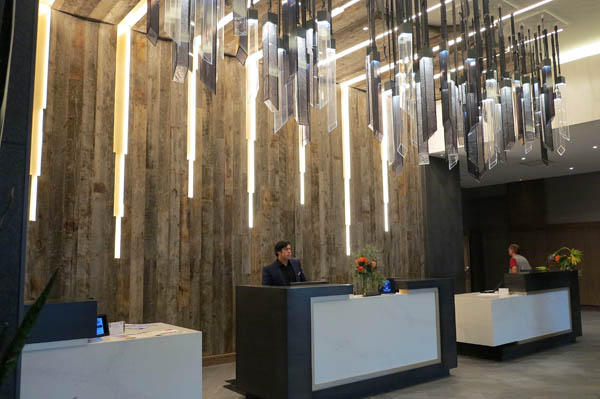 The new ultra-clean-and-modern look of the lobby, and the new downstairs layout, welcome though they were, came at a price. The entire Atrium, as well as the conference space—the latter used, in years past, for seminars, entertainment, and the largest CanJam of any audio show in North America—was unfinished. Thus were all those exhibits shunted into: a huge, heated tent; some large ballrooms in the main hotel; and mostly-open spaces referred to as media pods. It seems only Channel D/Joseph Audio opted for the pods. And as for those exhibitors who wanted large demonstration spaces, there weren't nearly enough to go around. As a result, a number of major players, among them YG, regretfully either bowed out entirely or resigned themselves to static displays on the ground level.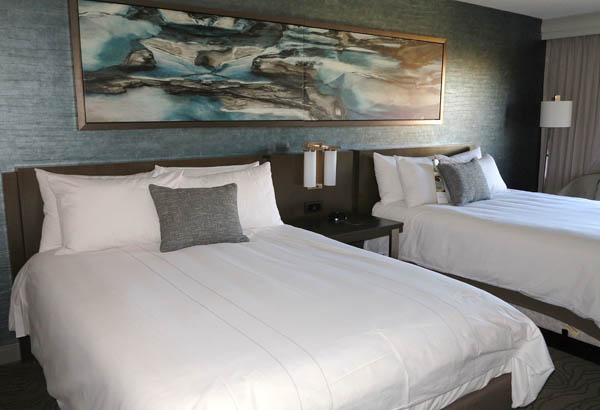 Having an equal impact on RMAF were the changes to the standard-size hotel rooms in the Tower. To guests, the new décor was lovely, and the supposed soundproofing, which did not extend to those locked safety doors between rooms, gratefully received. But…
… as you can guess from the photo above, those changes were not of benefit to exhibitors. While the noisy, antiquated heating/cooling units under the windows were gone, they were replaced with an even noisier air-conditioning/heating system housed in a shaft at the end of each room's permanent, unmovable desk/credenza/wall-mounted TV setup. Thus were exhibitors who chose the traditional, up-against-the-windows installation scheme left with a substantially narrower-than-before space in which to set up speakers, and seating areas that could comfortably accommodate only three people per row.
"Standard size" now felt like "Smaller size." Together with new wall coverings, an unmovable bed headboard, and other sundry decorative touches, these thorn-in-the-side alterations made for a different acoustic which only some exhibitors were prepared to address. For exhibitors with floorstanding speakers of other than narrow dimensions, the space felt extremely cramped.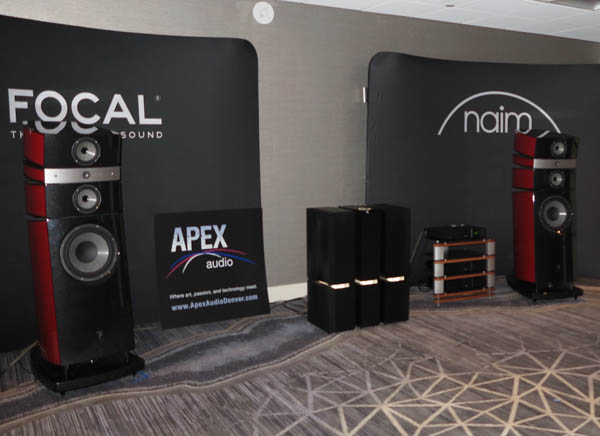 Less affected by the remodeling, as far as I could see, were the large rooms on the mezzanine level where I began my blogging. First up, Naim and Focal, from Audio Plus Services. With the help of Stillpoints Aperture panels, Ricardo Chailly's version of Mahler Symphony 10, performed by the Berlin Radio Symphony, produced gorgeous string sound via the Naim UnitiServe UPnP server ($4595) and Naim NDS network player ($12,995) with two NAPS555 power supplies ($11,495/each), one for digital circuitry, and the other for analog, all sitting on a Naim Fraim rack. The sweetness was truly heart-tugging, but when the volume increased, strings turned wiry. Prior experience with these brands points the finger at the room.
The massive Focal Stella Utopia loudspeakers ($97,500/pair) conveyed an excellent sense of the sheer volume of massed strings, as well as the spaciousness of the symphonic acoustic. It was quite thrilling. A CD of Dire Straits' "Private Investigations," upsampled to 24/192, again produced a fabulous, huge soundstage populated with images of substantial body. Yes, there were some bass-control issues, but that's par for the course in large hotel rooms with spongy walls. Equally impressive, despite brittle highs, was the sense of mass on a recording of Saint-Saëns' well-worn Organ Symphony.
Other essential, hard-to-miss components: Naim Statement NAC S1 preamplifier ($90,000), a pair of Naim Statement NAP S1 monoblocks ($90,000/each), Naim Super Lumina cabling, and Vovox network cables.
I had to virtually goose Walter Swanbon of Fidelis AV (distributor of Harbeth and other brands) and Kevin Hayes of VAC to get them to smile, but there was plenty of reason for them to do so. Through the Harbeth 40.2 loudspeakers ($14,795/pair in cherry), Acoustic Signature Ascona MK2 turntable ($33,999) with their 12" TA 9000 tonearm ($18,999), VAC Signature 200 iQ 100Wpc amplifier in 200W monoblock configuration ($14,000/each), VAC master preamplifier line stage ($27,000) with phono option ($13,000), unidentified Tellurium interconnects, and Tellurium Q Black Diamond speaker cables ($4200/pair), I experienced a gorgeous, luxuriant bath of sound via Sara McLaughlin's "Angel." The system was also quite revealing, with all the hiss from the LP of Dorati's Firebird evident. The soundstage, from the first row, was huge.
"Eminently smooth, delicious warm sound with fine body—conveys the mystery behind the music wonderfully," I wrote in my notes. As long as you like warm sound, the system was fabulous. Yes, there was some booming on Coleman Hawkins and Ben Webster's "You'd Be So Nice to Come Home To." But in the end, that's exactly what I will say about the pairing of Harbeth and VAC: absolutely nice to come home to.