RMAF 2014: The Norton Chronicles Continue
Even in a world where a five-figure price tag for a pair of loudspeakers is no longer a jaw-dropper, Raidho Acoustics' has carved out an honored place. I've been impressed by the company's small C1.1 speakers in the past. This year the D-1s were on show ($26,000/pair, including stands), driven by Constellation electronics. They made a bit less of an impression this time, but in a very different, and likely problematical room and what appeared to be excessive spacing that limited soundstage cohesion. This sort of setup was an issue in some of the other, larger demo spaces as well, probably in an attempt to offer a good listening compromise in a large seating area.
Focal was showing its more upscale Utopia range of speakers in several upstairs rooms, but in a ground floor suite it demonstrated its new Aria 926s, driven by a Devialet 400 amplifier. The latter, at $17,495, appeared to be a bit of overkill for a $3299/pair of speakers. The latter's bigger sister, the Aria 936, was just reviewed in our November 2014 issue. But enough about speakers and amps; is that fellow ogling that cool IKEA cabinet or the Devialet?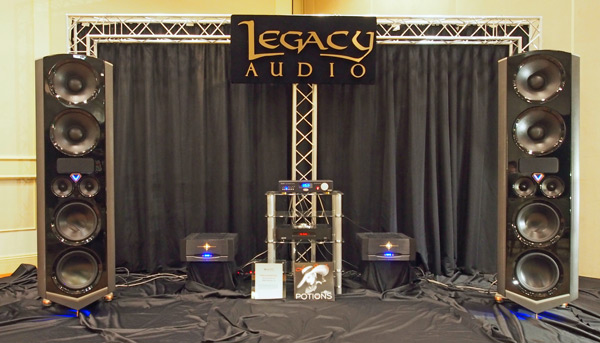 Legacy Audio's new flagship is incredibly complex. The V speakers are driven by a total of 2800W of multi-amp ICEpower, together with a Legacy's "Wavelet" processor. The latter, integral to the $50,000 speakers/electronics package (March 2015), functions as a preamplifier, sophisticated "Bohmer" DSP acoustic processor, and electronic crossover.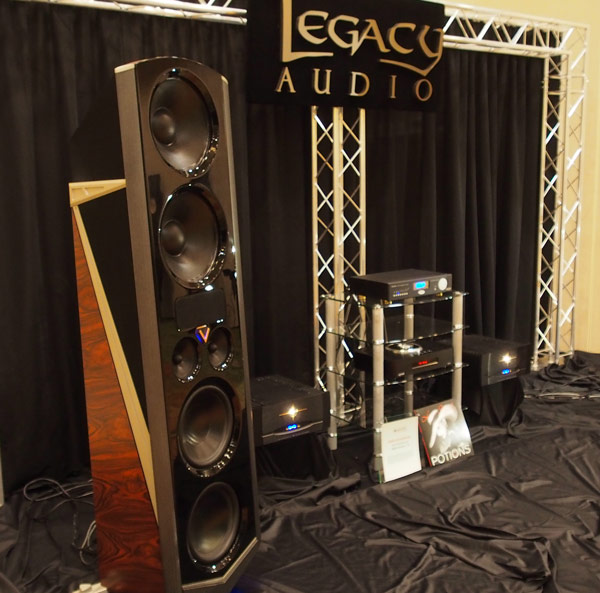 Here's a closer look at the new Legacy V loudspeaker. At the bottom, one of the 12" woofers operates into a sealed sub-enclosure. Another 12-incher (dubbed the subwoofer) is assisted by three 10" "mass-loaded pneumatic radiators." (Sounds like passive radiators to me.) Dual 14" drivers operate in a dipole configuration for the lower midrange and upper bass, and another dipole driver services the upper midrange. Topping off the system are two AMT tweeters
Bob's Devices has drawn critical raves for its moving-coil step-up transformers, but at its stand this year my eyes were drawn to this VPI Avenger turntable. According to Bob, this will retail for $15,000 (I asked him twice, just to be certain), including two of VPI's 3D-printed tonearms. That sounds like a bargain to anyone familiar with turntable prices these days (VPI's new direct-drive flagship is considerably more expensive), but if it turns out to be true, could generate a few sales to buyers who feel flush enough to pay five-figures for a premium turntable that doesn't cost as much as a Mercedes.
The booths and demos on the main floor lobby covered the gamut from the packed CanJam headphone section, to the usual room full of eager audiophiles rummaging through a vast collection of music on LPs and CDs, and to this Vkmusic setup offering a wide range of electronics goods. These included a kit amp (more on this below) and a fully assembled, $1250 CD transport with an included 16-bit, non oversampling, outboard DAC. Also visible in the photo is a pair of Oasis speakers (again, see below) that were not being demonstrated to good effect. But a hotel lobby is not exactly the best place to audition and judge loudspeakers!
The use of full-range drivers seems to be a growing subculture in the audiophile world, and this model from Oasis Audio is as odd-looking as any. The clear spherical enclosure backing up the speaker isn't the only color option if you don't like to see the driver's innards. I didn't get to hear them in their 11th floor suite, but drivers with whizzer cones attached to their midsections are definite throwbacks to the early 1960s. Back then it apparently made sense, as dedicated tweeters weren't all that special.
This Elekit integrated amplifier, distributed by Vkmusic (www.vkmusic.ca) can be yours for just $725.The output stage is configurable to either Ultra-linear, Pentode, or Triode mode. Power output is rated at 8Wpc in UL, 8.2Wpc in Pentode, and 4Wpc in Triode. The finished amp is shown on the right; the amp without the protective chassis is on the left.
In a "take me to your leader" flash of inspiration, Tyler Acoustics has produced the Taylo Dream Console. The inside is loaded up with Tyler speakers (natch-including small subs within the cabinet) a VPI turntable, Grado cartridge, Rogue Audio tube hybrid integrated amp, and more. In more ways (with its $28,000 price) than this isn't your grandfather's console stereo.