Records to Die For 2018 Page 5
---
David Lander
---
George Crumb: Complete Crumb Edition, Vol. 18
The Yellow Moon of Andalusia, Eine kleine Mitternachtmusik, Celestial Mechanics, Yesteryear
Tony Arnold, soprano; Marcantonio Barone, piano; Steven Beck, Susan Grace (Quattro Mani), piano four hands; Bernie Brink, piano; David Nelson, William Kerrigan, percussion
Bridge 9476 (CD). 2016. David Starobin, prod.; Adam Abeshouse, eng. DDD. TT: 67:56
Complete Crumb Edition, Vol. 13
American Songbook II: A Journey Beyond Time. American Songbook IV: The Winds of Destiny.
Barbara Ann Martin, soprano; Orchestra 2001, James Freeman
Bridge 9275A/B (2 CDs). 2008. David Starobin, prod.; Adam Abeshouse, eng. DDD. TT: 82:27
George Crumb is as much an American original as Walt Whitman, whose poetry he has set to music. While his compositions have been featured on recordings from more than three dozen labels, the contemporary-classical experts at Bridge are practically kin to the West Virginia native, who has won both a Pulitzer Prize and a Grammy. In October, Bridge marked Crumb's 88th birthday by releasing Vol.18 of its Complete Crumb Edition, an imposing series supervised by the composer.
Crumb's exotic and uniquely colorful oeuvre is distinguished by a vast palette of timbres wrung from an eclectic array of instruments. In Yesteryear, two percussionists back a soprano's vocalise with conga, log, and large bass drums, as well as timpani, Chinese woodblocks, coil drum, Flexatone, Indian ankle bells, wind chimes, crotales, and Japanese temple bells. To extend dynamic range, the composer amplifies pianos. In addition to using keys and pedals, pianists directly attack their instruments' innards, manipulating strings in various ways with their hands, and striking structural components.
Celestial Mechanics was written for amplified piano four hands, and the sonic impact its two performers generate can be startling. A lone amplified pianist performs Eine kleine Mitternachtmusik—musical meditations on Thelonious Monk's "'Round Midnight" that incorporate the jazz artist's themes and merge the sensibilities of two brilliantly idiosyncratic composers.
In Vols. II and IV of American Songbooks, cycles of African-American spirituals, Civil War songs, and folk tunes, Crumb's spellbinding orchestrations transform homespun cloth into finely wefted tapestries. A soprano, an amplified pianist, and percussionists playing more than 100 ringing, rattling, reverberating instruments make the air around them shimmer like apparitions. Here Crumb is a medium, channeling the spirits of enslaved field hands and soldiers in forage caps, motherless children a long, long way from home.
---
Michael Lavorgna
---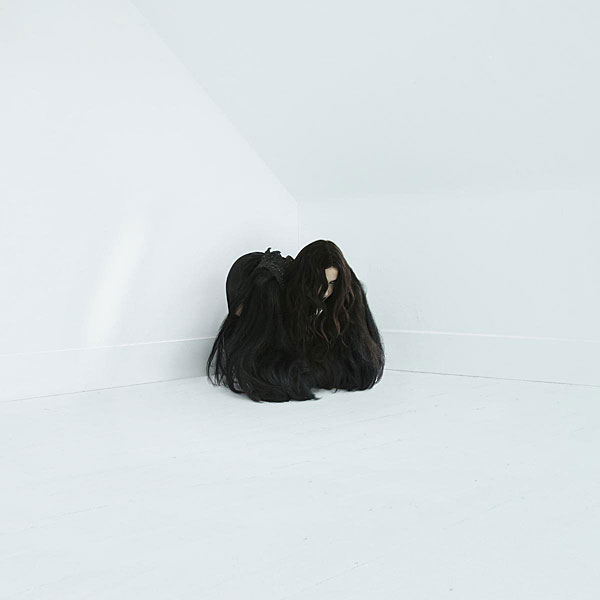 Chelsea Wolfe: Hiss Spun
Sargent House SH 184CD (CD). 2017. Chelsea Wolfe, Ben Chisholm, prods.; Alan Douches, eng. DDD? TT: 48:10
Recording in Salem, Massachusetts, at the studio of Converge guitarist Kurt Ballou, Chelsea Wolfe was joined by guitarists Aaron Turner of Isis/Suma and, to add heavy, Troy Van Leeuwen of Queens of the Stone Age. It worked.
The thing about heavy is that some who are put off by it seem to think you have to live in it to like it. Not so, says I. I enjoy butterflies and butter as much as, if not more than, the next guy, but I also enjoy dipping into heavy because, as we all can see, life is a heavy place.
Boris: Dear
Sargent House SH 180CD (CD). 2017. Boris, prods.; Fangs Anal Satan, eng. DDD? TT: 69:11
Megalithic heaviness.
On Dear, their twentysomethingth record, Boris leave their shape-shifting behind, skip Pink's pop, and strip down to heaviness. This pleases me no end: fat-ass doom chords, distortion, hellacious vocals, and searing angelic riffs that run all the way up that stairway to heaviness. The only way to listen to Dear is loud. It's like motorcycling through a blast furnace, "all Halloween orange and chimney red" (Tom Waits). Sweet.
---
Richard Lehnert
---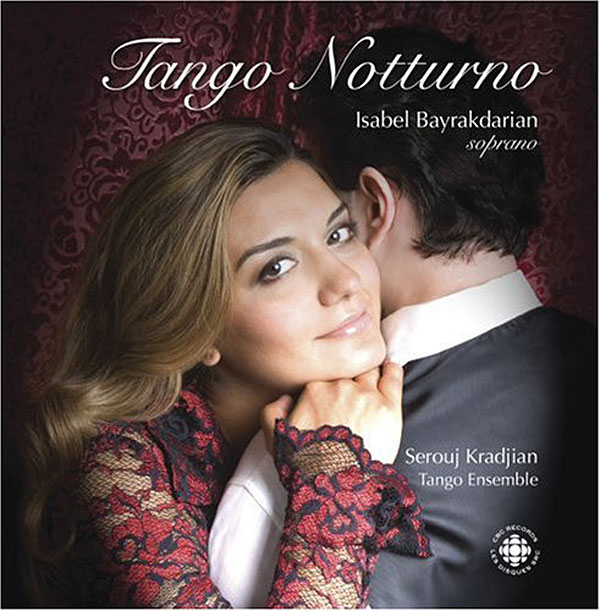 Isabel Bayrakdarian: Tango Notturno
Music of Aieta, Babadjanian, Bergmann, El-Atrache, Gade, Gardel, Mononen, Piazzolla, Rodriguez, Troilo, Weill
Isabel Bayrakdarian, soprano; Serouj Kradjian, piano, arr.; Shalom Bard, clarinet; Levon Ichkhanian, oud; Daniel Bolshoy, guitar; Marie Bérard, violin; Roman Borys, cello; Fabián Carbone, bandone¢n, arr.; Roberto Occhipinti, double bass
CBC MVCD1176 (CD). 2007. Neil Crory, prod.; Doug Doctor, eng.; Peter Cook, ed., mastering. DDD. TT: 70:15
Tango, danced or sung or played or all three, has never done a thing for me. This generously long album of tangos sung by an operatic soprano, arranged by her classical-pianist husband—both are Canadian-Armenian—and played by a small ensemble, does things for me I did not know could be done. As I listen, more chills spider up my spine than with any other record I know. Each of its 17 tracks is absolutely thrilling music.
Carlos Gardel (1890–1935) developed and performed the modern tango in his native Argentina, birthplace of the form. His music was new to me, and his three tangos here sparkle in what seems delight in their own melodic invention. Bizet could not have done better. There are tangos by Piazzolla, of course, and one from bordering Uruguay, but . . . German tango? Finnish? Egyptian tango? Even I knew "Jalousie"—so do you, even if you don't—but not that its composer, Jacob Gade, was a Dane. They're all here too, along with what seems to hold it all together, at least on this album: Armenian tango.
Serouj Kradjian's arrangements are deft, always surprising, and he plays them—and directs his octet—with steady, spirited grace and panache. The music-making is brilliant. So seamless are these musicians' talents, their skills in ensemble playing seem bred in the womb—particularly those of violinist Marie Bérard, clarinetist Shalom Bard, and bandone¢nista Fabián Carbone.
But if Tango Notturno embodies throughout a wedding of craft to inspiration, that's most true in the singing of Lebanese-born Ysabel Bayrakdarian. What a voice. What a singer. Her top, middle, and bottom, well down into contralto territory, are equally secure, equally full and rich and expressive, equally powerful. If the idea of a soprano impeccably trained and much recorded in opera, oratorio, and lieder taking on tango sounds like slumming, crossover, mere entertainment, banish such thoughts. This is music expressed from deep cores of vocal discipline, human feeling, and rigorous musical intelligence. An example: In Kurt Weill's "Youkali," sung in French, Bayrakdarian's delicate diminuendo transition into the third chorus is almost unbearably exquisite, as if crooned by firelight into a lover's ear. A minute later, the fourth chorus is proclaimed in dramatic heldensopran style, as if by a goddess on a mountaintop. She does this sort of thing in tango after tango. And perhaps it's just me, but I was never so thrilled as when I heard her sing the album's titular tango, written for Marlene Dietrich and Pola Negri by Hans-Otto Borgmann, in perfectly accented, perfectly idiomatic German. Bayrakdarian's university degree is in biomedical engineering. Go figure.
Throughout, not a finger or bow or vocal cord is put wrong. The sound, recorded in Toronto's Glenn Gould Studio, is lovely, dark, and deep, with a great sense of musicians inhaling the same warm air, exhaling the same heated music. I think this must be a perfect album. You will have heard nothing like it.
Randy Newman: The Randy Newman Songbook: The Complete Solo Recordings 2003/2010
Randy Newman, voice, piano
Nonesuch 79490-5 (3 CDs). 2003, 2010/2016. Lenny Waronker, Mitchell Froom, prods.; David C. Boucher, Seth Waldmann, Steven Rhodes, engs.; Robert Ludwig, mastering. DDD. TT: 2:22:54
These 55 compositions, sung by their composer accompanying himself on piano, are a treasure trove of a unique species of Americana from when the word evoked not Wilco et al but Aaron Copland, Elmer Bernstein, and Thomas Hart Benton. Randy Newman's songs are almost never about himself. They are, instead, about all of us—mostly, his fellow Americans. Callousness and compassion, churlishness and grace mingle inextricably throughout—here, for every "Rednecks" there is a "Marie," for every "Short People" a "Dayton, Ohio—1903," for every "Yellow Man" a "Cowboy." Just as a Presidential election tells us things about ourselves as a nation and a people that we may not want to know, Newman tells us what we are by showing us who we are. The view, if often unsettling and occasionally repellent, seems not only balanced but comprehensive—not bad for a miniaturist. Newman always gives the personas in whose voices he sings full license to tell their stories as they understand them, however offensive they may be in their ignorance, racism, and cruelty, however comforting in their tenderness, warmth, and geniality, however simplistic in their sentimentality and self-pity, and however discomfiting when several or all of those qualities are embodied in a single song. They are sung from the precisely observed deep loneliness of uniquely American forms of narcissism, and are profoundly instructive. In short: Randy Newman has nothing against short people.
The few instrumentals aside, each track of Songbook bracingly opposes two very different types of music. Randy Newman is immensely underrated as a pianist. He almost never takes a break or solo, and seldom improvises. These are through-composed art songs—in the transcendently despairing "Let Me Go" he plays the same notes he played 40 years ago, when he recorded the song for the soundtrack of The Pursuit of Happiness (1971). A true minimalist, he plays the acoustic piano with precisely deliberate articulation. He proves that a simple progression, even a single chord, when fully voiced with exacting discipline and allowed to be fully heard and experienced by the listener, is all a great musician needs. Listening, I am repeatedly struck by the notes in a chord that Newman omits. This makes the notes actually played ring more plangently, more hollowly, with more astringent poignancy as their harmonics curdle and resolve. Often, above a simple folk- or hymn-like arpeggio, or a gospel or blues or ragtime progression, keens a weirdly wailing descant, far from the home key or downright dissonant. Newman's palette is small; with it, he seems able to paint anything.
The recording helps this, and it's just the sort of recording of acoustic piano I most dislike: very up-close, aridly dry, with almost no sense of the room—which sounds not much larger than the piano. At first this seemed exactly the wrong choice. Now I realize how apt it is for these songs: There is no chance of escaping into a mellifluous "warmth" or "beauty," a crooning sonority. It forces me to hear the full spread of each chord, which Newman voices with remarkably democratic balance, the volume and articulation of each note realized with exquisite balance and care. The sound throughout the piano's entire range has the dry, chalky quality of the instrument's topmost octave, where the strings have no damper felts—not usually the most attractive sort of piano sound, and perfect for what Newman does here.
Heard against this is that second music, an aspect of Newman's musicianship even more often underrated: his voice and what he does with it. Fifty years ago, the first song I heard him sing was "Davy the Fat Boy" (it appears here on disc 3): a chillingly affectionate story told by a man who has turned an obese childhood chum into a freak-show attraction. Against Newman's own lushly Mahlerian orchestral arrangement on that first album, Randy Newman, I heard a slurred croak, growling, ugly, often barely intelligible. I was 18 and had listened to nothing but classical. I wondered if the singer had suffered a stroke, or was some sort of musical idiot savant. The only idiot in the room was me.
Some still hear Newman's voice as a cruel parody of the cliché of the drunken old bluesman. I know of few voices or singers more expressive, especially as accompanied by his own metrically meticulous piano playing, which sets precise boundaries of rhythm that his singing then gleefully transgresses. It's like raising a goblet of Waterford crystal to your lips, only to see within, staring balefully up at you, a slimy, warty frog that, god help you, looks as if it wants a kiss.
Do it. You never know what it—or you—might turn into. (Vol.26 No.12, Vol.23 No.9, Vol.40 No.2)
---
Robert Levine
---
Pärt: Alina
Spiegel im Spiegel, Für Alina
Vladimir Spivakov, violin; Dietmar Schwalke, cello; Sergej Bezrodny, Alexander Malter, piano
ECM New Series 1591 (CD). 1999. Manfred Eicher, prod.; Markus Heiland, eng. DDD. TT: 51:24
I've just realized, much to my horror, that I'd never before chosen Alina as an R2D4—a CD I've given to almost a dozen friends over the years. Für Alina, a two-minute solo piano piece composed by Arvo Pärt in l976, ushered in his "tintinnabuli" style: the bell-like, simple, no-notes-wasted method for which he has become beloved and famous. The program here is tranquil, intimate, maybe new-agey but not of the low-hum variety. One of the things so special about it is that it gets everyone—and it's difficult to explain why. It probably has something to do with its effect of stopping time while offering comfort. Pianist Alexander Malter plays Für Alina twice, as the second and fourth tracks; each version takes almost 11 minutes. With familiarity, one notices minute variations in tempo, emphasis, and rubato from one to the other. In Spiegel im Spiegel, the paired instruments mirror one another (Spiegel is German for mirror); tracks 1, 3, and 5 are this work scored for piano and, respectively, violin, cello, and again violin. Almost impossible to describe in its simple allure, each of the three sets is beautiful; the cello in track 3 gives it extra mellowness. This music is never boring, jarring, or irritating—if it could be bottled, I'd recommend drinking it. Since it can't, just listen, and nod approvingly and lovingly. (Vol.24 No.2, Vol.34 No.2)
Monteverdi: Combattimento
Patrizia Ciofi, soprano; Rolando Villaz¢n, Topi Lehtipuu, tenors; Emmanuelle Haïm, Le Concert d'Astrée
Virgin Classics 36340222 (CD). 2006. Daniel Zalay, prod.; Michel Pierre, eng. DDD. TT: 67:28
I have a slight fear that Monteverdi purists—actually, early-music purists—will storm my castle with burning torches for my praise of this CD. Conductor Emmanuelle Haïm's early-music credentials are faultless, as is her fascination with improvisation—which, if we are to believe contemporary reports, was rampant in 17th-century music. In 2006, when this was recorded, it seemed almost a throwback to the days before historically informed performances—she used non–baroque-trained, grander-voiced singers with warm, rich vibratos presumably suited for music composed a century or two later. The strings, etc., while not precisely Brucknerian, also use vibrato. (Haïm had done the same in her recording of Monteverdi's Orfeo two years before, but those strings were more reserved.) This full-blooded approach works, it turns out, and the Combattimento di Tancredi e Clorinda, a thrilling narrative under any circumstances, is edge-of-the-seat thrilling as narrated by tenor Rolando Villaz¢n: His voice is rich, dark velvet, but he can handle the quickest coloratura with stylistic grace and ease, and his diction and changing inflections keep us on the edge of our seats. Similarly, neither soprano Ciofi as Clorinda nor tenor Lehtipuu as Tancredi has the type of voice we normally associate with Monteverdi, but their commitment, musicality, and dramatic thrust make this reading as urgent and touching as it should be.
The shorter pieces, too, are remarkable: Ciofi enters into the madrigal "Ohimè ch'io cado, ohimè," a mock-lament by a person falling in love, with a sigh on ohimè that would not be out of place in Donizetti, and it brings out the song's irony—and truth. Villaz¢n and Lehtipuu sing the duet "Interrotte speranze," a lament to a "heartless lady," at first in perfect unison; when the voices separate, they counterpoint off one another with passion and near-instrumental purity. This disc, as we used to say in the '60s, is a trip. (Vol.30 No.5)
---
Sasha Matson
---
Junior Wells' Chicago Blues Band: Hoodoo Man Blues
Delmark/Analogue Productions AAPB-034-45 (2 45rpm LPs). 1965/2009. Robert Koester, prod.; Stu Black, eng.; Kevin Gray, remastering. AAA. TT: 40:20
When Delmark Records released Hoodoo Man Blues in 1965, producer Bob Koester described it as "damn near the first LP by a Chicago blues band." This viscerally punchy electric blues is anchored by unimprovable harp playing from Junior Wells, a young Buddy Guy by his side. From the kick of up-tempo numbers like "Snatch It Back and Hold It" to the deep, sexy, slow moan of "Early in the Morning," you just can't top this. Current audiophile bona fides are in excellent order, thanks to fine remastering by Kevin Gray and Analogue Productions for 45rpm LP, SACD/CD, and DSD download. (Vol.14 No.1, Vol.19 No.12, Vol.22 No.2, Vol.23 No.2)
Steve Reich: Music for 18 Musicians
Brad Lubman, Ensemble Signal
Harmonia Mundi HMU 907608 (CD). 2015. Michael Riesman, prod., mastering; Jeff Svatek, eng. DDD. TT: 59:17
Music for 18 Musicians remains Steve Reich's masterpiece, and it changed the sound of classical, pop, and media music. It was written in 1977, and four different recordings are now available. This performance, from 2015, strikes the best balance in terms of presenting the intimacy of the textures and timbres without digital harshness. I love the elegant structure. The stately procession of harmonies creates "melody by accretion," if you will. There's a deep flavor of the African plains here as well—I can almost smell them. This is great traveling music; I like listening to it on Amtrak along the Hudson. (Vol.38 No.8)