Records to Die For 2018 Page 2
---
David R. Adler
---
Cal Collins: By Myself
Cal Collins, guitar
Concord Jazz CJ-119 (LP). 1980. Frank Dorritie, prod.; Phil Edwards, eng. AAA. TT: 35:88
The late Cincinnati plectrist sounds either like a tight big band, a bebop combo, or a virtuoso pianist on this miraculous, out-of-print album of solo guitar. Melody and counterpoint, harmonic ingenuity, unflappable swing at any tempo: Collins puts it all across with a pure tone, lightly miked and amplified, that lets his Benedetto archtop sing and breathe. He offers blues, rubato ballads ("Stairway to the Stairs"), up-tempo scorchers ("By Myself," "No Moon at All"), and Broadway staples ("Sunrise, Sunset"), throwing in the odd Merle Travis lick while devouring and dissecting every chord change. Seek out this forgotten classic.
Illtet: Gain
RogueArt ROG-0064 (LP). 2016. Mike Ladd, prod.; Scotty Hard, prod., eng. DDA. TT: 47:43
This mysterious vinyl-only release captures something key about the overlap between jazz, hip-hop, and the avant-garde as the young 21st century unfolds. Mike Ladd's stark and disquieting poetry looms large. Hprizm/High Priest raps only on "HP One," but his electronic footprint is strong (as is Ladd's). Jeff Parker plays a subtle sound-sculpting role, while Tyshawn Sorey's acoustic drums lay the rhythmic foundation. In the slow funk of "Market Crash," the dislocated bombast of "Look Back '08," the abstraction of "Raise the Bar," and the hypnotic storytelling of "Gain" and "Rome," one hears a prescient alchemy.
---
John Atkinson
---
Rachmaninoff: Piano Sonata 2, Variations on a Theme of Corelli, Six Moments Musicaux
Evelina Vorontsova, piano
STH Quality Classics CD 1416092 (CD). 2017. Paul Steverink, Boudwijn Zwart, prods.; Jaco van Houselt, eng. DDD. TT: 74:42
Rachmaninoff: Piano Sonatas 1 & 2
Robert Silverman, piano
Stereophile STPH019-2 (CD). 1980/1991/2008. Robert Silverman, prod. AAD/DDD. TT: 65:25
Sonata 1: Hamburg Steinway piano. Recorded in analog in 1980 at UBC Recital Hall, Vancouver. Garth Edwards, eng.
Sonata 2: New York Steinway piano. Recorded digitally in 1991 at West Point Grey United Church, Vancouver. Selwyn Pullan, eng. Postproduction: Anton Kwiatkowski, 1999; John Atkinson, 2008.
In 1990, when Stereophile first recorded Canadian pianist Robert Silverman, the repertoire was Brahms. But during those sessions I told Robert that someday I'd like to record him performing the two Rachmaninoff sonatas. "I've already recorded the first sonata," he said. "It was released as a Marquis LP in the early 1980s." Robert went on to explain that he'd subsequently recorded Sonata 2, in 1991, and that both sonatas had been issued on CD by OrpheumMasters. Sonata 1 was a digital transfer from the original analog tape; Sonata 2 was a digital recording. When OrpheumMasters shut up shop in 2006, I persuaded Robert that it would be worth reissuing the recording as a Stereophile CD, and his performance of the neglected Piano Sonata 1 has since become a favorite of mine. The sonata begins quietly enough, with a simple falling-fifth motif, but the first movement develops into a work of epic proportions nearly 40 minutes long, with haunting melodies, massive dynamic contrasts, and lush, sensual harmonies. "I've heard no other pianist play this movement with such consummate poignance," wrote the reviewer in Fanfare of the second movement on the original LP. "The tone bespeaks regret and loss, but it is also phenomenally gorgeous. . . . This is the kind of 'big,' thunderous playing that makes one want to hear more."
Robert's performance of the 1913 version of Sonata 2 doesn't quite reach those heights, and the digital sound is less rich, but last spring I was sent a CD featuring the Russian-Dutch pianist Evelina Vorontsova performing piano works by Rachmaninoff, including the composer's 1931 revision of Sonata 2. Recorded at 24/192 with Brüel & Kjær FET/tube microphones, this CD's sound quality is rich and dynamic, and Vorontsova's playing is powerfully passionate. "After the impressively played fortissimi of the opening few minutes," Robert Levine wrote in his review in the August 2017 Stereophile, "Vorontsova meets the lovely cascades of sweet, luscious melody (at about 6:00) with grace and a gentle touch, playing with lyricism all the way into the maniacal Allegro molto, which is played with care and clarity at a tempo at which one can actually hear the music." Indeed! Vorontsova's performance of the second sonata is the perfect companion to Robert Silverman's performance of the first. (Vol.40 No.8)
---
Jim Austin
---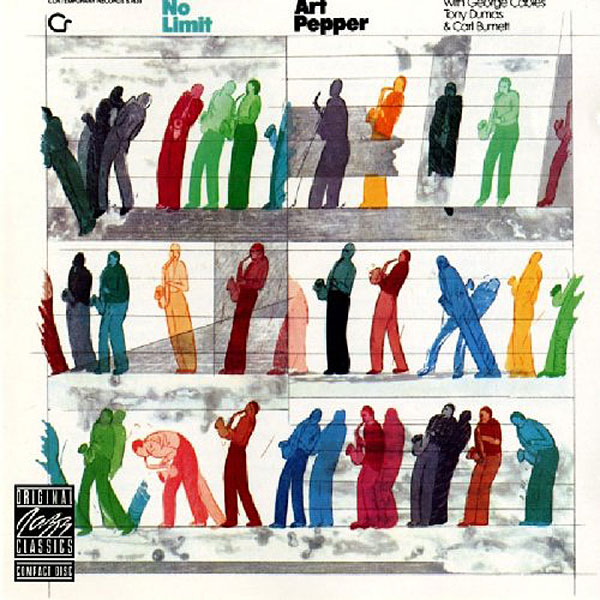 Art Pepper: No Limit
Art Pepper, alto & tenor saxophone; George Cables, piano; Tony Dumas, double bass, bass guitar; Carl Burnett, drums
Contemporary S7639 (LP). 1978. Lester & John Koenig, prods.; Dick Doss, mastering. AAA. TT: 37:42
This is one of those records you routinely see in used-record shops. A lot of Pepper's late-career, post-addiction recordings feature achingly beautiful playing, but Pepper's playing on No Limit—especially in "Ballad of the Sad Young Men," the album's only cover—has an almost unbearable poignancy. It's searing. I can't think of another piece of music that conveys so much sadness.
Squeeze: Argybargy
A&M CS-3232 (LP). 1980. Squeeze, prods.; John Wood, prod., eng., mix; Andy Lumm, eng. AAA. TT: 41:20
Growing up in a small, remote city, I wasn't exposed to music beyond Rush and Van Halen—but when my brother hauled home mix tapes from college, recorded from Philadelphia radio stations, I finally heard a bit of the richness of early-1980s music. I latched on hard to Squeeze, especially Argybargy. When, at age 17, a brush with mortality sent me to the hospital, I spent my last moments at home committing Argybargy to Maxell cassette as my mother packed my bag and toothbrush.
Walkmen were new then, and I didn't yet own one, so I hauled my chunky Sony headphones and Technics cassette deck (with its volume-controlled headphone jack) to the hospital and set it on the bedside table beside the ubiquitous plastic water pitcher. Chris Difford's romantic, punny lyrics and Glenn Tilbrook's tight, witty writing distracted me from the medical goings-on; I took refuge in a world of mussels, beaches, and young love. "Summer came so they went / down to the coast in his tent . . . / She told him in his rucksack / I think I want that chance back / to be perhaps the one who / will forever love you."
It still resonates. A perfect record.
---
Robert Baird
---
Tom Petty: Tom Petty & the Heartbreakers
Shelter SRL52006 (LP). 1976. Denny Cordell, prod.; Noah Shark , Max Reese, engs. AAA. TT: 30:56
Tom Petty: Damn the Torpedoes
MCA MCA-5105 (LP). 1979. Tom Petty, Jimmy Iovine, prods.; Shelly Yakus, eng. AAA. TT: 36:34
Among all the sad passings of musicians in 2017, none seemed quite as resounding as that of Tom Petty, who died unexpectedly in October. A classic case of the weird, introverted kid who became a rock star, Petty was a gifted songwriter with an expressive voice and a facility for playing rhythm on Fender Stratocaster and, later, Rickenbacker guitars. Though he had recorded highlights later in life, in particular Full Moon Fever (1989), Petty's best moments on record were laid down between his self-titled 1976 debut and 1979's Damn the Torpedoes. Like a lot of first records, Petty's is unsteady and tries too hard in the middle, but it's ultimately held together by the second and final tracks, "Breakdown," and "American Girl." Next out was 1978's You're Gonna Get It! buoyed by "Listen to Her Heart," but it was seen, even at the time, as stasis or, at best, a very small step forward. One of the greatest LP sides in rock history, the five tunes comprising side 1 of Damn the Torpedoes are unforgettable songwriting all the way: "Refugee," "Here Comes My Girl," "Even the Losers," "Shadow of a Doubt (A Complex Kid)," and "Century City." I can't tell you how many girls I might have kissed while those timeless hits were playing! Best of all, this was a true band record: Mike Campbell, Benmont Tench, Stan Lynch, and Ron Blair were tight and committed throughout. At the risk of sounding like a rock moldy fig, they just do not make 'em like this anymore. (Torpedoes, Vol.29 No.2)
Joe Henderson: Multiple
Joe Henderson, tenor & soprano saxophones, vocals; Larry Willis electric piano, ring modulator, Echoplex; David Holland, electric & acoustic bass; Jack DeJohnette, drums
Milestone M-9050 (LP). 1973. Orrin Keepnews, prod.; Elvin Campbell, eng.; Al Vanderbilt, asst. eng. AAA. TT: 40:52
The flowering of fusion in the 1970s, in particular as played by Donald Byrd and Joe Henderson, can be a touchy subject even with devoted fans of those players. To those who loved both men as boppers, the addition of funk to their music was a frivolous waste of their talents. Here, on what I consider to be his finest studio record— just a cut below his most widely acknowledged masterpiece, the two volumes of The State of the Tenor: Live at the Village Vanguard—Henderson fashions some of the most impassioned solos of his career, jumping right in with the monster grooves of "Tress-Cun-Deo-La," in which he also tries his hand at singing. James Blood Ulmer, a guest on this track, adds his guitar, but this is not a fusion record on which screaming electric-guitar leads rule. That role is filled not only by the man whose name is on the album cover, but also by his rhythm section: Dave Holland, in one of his finest performances on record; Larry Willis, whose electric-piano sound is classic '70s, and who even toys with the Echoplex; and, finally, Jack DeJohnette, who drums throughout as if his hair were on fire. Adding funk freed Joe Henderson's playing—as it did Byrd's—giving him a new musical vocabulary to work in for a time. From the rapid-fire honking in "Song for Sinners" to the lyrical lines he weaves around Holland's monster bass line in "Turned Around," Henderson was feeling this music. What more can you ask?
---
Larry Birnbaum
---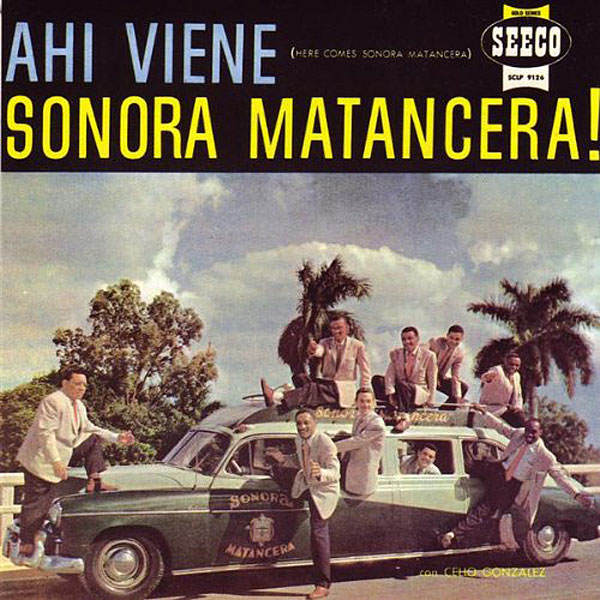 La Sonora Matancera: Ahi Viene
Seeco SCLP-9126 (LP), Palladium 132 (CD). 1958/1988. Unknown prod., eng. ADD? TT: 33:20
Founded in 1924, this twin-trumpet son conjunto was at its peak in 1958, when Ahi Viene was recorded. More than any other Cuban group, La Sonora anticipated the salsa music that emerged in New York in the 1960s, thanks largely to salsa godfather Johnny Pacheco, who made the Matancera sound his own. Punchy arrangements, rich brass sonorities, the pellucid singing of Celio González, and the elegantly rhythmic piano of Lino Fr°as sparkle in smooth boleros such as "Nadie Quiere Ser Culpable" and "Una Docena de Besos," as well as such up-tempo numbers as the hot guaracha "Besito de Coco" and the salsa-esque guaguanco "Dejame Ya Mujer."
Stravinsky: Pétrouchka, Le Sacre du Printemps
Igor Stravinsky, Columbia Symphony Orchestra
CBS Masterworks MK 42433 (CD). 1962/1988. John McClure, prod., eng.? ADD. TT: 65:12
The composer himself leads an ensemble assembled especially for these recordings, giving arguably the definitive performances of his two greatest works. Written in Paris for the Ballets Russes around the time that cubism emerged, these ballet scores mark the dawn of the modern musical era. The sound quality, though not up to contemporary standards, is still excellent, and the music is thrilling, a roller-coaster series of tableaux of a Russian carnival in Pétrouchka, and a palpitating pagan ritual in Le Sacre. While Pétrouchka dazzles with its rich polytonal textures, Le Sacre—surely the most influential classical work of the 20th century—simply overwhelms with dissonance and rhythmic force.