Recording of May 2016: Rainbow Ends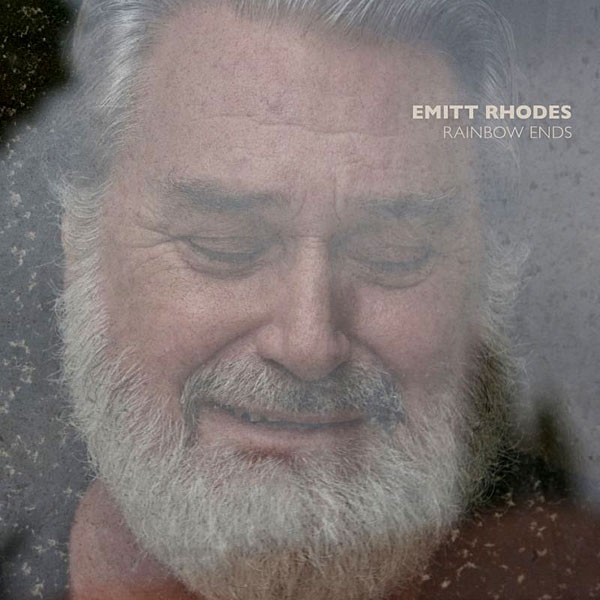 Emitt Rhodes: Rainbow Ends
Omnivore OVLP-163 (LP). 2016. Chris Price, prod., eng.; Pierre de Reeder, Kyle Frederickson, engs.; Nathan Flom, Emitt Rhodes, Emeen Zarookian, add'l. engs. ADA? TT: 37:01 Performance **** Sonics ****
"A few shows here, a few shows there—Emitt eventually found himself without a label, and his career came to a halt," reads the biography on EmittRhodesMusic.net. "He had had enough. He was 24."
Go on, admit it: Everyone loves a disappearing act—the plight of the unjustly snakebit, the ghostly casualties of a business that markets creativity but doesn't respect it. Hawthorne, California native Emitt Rhodes, onetime drummer for mid-'60s SoCal garage band (and later Nuggets staple) Palace Guard, and later the cofounder and leading force of L.A. psychedelic pop band Merry-Go-Round, went solo in 1969. Unfortunately, in a sadly familiar music-biz tale, he signed a ridiculous contract with ABC/Dunhill Records that obligated him to produce two albums a year. As a one-man operation who wrote all the songs, played all the instruments, engineered the tracks, and meticulously assembled his records, one, let alone two records a year was never a real possibility. A bitter breach-of-contract tussle precipitated Rhodes's clean break from the music business.
So it was probably with some small sense of relief that Emitt stepped into obscurity, jaded at age 24. He had been burned by the business and decided to play it safe. "During the rest of the Seventies he spent most of his time in the studio, not as an artist, but as a staff engineer/producer/pre-production man and studio operator for Elektra/Asylum," his website's bio continues. "A 1980 Emitt Rhodes return album was started and then aborted when the A&R executive behind the project left the label. Emitt laid low for a couple of decades, but the scenario was repeated much more recently when an Emitt Rhodes album on the Rocktopia label was planned for a 2000 release, only to be delayed and eventually scrapped altogether when the label ran into some legal troubles."
Despite the well-known dark side of dealing with the record business, there is, if you're lucky to live long enough, an equally strong penchant, often driven by those same economic factors that make it treacherous in the first place, toward musical rediscovery and redemption. With the release of the portentously titled Rainbow Ends, that healing eventuality has finally come for Rhodes. Now 66, and living in a house in Hawthorne across the street from the one he grew up in, the still-handsome Rhodes, swathed in a mane of white beard and hair, was slowly coaxed from obscurity by another singer-songwriter, Chris Price, who went on to produce Rainbow Ends. According to a recent interview in the New York Times, Price grew interested in the reclusive Rhodes via an online connection with a woman who "was concerned about Mr. Rhodes's health" (footnote 1). They then enjoyed seven years of casual friendship before Rhodes set the project in motion by presenting Price with demos of the songs that became Rainbow Ends. The all-star band of longtime Rhodes fans recruited to play on the record included Jason Falkner and Roger Joseph Manning Jr. (Jellyfish), Joe Seider (New Pornographers), Pat Sansone and Nels Cline (Wilco), Susanna Hoffs (The Bangles), Aimee Mann ('Til Tuesday), and musical jack-of-all-trades Jon Brion.
The Times reported that "The core band recorded in Mr. Rhodes['s] home studio, so long unused it appeared like the lair of Rip Van Winkle. 'It was a time capsule of the '70s,' Mr. Price said. 'It was all shag carpet with this amazing console that existed only back then, and a washing-machine-sized tape player that wasn't working. But the mikes were great and it had his upright piano from his first record.'"
The opener, "Dog on a Chain," in which Rhodes's still-strong voice can easily be mistaken for Warren Zevon's, immediately sets the tone for what's to come: brainy, tuneful, SoCal power pop—not from a perky twentysomething on the cusp of being crowned "the new McCartney," but from a 66-year-old pondering his life's course and his inevitable regrets, with enough perspective to make lines like these, from "If I Knew Then," land with a wallop: "Abandon all hope, all ye who enter here / The future is dark and the way not clear / and your fate may be worse than you might fear."
The album's overall hue of trepidation ("is there somewhere else she wants to be / with someone else, not with me") and expected disappointments ("Before you say I'm really very special / Then run to another's arms / Won't you give me just a moment / to right this wrong?") is leavened with music, all by Rhodes, that squarely fits the category of "baroque pop" he's often credited with having helped invent. Electric guitar and keyboard textures enliven simple arrangements that center on Rhodes's high, plaintive voice. While there are no hits per se, each song is beautifully crafted. And the lighter moments, such as in "Put Some Rhythm to It," when Rhodes advises, "If you wanna learn to dance / if you wanna find romance / all you gotta do is shake your ass / and put some rhythm to it," are very welcome. Listening, I was struck by how much the great Bill Lloyd, one of power pop's true giants, has been influenced by Rhodes. In spots, their singing styles and vocal qualities are even eerily similar.
Fair play, karma, justice—call it what you want. Sometimes, the voice of an artist is too strong to be snuffed out. Still seeking satisfaction through his personal and finely spun pop music, Emitt Rhodes has returned.—Robert Baird
---
Footnote 1: Jim Farber, "
Emitt Rhodes, a New Album Out, Emerges from His Slumber
,"
New York Times
, March 6, 2016.