Recording of January 2011: Funeral Mariachi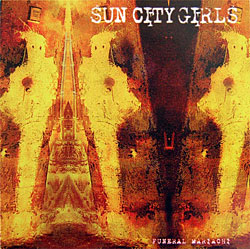 Sun City Girls Funeral Mariachi
Abduction ABD 045LP (LP). 2010. Alan Bishop, prod., eng.; Scott Colburn, Randall Dunn, engs. AAA. TT: 37:12
Performance ****
Sonics ****
There are musicians for whom fame and fortune hold no allure, whose goal is to fulfill a more esoteric vision. Nearly 50 albums and 25 years ago, three mad punk polyglots, their brains baked by the Arizona sun, and all of them in love with the Middle East–North Africa axis of what, in the 1980s, was ineptly titled "world music," decided to make music without borders. With no fear of influences and no burning ambition for commercial success, they zestfully and successfully mixed comedy, noise, Zappa, Beefheart, Middle Eastern drones, jazzy horns, psychedelia in all its forms, film composer Ennio Morricone's inventive moodiness, Indonesian Gamelan mojo, lots of real and made-up languages, and, yes, some actual singing. Rougher in the beginning, the records began to sound better as time went on.
At the height of the band's productivity and unpredictability—they worked hand in hand—the Sun City Girls were nearly a cult. They religiously eschewed publishing any clear photos of themselves, and released their music in small pressings to enhance the mystery. Though they moved to Seattle in 1991, they'll always be Arizona's most mystical and ultimately most rewarding musical homeboys. For those of us who spent time in the state of Calexico, Meat Puppets, and Alice Cooper, it has been a mind-altering aural pleasure to follow the Girls' journey.
Now, despite the subsequent success of the brothers Bishop—Alan runs the eclectic reissue label Sublime Frequencies (see Stereophile, December 2010, p.130), and Richard has a thriving John Fahey–like solo career on Drag City Records—the band has come to a natural stopping point, thanks to the death by cancer of Charles Gocher in 2007, who played all the drums, gamelan, gongs, and anything else that kept the Sun City Girls' always otherworldly time. Funeral Mariachi was the last album the band finished before Gocher's death. It is also the best-sounding SCG album ever.
Despite its solemn/ridiculous title (it's the SCG way!), the last record opens with "Ben's Radio," one of the trio's patented three-ring-circus mixes of American garage-rock guitar, chants in a foreign language (or gibberish), folk-style acoustic guitar strumming, guitar freakouts, and hard-to-identify sonic squiggles. The fun continues on "The Imam": squeaky toys become percussion while voices sing foreign words and a woman's voice cries over a drone. English makes a rare appearance in "This Is My Name," in which Alan Bishop sings, "When I was dead I looked exactly like you / and now I'm alive and nothing is true. / This is my name, I've opened my eyes / to watch you mount in the sizzling sky."
The album's turn toward its elegiac title begins with the final cut on side one of the LP, "Vine Street Piano (Orchestral)," the kind of beautiful, straight, sepia tone poem that the band has sprinkled throughout its many albums. This mood is continued throughout side two, which opens with the requiem-like "Blue West," for piano, pitch pipe, ghostly singing, and a solemn guitar line that has the Ennio Morricone spaghetti-western flavor that the band has often tapped into. Later they go straight to the source for a mostly straight-ahead cover of a non-western Morricone number "Come Maddalena."
Along with being a slow, sad farewell, side two may be the straightest thing this band has ever recorded. A conventional song structure dominates "Holy Ground," whose sinuous guitar line curls like a question mark over deadpanned lyrics about "clouds lifting from within" and how "the foaming spray of beauty sings." Both the interlude of "Mineral Wells," for Mellotron and piano, and the following track, "El Solo," are downcast laments. The finale, the title track, is a rumination, complete with guest David Carter's obligatory mariachi trumpet improvising over low, chanting male voices, random percussion, and picked electric guitar. "Funeral Mariachi" fades away slowly, the instruments going silent one by one.
In a twist of fate that must please these dedicated iconoclasts no end, the Sun City Girls' "final record" has brought them to the attention of many ears that had never heard of them before. Now that they've called it quits, their older records, always pressed in limited quantities, are soaring to unheard-of prices on eBay and Amazon.com. A trove of taped live shows and studio outtakes may before too long ensure future releases.
Funeral Mariachi was even reviewed in the October 21, 2010 edition of the New York Times, which made reference to the fact that until Funeral Mariachi, "they were beyond understanding." For the musically unadventurous, perhaps; but for those who listened, they were a band whose records were hard to find, dense and knotty once you put them on. They were the anti-Journey. They were attracted to music from all over the world that spoke to them and seemed worth mashing together into records that at times got carried away with being weird, and could at times seem a bit like an inside joke meant to be exclude anyone with narrower tastes. But underneath all their now hugely influential musical alchemy beat a trio of true hearts. Behind the veils and scarves they always wore in photos were three music fans of encyclopedic tastes who cared about sound, and who, in the end, were attracted to nothing less than musical transcendence.—Robert Baird