Recording of August 1984: Saint-Saëns & Ravel Orchestral Works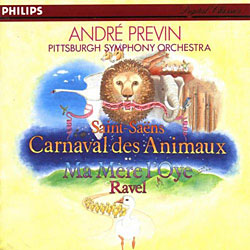 Saint-Saëns: Carnival of the Animals
Ravel: Mother Goose Suite
Pittsburgh Symphony Orchestra, André Previn, cond.
Philips CD 400-016 2 (CD).
The whimsical Carnival, with its nose-thumbing at Saint-Saëns' contemporaries (eg a lugubrious "Can-Can" and a stately cello rendition of Berlioz's Dance of the Sylphs, from The Damnation of Faust), is given a delightful treatment here, and put on one of the best-sounding CDs I've heard to date from a major record company.
Philips has been less up-front about the roots of its CDs than most other record manufacturers, If fact, they have been downright sneaky about it. This release—billed prominently on the CD jacket as a "Digital Recording"—sounds very much as if it was analog-mastered. The is certainly nothing Philips should ashamed of, because this is a better-sounding recording than most digitally mastered ones. I can complain about the strange "wholpy" sound of the xylophone in "Fossils," bit otherwise the recording has depth, very good instrumental balances (a nice mixing job!), and a lovely feeling of delicacy combined with immense power when the need arises. But dammit, there is still the traditional emphasis on the first violins, which have the apparently obligatory (if slight) steely edge.
Previn's Mother Goose Suite doesn't have quite dreamy sensuousness of the old Koussevitsky on 78s (re-released in mono on RCA LM-1012) or even on the 1960s Ansermet on London, but the combination of generally lovely sound and an excellent performance is just too much to resist.
In other words, this is one of the best releases on CD to date. Highly recommended.—J. Gordon Holt