Record Store Day 2012: The Haul
Initially, I had planned on enjoying a low-key Record Store Day, visiting my local independent shop, Iris Records, and simply leaving it at that. But things never go the way I plan. The allure of J&R Music World in Lower Manhattan, just a short trip across the Hudson, was too great to resist. And if I was going to be in Manhattan, how could I not head over to In Living Stereo? The hi-fi shop was hosting an all-day event with live music, sales on used records, and free beer. It was my duty to attend. And, of course, In Living Stereo is just steps away from my very favorite record shop, Other Music, so I would have to drop by there, too.
Here's what I picked up along the way:
Stop #1: Iris Records, Downtown Jersey City
I'm fortunate to have such a great record shop just steps away from my apartment. Iris was full of enthusiastic customers from the moment they opened at noon. Store owner Steve Gritzan was in great spirits, and I got to give copies of our April and May issues to Christine. "Ah!" she smiled. "Someone told me they'd read about me in Stereophile again!"
Iris is heaven for crate-diggers.
Dr. John: Locked Down (Look for John Swenson's review in our July issue)
Robbie Basho: Venus in Cancer
Wilfrido Vargas & Sandy Reyes, Abusadora
Crossover Dreams: Original Motion Picture Soundtrack, featuring music by Ruben Blades, Andy Gonzalez, Yomo Toro, and Virgilio Marti
Sin Ropas: Fire Prizes, a beautiful picture disc
Antony and the Johnsons: I Am a Bird Now
Stop #2: J&R Music World
J&R was a great place to be on Record Store Day! Most stores wind up with a very limited supply of a rather small selection of special Record Store Day titles. Anxious customers push and shove their way to those few selections and bombard helpless store owners with questions like "But where's the Mastodon/Feist seven-inch?"
But at J&R Music World, happy customers found an extraordinarily large supply of a very wide selection of titles. Judging from the conversations I overheard, however—"Thirty-three is faster than forty-five, right?"—many of these customers were not diehard vinyl fans, but were instead more casual listeners.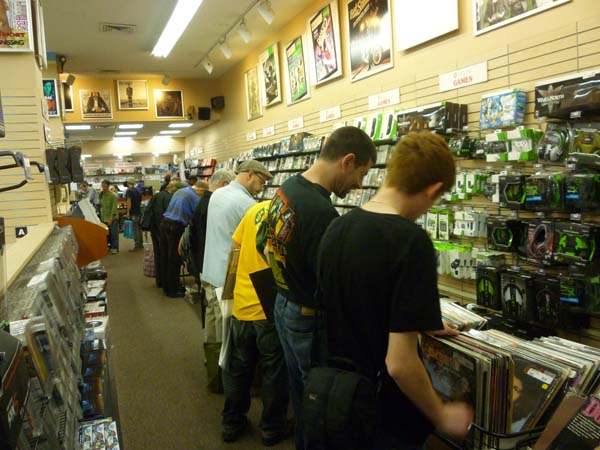 In addition to the many stuffed bins of limited-edition Record Store Day releases, J&R packed their aisles with hundreds and hundreds of massively discounted titles, many marked at just $0.99! I could have spent all day flipping through these bins.
Philip Selway: Familial
Mississippi John Hurt: Last Sessions
Skip James: Devil Got My Woman (hate when that happens)
Luv N' Haight Edit Series, Vol.1: Mike James Kirkland. "What My Last Girl Put Me Through" (Nicolas Jaar) b/w "What Have We Done" (78 Edits)
Amanda Palmer and The Grand Theft Orchestra: "Polly" b/w "Idioteque"
"Sweet Honey Pie" (Mike Watt and The Missing Men) b/w "My War" (The Chuck Dukowski Sextet)
Rhino Side by Side 7": MC5 b/w Afrika Bambaataa: "Kick Out the Jams"
Rhino Side by Side 7": Aretha Franklin b/w Otis Redding: "Respect"
Pussy Galore: "Feel Good About Your Body"
Stop #3: In Living Stereo
We took a cab from J&R to In Living Stereo and arrived just in time to catch Robbers On High Street, guzzle a few free beers, and snag some choice LPs. The place was packed with beautiful people.
Mal Waldron w/ Eric Dolphy and Booker Ervin: The Quest
Archie Shepp: Blasé
Fania All-Stars: Rhythm Machine
Black to Comm: Earth
Dope Body: Nupping
Stop #4: Other Music
Several beers later, in between In Living Stereo and Other Music, we met up with more friends and meandered over to Great Jones Café, where I made a mockery of a massive pulled pork sandwich. Nothing builds an appetite like shopping for records.
By this time—more than eight hours after I'd walked into Iris Records—I was too happy to take any photographs. Just know that, at 8:30pm, Other Music was still busy with eager shoppers.
Eric Chenaux: Guitar & Voice
Burial: "Kindred"
Sun Araw & M. Geddes Gengras Meet the Congos: Icon Give Thank
Ben Vida: Esstends Esstends Esstends
Thee Satisfaction: Awe Naturale
Yum!