A Pure Vision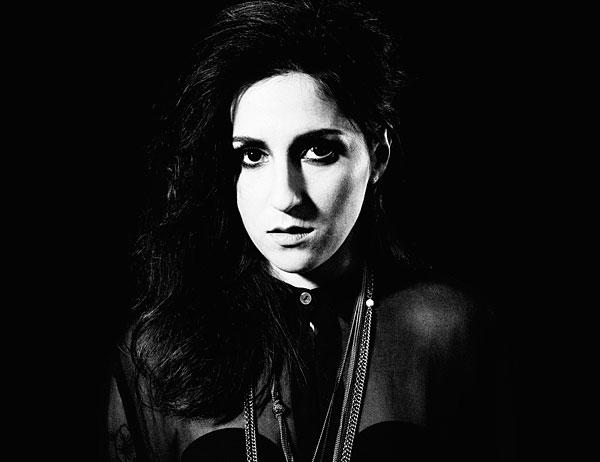 A few years ago, while on vacation in Puerto Rico, I found myself sitting at
a nearly empty beach bar
, discussing music with
Cassie Ramone
, singer and guitarist for one of my favorite bands, Brooklyn's Vivian Girls. (I was as surprised as anyone by the strangeness of this chance encounter, but that's
another story
.) When the conversation turned to the topic of so-called "lo-fi" bands, Cassie's tone became critical, almost bitter: "No one wants to make 'lo-fi' records," she said.
Cassie was exaggerating—there are bands that, for artistic, philosophical, or other reasons, enthusiastically embrace the raw, hazy "lo-fi" sound—but her point was nevertheless interesting and, to me, exciting: Vivian Girls was just one of many young, independent bands that wanted to make hi-fidelity recordings but lacked the means to do so.
What if these talented musicians were somehow given the opportunity to realize their dreams? My mind raced: What if I could get John Atkinson to record the Vivian Girls? The world would certainly become an even more beautiful place. I smiled, turned my attention to the dazzling ocean, and took another long swig from my rum and coke.
My conversation with Cassie Ramone recently came to mind while listening to One Second of Love, the successful sophomore release from the Los Angeles band Nite Jewel. The album flows easily and colorfully from one three-minute song to the next, each marked by memorable lyrics, beguiling harmonies, well-placed bridges, and singer Ramona Gonzalez's compelling voice. But none of this makes the album extraordinary—like many of today's independent bands, Nite Jewel has shown a knack for crafting intelligent pop songs from the very start. What makes One Second of Love such a sweet and welcome surprise is its good sound.
One Second of Love now ranks among my favorite albums of 2012, but I almost ignored it completely. In 2009, Nite Jewel released their debut, Good Evening, which I tried hard to enjoy but just couldn't. Listening to it was an exercise in frustration: Good Evening had enormous potential—there were melodies and hooks and danceable rhythms—but the sound was incoherent, juvenile, amateurish. Good Evening sounded less like a polished, fully realized work than a demo—good enough, maybe, for background music at a bar, but invariably disappointing when played on my stereo. Though I desperately wanted something better from Gonzalez, and felt certain she was capable of producing it, there was no way I could have anticipated the charms of One Second of Love. In terms of content, performance, and sound, the new album is an astonishing leap forward.
In the February/March 2012 issue of The Fader, Gonzalez confesses that, with Good Evening, she was "intentionally messing stuff up," recording her voice so that the words were "pretty incomprehensible." In the three years between Good Evening and One Second of Love, she decided that she'd been treating herself and her audience unfairly. "The most important thing with this album was to give a pure vision to whoever's listening. . . . It's embarrassing to go to a club or something and a DJ drops your track and it sounds like shit because you didn't know what you were doing. This time, we took painstaking steps to make sure that this music can be listened to by anyone in any context."
Ramona Gonzalez's pain is our pleasure: The album sounds great on my hi-fi.
A few days after reading that piece in The Fader, I posted a blog entry about "The Recipe," the latest single from 25-year-old rapper Kendrick Lamar. Produced by Elijah Blue Molina (aka Scoop DeVille), the song, which I happily downloaded from iTunes, employs a sample from "Meet the Frownies," an obscure track by indie-rock band Twin Sister. And that song was recorded, in 2010, as part of the outstanding Shaking Through series of documentary films.
Cosponsored by the nonprofit organization Weathervane Music and independent radio station WXPN, the Shaking Through program partners filmmakers with talented young musicians and puts them in a professional recording studio with experienced engineers. The band gets two days to record a song; the entire session, from tentative first notes to final mix, is captured on tape and edited into a short film. It might not be Vivian Girls recording with John Atkinson, but it's close—an undeniably positive experience for all involved. Bands get the knowledge, skills, and results that come from recording under optimal conditions, while fans get to hear their favorite bands reaching their full potential. Visit www.shakingthrough.com for an archive of the sessions, complete with films, photos of the recording studios and associated gear, and even access to stem files and raw tracks.
A day after I'd posted that blog entry on Kendrick Lamar, I was contacted by One Twenty Two, the management company representing Gimel "Young Guru" Keaton. If you've never heard Keaton's name, it's nevertheless likely that you've heard his work: Since 1999, he's handled engineering, production, and A&R for Roc-A-Fella Records, a subsidiary of Universal Music Group. Most notably, Keaton is Jay-Z's personal mixing engineer. When Keaton isn't at the board, he's traveling the world, lecturing for the Red Bull Music Academy. Like the Shaking Through program, Red Bull Music Academy strives to equip talented young musicians with the skills needed to survive in the rapidly changing music industry.
As I write, Keaton is wrapping up a trip to Beirut, where he, fellow lecturer DJ Zinc, trumpeter Ibrahim Maalouf, and multi-instrumentalist Fadi Tabbal shared with young Middle Eastern artists the intricacies of recording, producing, performing, and distributing music. The benefits of such interactions are immense. In a world increasingly governed by simple conveniences and quick satisfactions, programs like Shaking Through and the Red Bull Music Academy are encouraging signs that a culture of craftsmanship and a devotion to quality can be passed along to new generations. With any luck, Cassie Ramone's idealistic vision can become a common truth: No one will want low-quality anything, and one second of love can be transformed into a lifetime of enjoyment, fully realizing the dreams of recording artists and listeners alike.—Stephen Mejias