Pro-Ject Essential Turntable Lineup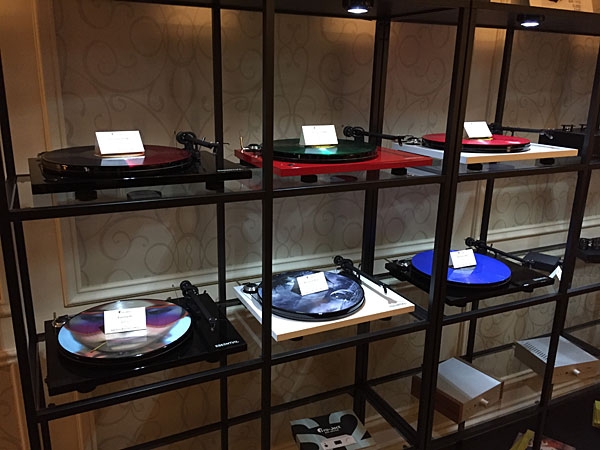 Pro-Ject has launched several new models of turntables this year intended for the budget conscious market. Company president Heinz Lichtenegger explained that after helping to kick-start the analog resurgence, they introduced the new entry level models in response to "analog transitioning to a feature-driven market dominated by Chinese brands" bringing out ever cheaper all-in-one feature-laden products.
Pro-Ject has decided to offer specific features in a family of different budget 'tables so you can get exactly what you need without money going to features you won't use. The bare-bones model is called the Essential III at $299 and works like any basic turntable. "A beautiful turntable doing everything correct," says Lichtenegger. Nothing fancy until you step up to the Essential III SB at $399 which adds speed change capability.
How about just a phono preamp built in? That would be the Essential III Phono at $349. Or if you want just a digital connection, there's the Essential III Digital with optical output at $399. Or if the one wants to stream because the turntable is not where the audio system is located, or wants to connect wireless speakers, there is the Essential III BT at $399 which includes Bluetooth, 'natch.
Finally, the Juke Box E at $499 comes in red, black, or white, and has a unique sales pitch. Lichtenegger explains "the modern market has gone in the wrong direction. It's very popular for people to buy active speakers and an analog turntable. BUT THAT'S WRONG! Because it forces speakers and turntables too close to each other to accommodate the usually short line level interconnects used in such arrangements. The speakers should be in the optimal positions in the room but line level cables can't help with this. In the end you create a desktop system where you get essentially mono!"
Pro-Ject has solved the problem by creating an amplified turntable with everything built in, "and then you can hook up any passive speakers in the correct way with long cables for proper stereo, without the need for any other components." Lots of features on this one: Bluetooth and a line input, line-level output, Ortofon OM5e cartridge pre-mounted, volume knob on the front, and even an IR remote control.