PrimaLuna ProLogue Premium power amplifier Measurements
Sidebar 3: Measurements
I performed a full set of measurements on the PrimaLuna ProLogue Premium power amplifier, using both my Audio Precision SYS2722 system (see the January 2008 "As We See It") and my vintage Audio Precision System One. As I did so, I got a strong feeling of déjà vu: the amplifier's behavior was similar in many respects to that of the ProLogue Premium integrated amplifier, which Robert Deutsch reviewed in June 2012.
As the review sample of the ProLogue Premium was fitted with EL34 output tubes, I set the bias switch on the amplifier's right side panel to the appropriate bias position. The voltage gain into 8 ohms was 28.65dB from the 8 ohm output-transformer tap and 28.15dB from the 4 ohm tap, and the ProLogue Premium preserved absolute polarity from both taps. The input impedance was a usefully high 92k ohms at 20Hz, dropping inconsequentially to 78k ohms in the midrange and treble.
The output impedance from both output taps was significantly higher than that of the ProLogue Premium integrated amplifier. From the 8 ohm tap, I measured 9.2 ohms at 20Hz, 8.75 ohms at 1kHz, and 8.45 ohms at 20kHz; from the 4 ohm tap, the respective impedances were 4.7, 4.5, and 4.35 ohms. As result, the variations in frequency response with our standard simulated loudspeaker were extreme, reaching ±3.1dB from the 8 ohm tap (fig.1, gray trace), and with a large drop in level each time the load impedance was halved (cyan, magenta, and green traces). As expected, these variations were smaller from the 4 ohm tap (fig.2), but the matching between channels was excellent from both taps. Like our 2012 sample of the integrated amplifier, the power amplifier's frequency response featured a small, damped peak between 70 and 80kHz that grew more pronounced into low impedances, and a peak of much higher Q an octave higher. This latter peak gave rise to overshoot and ringing with a 10kHz squarewave (fig.3).
Channel separation was okay, at 75dB in both directions at 1kHz, but decreased at the frequency extremes, reaching 68dB at 100Hz, and 52dB L–R and 56dB R–L at 20kHz. The wideband, unweighted signal/noise ratio from the 8 ohm tap, ref. 1W into 8 ohms and measured with the input shorted to ground, was a modest 66.3dB in both channels. (With the 4 ohm tap's lower gain, the S/N ratio from that tap was slightly better, at 67.1dB.) With an A-weighting filter, the ratio improved to 88.3dB left and 91.0dB right. Spectral analysis of the amplifier's low-frequency noise floor (fig.4) reveals that the primary source of noise was a component at 60Hz, presumably due to magnetic interference from the AC power transformer.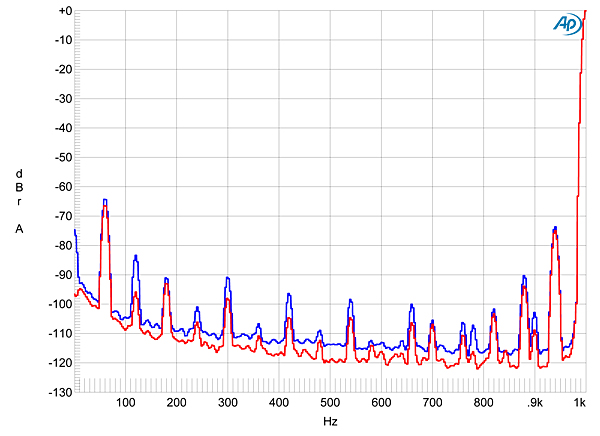 The ProLogue Premium's maximum output power with EL34s is specified as 35W; our sample clipped at 35Wpc into 4 ohms from the 4 ohm tap (12.43dBW), and 38Wpc into 8 ohms from the 8 ohm tap (15.8dBW). But as shown in the plots of the percentage of THD+noise against power from the 8 ohm tap (fig.5) and 4 ohm tap (fig.6), less power is available when the load impedance is both higher and lower than the nominal tap impedance (as you'd expect from a design with such a high source impedance, footnote 1), and the distortion at lower powers is relatively high.
The distortion increases into lower impedances and at low frequencies, as shown in fig.7, which was taken from the 4 ohm tap at 2.83V, equivalent to a power of 1W into 8 ohms, 2W into 4 ohms, and 4W into 2 ohms. Even into 8 ohms (blue and red traces), the THD+N remains above 0.1% at all frequencies, and was a little higher from the 8 ohm tap at the same voltage (fig.8). Fortunately, the main distortion component was the second harmonic (fig.9), which tends to be subjectively benign. However, even at 1Wpc into 8 ohms, a regular series of lower-level, higher-order harmonics can be seen (fig.10), though intermodulation distortion at the same output power was relatively low (fig.11), the difference component at 1kHz lying at –63dB (0.07%) ref. the test signal's peak level. But at a higher level from the 8 ohm tap, the intermodulation distortion had risen to a level that should be audible (fig.12).
As I wrote of PrimaLuna's ProLogue Premium integrated amplifier, the ProLogue Premium power amplifier measures about as well as can be expected from a classic tube design that uses a push-pull pair of EL34 output tubes (footnote 2). But its sonic signature will be far from neutral, especially with lower-impedance speakers.—John Atkinson
---
Footnote 1: Matching the source and load impedances stems from telecommunications practice, because it maximizes power transfer to the load. But it is anomalous in high-fidelity reproduction, where it is assumed that the amplifier will act as a
voltage
source.
Footnote 2: It is relevant to point out that the Leak Point One amplifier achieved similar levels of distortion from a pair of KT66 tubes—70 years ago!