Philippe Jaroussky's Exquisite Handel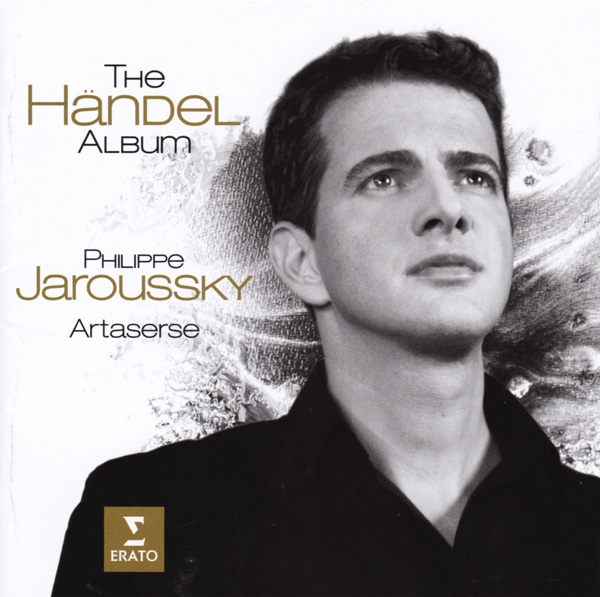 "Exquisite" is not a word to be invoked lightly. In the history of vocal music on record, there has been only one singer to earn that appellation—soprano
Maggie Teyte
, Debussy's second Melisande, whom the great Polish tenor
Jean de Reszke
dubbed "L'Exquise." To that exalted category must now be added countertenor Philippe Jaroussky, whose latest recording for Warner,
The Handel Album
, contains some of the most exquisite singing I have ever been privileged to hear.
For his first complete Handel album, the 39-year old countertenor has chosen 13 rarely recorded arias from 10 of Handel's 35 London operas. A listen to a brief fragment of "Che più si tarda omai...Inumano fratel...Stille amare" ("Why delay longer...Inhuman brother...Bitter drops"), King Tolomeo's suicide aria from Tolomeo, re d'Egitto (Tolomeo, King of Egypt-1728), reveals Jaroussky in superb voice. With an instrument that conveys heart-broken innocence and pathos in equal measure, he infuses his long-breathed legato lines with such beauty that it is possible to ignore the fact that Handel's Tolomeo is committing one of the most harmonious suicides in opera. Jaroussky's tenderness is as palpable as his poise is remarkable.
Auditioned via 24/96 files, the album opens with an aria from Imeneo (1740) in which Jaroussky's innocent sincerity and impeccably connected, long breathed lines are equally fetching. From there, he proves equally convincing in one of those raging tempests, in this case from Riccardo primo, re d'Inghilterra (1727), which churn so frequently in Handel's operas.
In arias expressing anger, vengeance, and the like, one of Jaroussky's great countertenor predecessors in Handel repertoire, the now 51 year old David Daniels, sometimes sacrificed his otherwise pearly tone in an attempt to sound butch. Jaroussky, however, not only knows his vocal limits, but has also developed a technique that allows him to sound forceful without forcing. While it is certainly the case that war and suffering are rarely, if ever, as sweet as they sound in his throat, we are talking about the hardly realistic operas of Handel, in which heroes die in major keys.
Jaroussky's brilliance in gauging exactly what is necessary to put a recitative and aria across, and then delivering it with seamless legato, breathtaking virtuosic runs, alto-like lows and startlingly beautiful highs sets him apart from other countertenors. Others may have bigger voices or more showy technique, but few make you so happy to hear them sing.
How well Jaroussky's sound approximates the sound of one of Handel's most beloved castrati, Senesino, or the countertenors for whom Handel also composed, we cannot possibly know. What is certain, however, is that taking his cue from Handel's own practice of transposing music when it passed from one voice type, eg, soprano, to lower-voiced mezzos or countertenors, Jaroussky places each aria in the range for which his voice is most suited.
One reason Jaroussky seems so present and totally in command is that he's backed by his own 20-person period ensemble, Ensemble Artaserse. (This seems to be a trend these days, with another baroque and song specialist, the lamentably past-her-prime contralto Nathalie Stutzmann, conducting and recording with her own chamber ensemble, Orfeo 55.) The musicians of Artaserse play as to the manner born, whipping up storms and then chirping sweetly as necessary. Their sounds and phrasing are equally exquisite, with the deep sonority of cellos and basses perfectly balanced with higher strings and woodwinds. Michele Pasotti's beautiful theorbo in "Qual nave smarrita" ("A ship trapped off course") from Radamisto (1720) serves as but one of countless examples of how well the ensemble's sound and pacing supports Jaroussky.
There are, in truth, any number of Jaroussky albums on which he sings as exquisitely. But for those who do not have those recordings in their collection, who, like me, cannot get enough of him, or who love Handel, this recording is essential. The Handel Album has certainly earned its rightful place in my next "Records to Die For" listing.