New Preamplifier from Rogue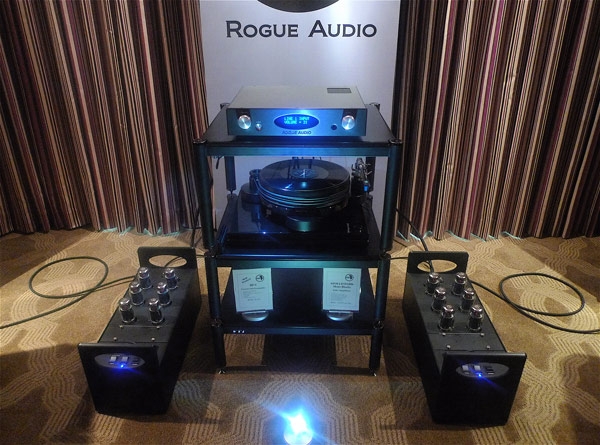 Sometimes, even in audio, numbers do speak for themselves. I reviewed the Rogue Sphinx ($1395) almost
two years ago
—and still, everyday I like it more. The Sphinx continues to deliver more quality sonics (into a wider variety of speaker loads) per dollar than any amp I ever knew. Now they appear to have accomplished the same thing again—this time it is a beautiful little $1695 preamplifier called the RP-1.
Besides looking like a $5k preamp, the RP-1 played music like a $10K preamp. The RP-1 has a MM/MC phono stage, so for CES, Rogue's principle owner/designer, Mark O'Brien had it connected to a Nottingham Ace-Space Deck turntable ($2895) with its optional graphite platter ($1295) and 10" Ace-Space tonearm ($1595), and a new Kiseki Blue phono cartridge ($2199). You must trust and love a $1695 preamp connected to an almost $10k record player.
But wait! The RP-1 was driving Rogues new "Apollo Dark" monoblocks ($14,995) and which sports six KT120 tubes per channel making a cool 300Wpc to spark the Eggleston Camilla Speakers ($17,135/pair). By them time I finished listening I wanted to put the RP-1 under my coat and sneak out. Thinking twice about that plan, I asked for a review sample instead.