The Naim Thing: Uniti Atom, Star, Nova and Core
Naim hit CES running with four new Uniti digital products, starting with the Nova (pictured below) at $6,995 and available in June. The Nova is the top dog of the three new all-in-one player/integrated amps and features a full slate of digital inputs (including SD card and USB on the front), a quartet of analog inputs (two sets RCA and two 5-pin DIN), and networking either via ethernet or WiFi. Streaming options include AirPlay, Tidal, Spotify Connect, Bluetooth AptXHD, and internet radio.
Up to six devices can be networked at once and controlled via the Naim iOS and Android App and you can also store up to 20,000 tracks locally to a USB drive. FLAC and AIFF files up 24/384 are supported as well as WAV files up to 32/384. In addiition DSD64&128 are supported, though all formats are limited to 48kHz max when sent over the wireless network. There is a built-in 80W/channel Class A/B amp and also subwoofer output and headphone jack. Remote is included and the front panel features a very nice full-colour display panel.
The Naim Uniti Star (above) with similar features as the Nova but 70W/Channel amp, adds CD ripping, fewer analog inputs and a $5,495 price tag. Also available in June.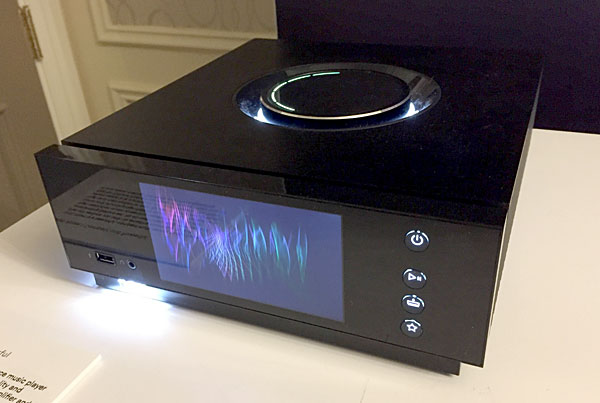 The Naim Uniti Atom (above) with fewer digital and analog inputs than the above two devices, 40W/Channel amp, no SD card, and a $2,995 cost, arriving in early May.
The Core, $2,595 shown above and available now, is a CD ripper and music storage device with an internal HDD. The Star can also rip and store, but Naim says the Core has a significantly larger database capacity and can rip to NAS and store 100,000 tracks assuming the HDD has the capacity. Naim said it will also issue a list of suggested external drives to hook up to the Core soon so you can expand storage and create backups. The Core can also serve as a standalone file server when connected to a DAC and controlled via the Naim App.
The products look beautiful and nicely designed, and are clearly targeted at getting you up and running with little mess and time invested.