NAD's D Series offers beauty and brains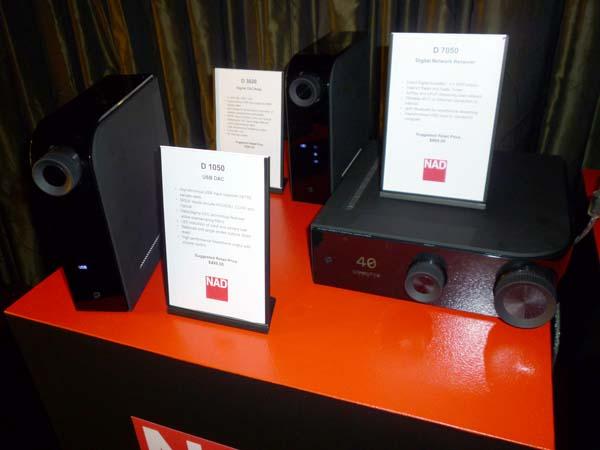 I've mentioned
NAD's VISO HP50 headphones
, but the company was also showing their new, smart-looking D Series digital components. From left: D 1050 USB DAC ($449), D 3020 digital DAC/integrated amp ($399), and D 7050 digital network receiver ($899).
Clearly, NAD's D Series products represent a radical departure from the company's traditional look and feel. Greg Stidsen, NAD's director of product development, explained that these new digital products aren't merely meant to appeal to younger listeners, but fulfill NAD's desire to offer a product more in tune with the times. "We're trying to create a component audio system for the future," said Stidsen.
Featuring sleek industrial design by David Farrage, input selection for each unit is accessed via the touch-sensitive side panels, which also act as displays—there are no buttons or recesses to be found.
The D 1050 USB DAC handles resolutions up to 24-bit/192kHz and includes coaxial, Toslink, AES/EBU inputs, single-ended and balanced outputs, and a headphone output with volume control. The D 3020 digital DAC/amp, whose name indeed alludes to NAD's renowned 3020 integrated amplifier, combines a 30Wpc amp with asynchronous 24-bit/96kHz DAC, aptX Bluetooth streaming capabilities, coax and optical inputs, a subwoofer out, headphone amp, and remote. Finally, the D 7050 UPnP network receiver uses NAD's Direct-Digital technology, is rated to deliver 50Wpc into 8 ohms, and offers an asynchronous USB input, AirPlay, WiFi, Ethernet, and aptX Bluetooth functionality. Sweet: beauty and brains.
For a better look, visit Michael Lavorgna's AudioStream.