Mytek HiFi Brooklyn AMP+ power amplifier Page 2
I placed the AMP+ next to the AMP on a shelf of my Salamander rack, making it easy and quick to switch between the two.
My first impression of the AMP+, contrasted to the older AMP, aligned with Jurewicz's claims: The new model is "cleaner" with a "bigger soundstage" and "more detail." It's "more precise."
Record after record, using the Brooklyn DAC+'s fine phono stage, I heard more explicit, better-defined images. Placement of vocalists and instruments was more specific within a deeper, wider soundfield. The AMP+'s clarity facilitated better microdynamics, those small dynamic shifts that make reproduced sound more lively and more live.
The AMP+ dispenses with the AMP's overt midrange lushness. Compared to the AMP+, the AMP now sounded a tad confused; it blurred midrange notes a smidge, although you might not notice until hearing the AMP+ (or another "cleaner" amp). The AMP+'s upper midrange and treble were decidedly cleaner while maintaining just a touch of richness. That see-through quality was also at work at the low end, with the subjective effect that the foundation seemed more solid than that of the original AMP, which already did this well. On synths, acoustic bass, electric bass guitar, and low-pitched orchestral instruments, bass notes were tighter, faster, weightier but with zero boom or overhang.
The AMP+ was kind to vocals. Norwegian opera singer Kirsten Flagstad captured my imagination and ardor when I heard her on the London ffrr box set of Wagner's Ring Cycle. Her 1958 release, Sibelius Songs (LP, London OS 25005), presents selected works by the Finnish composer supported by the London Symphony Orchestra conducted by Oiven Fjeldstad. Here is Flagstad in all her supercharged glory—but when played through the older AMP, her potent voice sounded separate from the orchestra. Through the AMP+, the music was more of a piece, and her voice seemed more flesh-and-blood real. Her image still floated like a sprite above the orchestra. The AMP+ produced a more tangible sense than its predecessor did of a large ensemble performing on stage in a big concert hall.
On a more intimate scale, Chet Baker Trio's Someday My Prince Will Come (1983 LP, SteepleChase SCS 1180) finds the 54-year-old trumpeter leading a drummerless trio with guitarist Doug Raney and bassist Niels-Henning Ørsted Pedersen. Though most fans acclaim Baker's Pacific Jazz and Riverside recordings, his seven SteepleChase LPs, recorded between 1979 and 1986, make a strong case that he got better with age, hard living be damned. Recorded live in 1979 at Copenhagen's Jazzhus Montmartre, this LP puts you front row, center, for a very cozy performance.
Like the vocal on the Flagstad disc, Baker's horn sounded apart from the rest of the trio through the AMP, but the trio blended better with the AMP+; I don't know what characteristic of the amplifier would explain such an effect, but it's what I heard.
Through the AMP+, the horn sounded sweeter but with more top-end air and crisper, airier inner detail. Baker's every breath, tongue pop, and note slide was easily heard. When Pedersen played a solo, every note of a fast flurry was clear and easy to follow with no bloat, overhang, or boom—just muscular bass aimed at the gut. The AMP+'s apparent lower noise floor cleared out that little bit of murk, leaving the view on the music clear.
Floating Point's Elaenia (LP Luaka Bop LB0085LP) is a mutating web of rippling melodies and ear-rubbing textures. Melodic lines multiply, twirl, erupt, and recede, with ever-altering crispness and tonal saturation. Through the AMP+, the experience was like diving headfirst into a deep pool of shredded wheat. Here the AMP+'s clarity revealed more of this music's murk, viscous sounds, and scratchy surfaces.
The AMP+'s clarity became even more apparent when I switched in the Kuzma Stabi R turntable. Spinning the Chet Baker LP again, I heard more saturated tones and more air, more breath behind every trumpet note, and a fantastically open, spacious soundstage.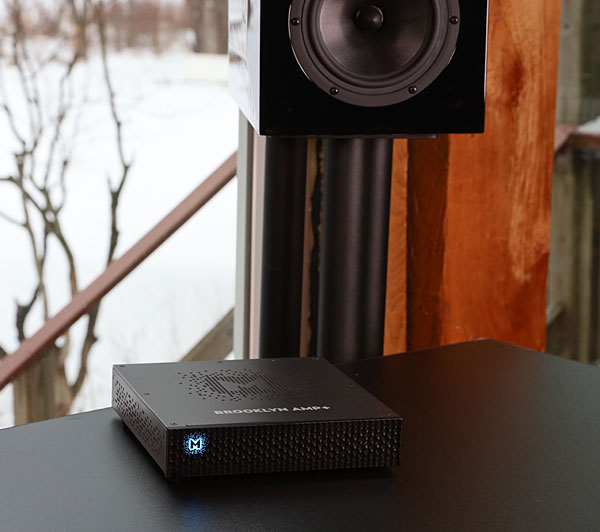 Mytek meets Parasound
At 160Wpc into 8 ohms and 240Wpc into 4 ohms, Parasound's Halo Hint 6 integrated, which combines bipolar transistors, JFETs, and MOSFETs and operates in class-AB, has less power than the AMP+ and costs about the same, at $2995. I connected the Brooklyn DAC+ to the Parasound's RCA inputs and turned the Parasound's volume knob to maximum, using the Brooklyn DAC to control volume.
The Parasound presented an even deeper and more layered soundstage than the Mytek. On the other hand, the AMP+ sounded more sensuous with more low-end force.
Wrapping up
Mytek keeps making little boxes that do big things, which makes me wonder what Jurewicz might do with bigger boxes. The company's forthcoming monoblocks will be built in full-size chassis, part of Mytek's new Empire series. "AMP+ has newer, faster MOSFETs for a more squared wave," Jurewicz told me, "but it's not yet 100% what could be accomplished. For a better squarewave, you need newer transistors called GaN-FETs. It's a game changer for class-D. In the next few years, we will see examples of class-D proving to be the best sounding amplifier technology with the use of GaN-FETs."
We shall see.