Mytek Brooklyn Amp power amplifier Measurements
Sidebar 3: Measurements
I measured Mytek's Brooklyn Amp using my Audio Precision SYS2722 system (see the January 2008 "As We See It"). Before I test a class-AB amplifier, I usually precondition it with both channels driving a 1kHz tone at one-third power into 8 ohms for an hour. As the Brooklyn Amp has class-D output modules, such preconditioning is irrelevant. However, the Mytek did get warm in use: after an hour or so, the temperature of the top panel was 107.4°F (41.9°C). As class-D amplifiers produce RF noise that could drive my analyzer's input circuitry into slew-rate limiting, between the test load and the analyzer I inserted Audio Precision's auxiliary AUX-0025 passive low-pass filter, which eliminates noise above 200kHz.
The Brooklyn Amp is specified as having a voltage gain of 23 or 29dB, selectable with one of the rear-panel DIP switches. However, the relevant switch had no effect. Frustrated, I downloaded Mytek's Control app from their website and ran it on my laptop, which was connected to the Brooklyn's USB port. (I'm old: I can remember when power amplifiers had neither USB nor Ethernet ports!) The app offered a choice of "0dB" or "6dB"—at those settings, the balanced gain into 8 ohms measured very close to the respective specifications of 22.9 and 28.9dB. The respective unbalanced gains were 18.2 and 21.2dB—note the difference between them of 3dB rather than the expected 6dB.
Both sets of inputs preserved absolute polarity (ie, were non-inverting), and the input impedance, specified as 10k ohms, was 19.8k ohms from 20Hz to 20kHz for the balanced inputs, and 17k ohms at 20Hz and 1kHz for the unbalanced inputs, the latter dropping slightly at 20kHz, to 15k ohms. The output impedance, including a 6', spaced-pair speaker cable, was very low at 0.06 ohm at 20Hz and 1kHz, but rose to 0.3 ohm at 20kHz. As a result, the modulation of the Brooklyn Amp's frequency response with our standard simulated loudspeaker was very small in the midrange, but reached +0.25dB at the top of the audioband before rapidly rolling off above 25kHz (fig.1, gray trace). The top-octave boost was less well developed into 8 ohms (blue and red traces), and the response rolled off earlier into lower impedances. It was down by 1dB at 20kHz into 2 ohms (green trace). The slight boost at 20kHz into higher impedances is presumably due to the low-pass filter on the class-D stage's output; the boost is associated with a slight degree of leading-edge overshoot with a 10kHz squarewave (fig.2), but the overshoot is critically damped, with no ringing evident.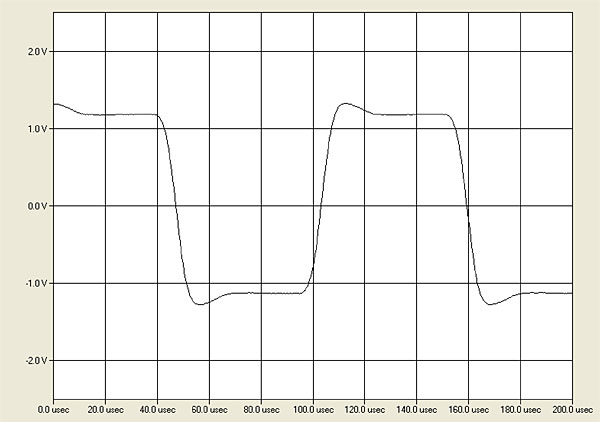 Channel separation was excellent, at 100dB in both directions below 1kHz, and still 70dB at the top of the audioband. Without the AP low-pass filter there was 315mV of ultrasonic noise present on the Mytek's output. With the AP filter, the unweighted, wideband signal/noise ratio, taken with the inputs shorted to ground, was a high 76.1dB (average of both channels) ref. 1W into 8 ohms. The S/N ratio improved to a very good 84.9dB when the measurement bandwidth was restricted to 22Hz–22kHz, and to 87.9dB with an A-weighting filter in circuit. Other than the inevitable ultrasonic noise produced by a class-D design, this is a quiet amplifier. Spectral analysis of the low-frequency noise floor (fig.3) revealed no AC-supply–related harmonics.
Defining clipping as when the THD+noise in the output reaches 1%, Mytek specifies the Brooklyn Amp as clipping at 250Wpc into 8 ohms (24dBW), at 300Wpc into 4 ohms (21.7dBW), and at 400Wpc into 2 ohms (20dBW). I measured clipping powers of 245W into 8 ohms (23.9dBW, fig.4) and 315Wpc into 4 ohms (22dBW, fig.5), both with both channels driven. However, when I tried to measure the clipping power into 2 ohms, the Mytek went into protection mode at 310W (18.9dBW), with any further increase in the input voltage not resulting in a higher output power. But considering that this power was being produced by a small box weighing less than 7 lb, I don't think this is an issue that will be of any concern in practical use with speakers whose impedance doesn't drop below 3 ohms.
I examined how the Brooklyn's percentage of THD+N varied with frequency at 20V (equivalent to 50W into 8 ohms, 100W into 4 ohms, and 200W into 2 ohms). The THD+N was extremely low in the bass and midrange into both impedances (fig.6), with the usual rise in the treble due to the decrease in open-loop voltage gain as the frequency increases. However, I couldn't plot how the THD+N changed into 2 ohms, as the amplifier turned off its outputs after a few seconds of operating at this level. It turned itself on again as soon as I reduced the level of the input signal.
The THD+N waveform at 160Wpc into 8 ohms (fig.7) is difficult to interpret, due to the presence of audioband noise. However, looking at the waveform on an analog 'scope, which averages out most of the noise, indicated that the distortion signature is primarily third harmonic in nature. This was confirmed by spectral analysis of the amplifier's output while it drove 50Hz at 100Wpc into 4 ohms (fig.8), with the second and higher-order harmonics all lying below –100dB (0.001%). Tested with an equal mix of 19 and 20kHz tones with the signal peaking at 100Wpc into 4 ohms, the Mytek produced low levels of intermodulation distortion (fig.9), with the difference product at 1kHz lying at –110dB (0.0003%), and the higher-order products at or below –84dB (0.006%).
Mytek's Brooklyn Amp is a tiny powerhouse offering respectable measured performance.—John Atkinson