Music in the Round #80 Recordings in the Round
Sidebar: Recordings in the Round
Brahms: Serenade 1, Variations on a Theme by Haydn
Jan Willem de Vriend, Hague Philharmonic Orchestra
Challenge Classics CC72692 (SACD/CD, DSD64 download from www.nativedsd.com). 2016.
Brahms's Serenades for orchestra are, to me, analogous to Tchaikovsky's Suites for orchestra: both were freer expressions of the talents that their composers applied to their symphonies, and in some ways are more revealing of their personal characters. Brahms's first Serenade is as important to me as are his more frequently performed Haydn Variations, and it's wonderful to have both so ably performed and so spectacularly recorded as here. I was completely taken by Jan Willem de Vriend's ardent reading of the Serenade's opening phrases, which continue in an engaging sweep through the entire work; the result ranks with Stokowski's classic treatment. While de Vriend's Haydn Variations don't quite match his work in the Serenade, it's still a fine performance, if a notch below, say, Szell and Solti. The richness and breadth of the multichannel sound is beyond question.
Tchaikovsky: Symphony 6, Pathétique
Dvorák: Russalka Fantasy (arr. Honeck-Ille) Manfred Honeck, Pittsburgh Symphony Orchestra
Fresh! Reference FR-720SACD (SACD/CD, DSD256 download from www.nativedsd.com). 2016.
I have effusively praised the previous efforts of Manfred Honeck, the Pittsburgh Symphony, and the Soundmirror recording team, and this is yet another winner. The Pathétique doesn't lack for recordings in any format, but this one rises to the top in recording quality, and the performance is outstanding. Honeck's pacing seems at first a bit deliberate, and at no time does he approach the intensity of Mravinsky or Markevitch. Yet his approach allows for a wider range of contrasts of tempo and dynamics, the latter well beyond what those much earlier recordings could have encompassed. That's not to say that the performance is exaggerated in any way; it's appropriately dramatic and completely satisfying—and the accompanying Russalka Fantasy, by Dvorák, is a delight.
Walton: Cello Concerto, Passacaglia for Cello Solo
Hindemith: Cello Concerto, Sonata for Cello Solo
Christian Poltera, cello; Frank Shipway, Sao Paulo Symphony Orchestra
BIS BIS-2077 (SACD/CD). 2014.
The Walton Cello Concerto is what attracted me to this release. The music has long spoken to me directly and clearly; I'd imprinted on the recording by Piatigorsky with Munch and the Boston Symphony (RCA Living Stereo), and had enjoyed several others over the years. Now I'm won over—especially in the last movement—by the extraordinary eloquence of cellist Christian Poltera and conductor Frank Shipway, and given the sound quality of this recording, I expect that feeling will endure. Walton's Passacaglia is intense and compact. The Hindemith was new to me, but it's archetypally big Hindemith: busy and, at times, boisterous. The solo sonata has more heart and delicacy. The BIS engineers have captured an impressive clarity and richness of instruments and hall.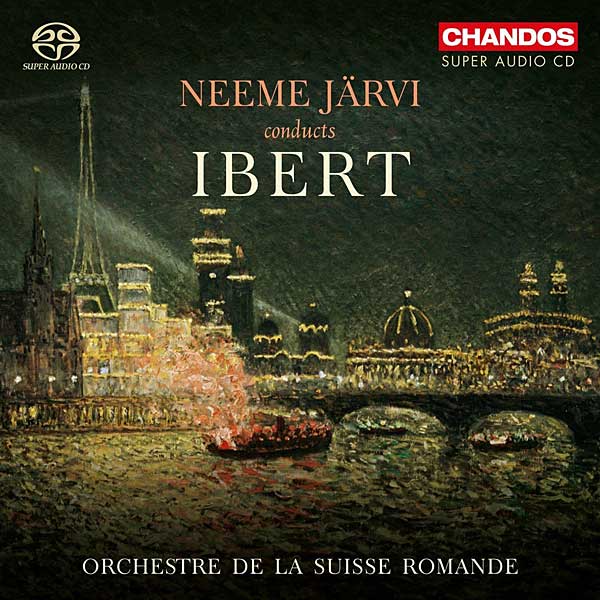 Ibert: Orchestral Music
Escales; Sarabande pour Dulcinée; Ouverture de fête; Féerique; Divertissement; Hommage à Mozart; Donogoo-tonka: Suite symphonique "Paris"; Bacchanale.
Neeme Järvi, Suisse Romande Orchestra
Chandos CHSA 5168 (SACD/CD). 2016.
In recent months the indefatigable Neeme Järvi has released on SACD musical surveys of the music of Offenbach, von Suppé, Saint-Saëns, Chabrier, Massenet, and Fuc°k, and each has been well played, well recorded, and entertaining. I judge his Ibert collection to be much more than that. The most familiar works, Escales and Divertissement, stand up to all competition. While the Suisse Romande strings can't match those of Philadelphia, Järvi's panache—a word I'd never thought applied to him—equals Ormandy's. Järvi's Divertissement is, to use another surprising label, witty, and reminds me of a concert performance of it by Charles Dutoit and the New York Philharmonic that actually provoked laughter. The less familiar works are flavorful and charming, and Chandos's recording is deliciously transparent.—Kalman Rubinson