Music in the Round #51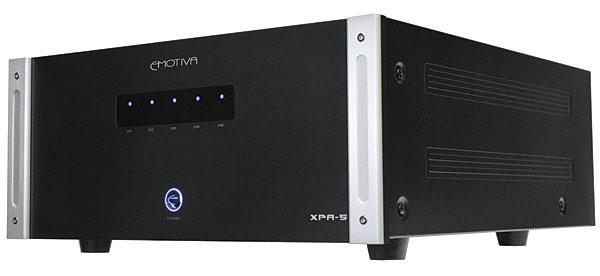 As I write this, in early August, the global economy is in flux and the stock market gyrates, seeming in stark contrast with the gleaming, luxurious audio components that surround me. Perhaps there is some prescience in my rising interest in reasonably priced, high-performance products, as exemplified by the Oppo Digital BDP-95 universal Blu-ray player, which I
reviewed in this column
in September. Surely there must be other products that provide truly excellent sound at prices strikingly lower than expected.
Preamplifier-processors are terrifyingly complex, but their market is small and, as a result, the amortization of design, development, and manufacturing costs is quite high per unit sold. This has resulted in a bimodal distribution in the pre-pro market. The lower-priced models are usually developed from their manufacturers' audio/video receiver platforms, with notable and appreciated improvements, but they seem to offer somewhat less value than their AVR parents. The more costly pre-pros are usually developed from scratch and offer unique feature sets and excellent performance. It's hard to see how this dichotomy can be resolved, and it's no surprise that AVRs dominate the overall market and will probably continue to.
On the other hand, power amps and speakers are highly evolved devices, and today's engineers continue to apply their ingenuity to making them sound even better while lowering production costs. Here is where the economically stressed audiophile can look for satisfaction. But if I have already conceded the low end of the multichannel market to AVRs, why do I bother mentioning power amps? Well, if the pre-pro offers functionality similar to that of its parent AVR and sells for the same or higher price, one has to wonder about the power amps in the AVR. Cramming them into the same chassis is not preferred procedure for a device that consumes a lot of power. Typically, AVR power ratings are misleadingly based on one- or two-channel operation, although, as the demands of the multiple channels rise, they must all feed from the common trough of a single power supply.
Manufacturers tacitly admit as much by including multichannel preamp-level outputs in all but bottom-end AVRs. At least one current model, the Denon AVR-4311, provides not only preamp outputs but the option to disconnect its power amps when using external amplification. Such practices contribute to continued audiophile interest in and demand for power amps.
Emotiva XPA-5 five-channel power amplifier
All of that was preamble to a confession: For some time now I have eyed Emotiva power amps. Their most eye-catching feature has been their combination of high power ratings with uncharacteristically low prices—so uncharacteristic that I at first reacted with knee-jerk skepticism and kept my distance. But in the past few years Emotiva has become a stable presence in the market, as positive reviews and audiophile praise have filtered through the Internet. I figured it was time to try one.
One size does not fit all. Emotiva currently offers two monoblocks (500 and 200W), two stereo amps (300 and 125Wpc), and three- and five-channel models (both 200Wpc). The last, the XPA-5 ($899), seemed a suitable fit for my Connecticut system, where a five-channel Bryston 9B (185Wpc) has performed admirably for years.
The XPA-5's front panel is spacious but economical. A large illuminated button switches between the Operate (blue) and Standby (amber) modes, and five small LEDs signal the status of the channels. Dark when the amp is off, they glow blue in normal operation, and flash red in fault conditions. I never saw LEDs on my review sample flash red.
At the far right of the rear panel are a master power switch and an IEC power cable connector; at the far left, a remote trigger input and a switch to turn off the front-panel channel-status LEDs. Between these, and taking up most of the rear panel, are five sets of connectors, one set for each of the amp's channels: RCA (unbalanced) and XLR (balanced) input jacks, and a switch to select between them. Below each RCA/XLR pair is a large pair of red and black five-way binding posts. A manual that covers all four of Emotiva's XPA models was provided, but hookup was no mystery.
Inside, the front third of the XPA-5's large housing is occupied by its power supply, with a 1200VA transformer and 60,000ÊF of secondary capacitance. This means that, as in an AVR, all channels share a single common power supply—though I doubt any AVR anywhere has a power supply like this one. The XPA-5 is claimed to output 200Wpc into 8 ohms, all channels driven, or 300Wpc into 4 ohms. Each channel's amp is single-ended; a differential-to-single-ended converter is used for each XLR input. According to Emotiva, this converter is "a really slick dual differential with cross-linked current sources to force the differential to stay perfectly balanced at all times which is one of the reasons for the open sound and low distortion."
I was surprised by the huge carton: the XPA-5 measures 17" wide by 7.75" high by 19.5" deep and is shipped double-boxed, though with a minimum of custom-molded shock-absorbing inserts. I was also surprised by the amp's great weight: 89 lbs shipping, 75 lbs net. It wasn't easy for me to heft the still-boxed XPA-5 into my car for the trip from Manhattan to Connecticut and then schlep it into the music room, and there were no rack handles to aid in my wrestling of it into my rack, but amp and I survived all the lifting, moving, unpacking, and installation. Thank goodness for hand trucks!
All system wiring was by Kubala-Sosna: I connected the XPA-5 to the XLR outputs of my Integra DHC-80.2 pre-pro with Fascination XLR cables, to my five Paradigm Studio/60 v.3 loudspeakers with Fascination speaker cables, and to the AC supply with an Emotion power cord. The XPA-5's XLR jacks lack locking mechanisms, but no matter. This turned out to be a theme with the XPA-5: Nothing was surprisingly innovative or more than was necessary in terms of choice of materials, electrical design, or appearance, but the amp exuded an overall solidity and competence. Then I got another surprise: It sounded even better than that.
My first impression of the XPA-5 was that my system now sounded louder and more powerful, but I soon discovered that that was due to the almost 3dB advantage in gain that the Emotiva enjoys over my Bryston 9B. I quickly adapted my usual level settings to compensate, and that impression faded. What did not fade was the XPA-5's generally warm sound, which was accompanied by generous amounts of power when needed.
Beginning with voices, I was beguiled by the naturalness and presence of Christiane Oelze's soprano in "Wo die schönen Trompeten blasen," from Mahler's Des Knaben Wunderhorn, with Markus Stenz and the Cologne Gürzenich Orchestra (SACD, Oehms Classics OC657). She stood apart from and somewhat forward of the orchestra, but her proximity was not accompanied by any harshness, and she was definitely part of the acoustic of the venue. Baritone Michael Volle sounded equally present. The Emotiva made possible a generally more spacious soundstage within which the orchestra was widely and deeply arrayed. The rich sound of the XPA-5 had an equally salutary effect with Sara K.'s Hell or High Water (SACD/CD, Stockfisch SFR 457.4039.2).
Bass was powerful and extended with the Paradigms receiving a full-range signal, but somewhat less than I heard with bass management and two subwoofers handling the bottom end—no surprise, and no criticism of the XPA-5. Indeed, the Emotiva had a quite transformative effect on my trusty Paradigms over the entire audioband, to both extremes and through the critical midrange. In particular, the midbass was agile and detailed enough to reveal percussion and low strings in proper musical balance. As I scaled the frequencies, there seemed to be oodles of lower-midrange information but without any highlighting. Listening to that wonderful recording of Mozart's Symphonies 38–41 with Charles Mackerras and the Scottish Chamber Orchestra (SACD/CD, Linn CKD 308), I heard so much color and interplay in the winds.
Further up into the treble, the Emotiva had an almost classic tube-like sound. When concentrating on the treble, I had the abiding impression that it was somewhat rolled off, yet the XPA-5 continually surprised me with its ability to deliver the upper partials of brass and percussion instruments. Oehms Classics seems to do little wrong in Cologne these days, and their presentation of Tchaikovsky's Symphony 6, with Dmitry Kitayenko conducting the Cologne Gürzenich Orchestra (SACD, Oehms OC666), is appropriately deep, warm, and enveloping, while the glint and edge of the brass were refreshingly piquant, as they should be. With powerful and articulate bass, the overall sound with the XPA-5 in the system transported me to the concert hall in a most satisfying way.