Modular LP Storage from Nomad Crates
Back in early August, when we were still in the middle of a stunning summer heat wave, I received
an interesting call
from a man named David Garrett. Garrett explained that he had spent the last 13 years operating his own interior design company, but was looking to change directions and was most excited about his new venture—a simple, sturdy, modular LP shelving system called
Nomad Crates
.
I was interested, but what really charmed me was Garrett's attitude, his enthusiasm. "The best part has been the interaction with music lovers," he said. "The passion is great. I just think this is a really fun thing. This is the most fun I've had in 20 years."
No more than a week later, I found a slim box marked "Nomad Crates" at my door. Then, on the evening of August 18th, I made some space in my kitchen, got a beer from the fridge, pointed a fan directly at my sweaty face, and went about the simple but rewarding task of assembling a Nomad Crate.

An unpacked Nomad Crate on my kitchen floor waits to be assembled.

Nomad Crates ship in 4"-thick containers, arrive unstained and partially assembled, and can be disassembled for storage. Standard lengths are 18", 24", and 30"; a 24" Nomad Crate holds approximately 150 LPs and costs $50.

The individual slats which make up a Nomad Crate are neatly packed and secured with a thick rubber band. And, if you're lucky, will come with a handwritten letter, thanking you for your interest and encouraging you on your vinyl adventure: "Nomads were designed to be affordable (especially if you have thousands of LPs), flexible, substantial, and most of all, fun. Nomad is the one word for pack up your stuff and hit the trail!"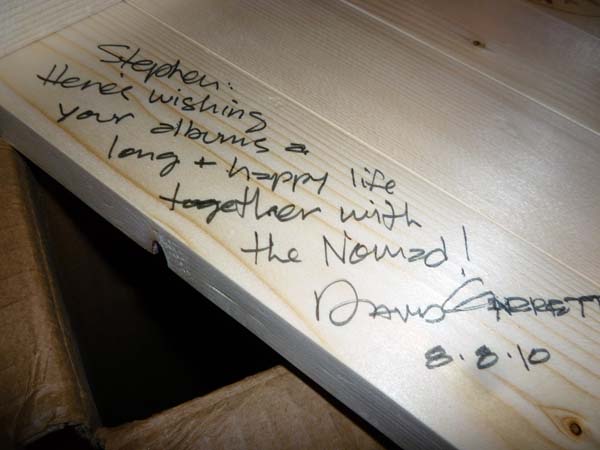 Garrett personalized my Nomad Crate with a nice, little note.

Nomad Crates are branded on the sides with the company logo. I was reminded of a Louisville Slugger.

Instruction sheet forthcoming!? I was in trouble. (Just kidding. Men don't need instructions.) Nomad Crates come packed in 11 separate pieces: two assembled side panels and their nine adjoining slats. The note at the bottom of the little diagram reads: Production units will have pan head screws.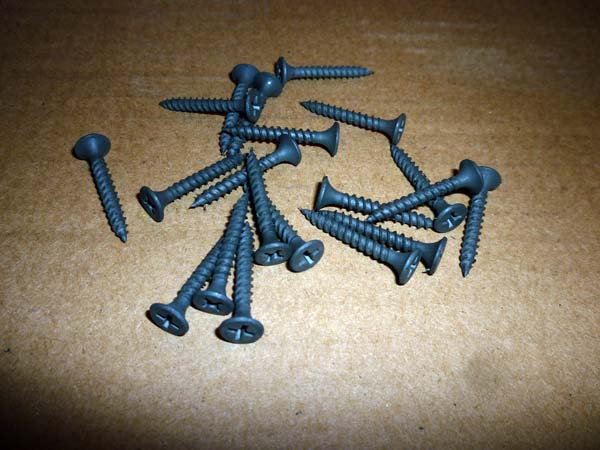 My sample came with these screws.

Preset holes served as my guide when connecting the slats.

Garrett's instructions didn't offer a suggestion for where to begin, so I decided to start by connecting the three bottom slats to the Crate's side panels. I would have liked some sort of clearly defined placement markers to guide me along the way, but I managed by matching the preset holes of the slats to those along the bottom ridge of each side panel.

Time for a beer break. Because a man gets thirsty.

Then, I connected the side slats.

Almost done.

For the most part, the slats came together nicely with the side panels, forming flush, tight connections.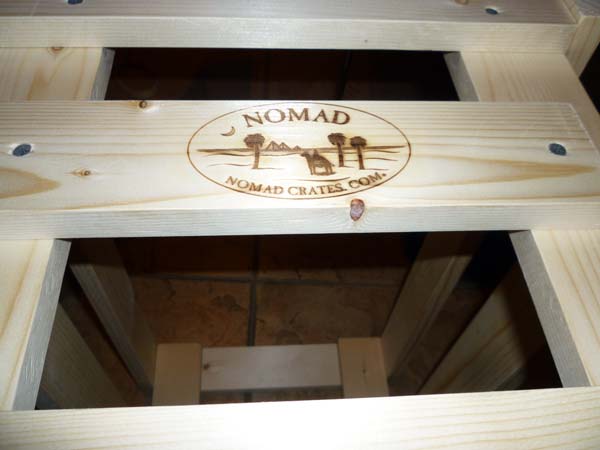 For those few areas where the joints didn't lock properly, I loosened the screws, applied vast amounts of manly pressure, and retightened. I might have also grunted. I wondered whether longer screws would form stronger or weaker connections.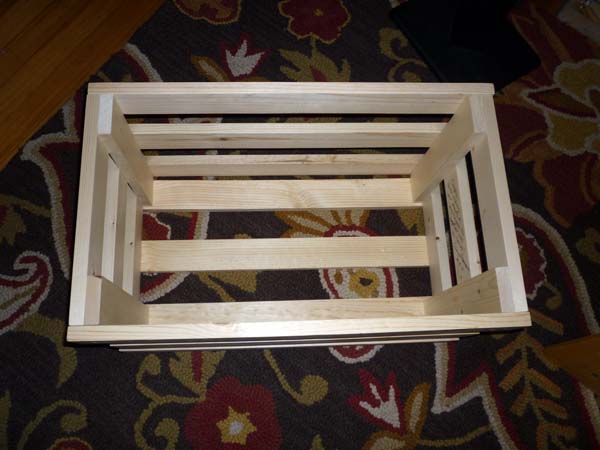 A completed Nomad Crate. Just add LPs.

The Wind Demon and Other Mid-Nineteenth Century Piano Music. In 1999, I received this and a load of other awesome New World Records titles from the defunct music department of Fairleigh Dickinson University. I lugged them around from one uncomfortable basement apartment to the next and they suffered through several unfortunate floods. I will begin a restoration project soon.

An almost fully loaded Nomad Crate. Assembling it was a lot of fun. There's a certain satisfaction in putting a thing together. At the end of the project, one feels a sense of ownership and pride.
Back in August, Nomad's David Garrett told me he planned on offering premium oak and walnut packages, in addition to the primary softwood line. At that time, Garrett was also considering CD/DVD units. All Nomad offerings would be customizable with logos, monograms, names, etc., at the customer's request.
I would like to see Nomad Crates offered with clear, detailed instructions—it wouldn't require anything elaborate, as assembly is relatively simple and intuitive—and some sort of joint supports might be beneficial. Even when I had tightened the screws to the best of my manly ability, I didn't feel completely confident in the connections. Hardwood editions of the Nomad Crates are sure to be more attractive than the basic, utilitarian Crates, but will also cost more. But for the vinyl lover who appreciates a modular design and/or the vinyl lover who at any moment might need to "pack up and hit the trail," David Garrett's Nomad Crates should be an attractive option.