McIntosh MAC7200 stereo receiver Page 2
As the MAC7200 does not come with an FM antenna, I connected my Day Sequerra FM Urban Antenna (footnote 4) to its 75 ohm threaded antenna terminal. For AM reception, I connected the McIntosh RAA2 remote AM antenna, a brick-sized black plastic box, to the rear-panel RJ45 connector via a 20' cable included in the box.
Setup involved selecting the optimal amplifier-output speaker terminals—2, 4, or 8 ohms—for my Quad ESL-989 electrostatic speakers. Ron suggested I use the speaker manufacturer's nominal impedance rating or JA's measurement and then use a lower impedance speaker tap. Although Quad rates the ESL-989 as an 8 ohm speaker, JA's measurements showed it to be 6.5 ohms in the upper midrange, dropping to 3.3 ohms at 10kHz (footnote 5). I selected the 4 ohm tap. My other speakers, Revel Ultima Salon2's, were rated by the manufacturer at 3.7 ohms at 90Hz. JA measured its impedance to lie between 3 and 5 ohms, so I selected the 2 ohm tap.
Listening
I enjoyed controlling the MAC7200 with its HR085 remote. I switched among components and inputs with ease, comparing the digital and analog versions (converted by my Bryston BDA-3 DAC) from a Bryston BCD-1 CD player and from a Bryston BDP-3 media player. Listening to KDFC, a local classical music station, I compared the MAC7200's FM tuner with my Day Sequerra FM Reference 25th Anniversary tuner.
Throughout the listening sessions, the MAC7200 amplifier ran cool, its heatsink faintly warm while driving my Quad ESL-989 electrostatic speakers during long listening sessions. The MAC7200 never triggered the Quad's self-protection circuit. The Revel Ultima Salon2's also did brilliantly, playing with full dynamics and volume and with no sense that the amplifier was straining. The MAC7200 did briefly mute its outputs if the volume control was turned up too high. It never showed a fault condition that required its amplifier to be turned off and reset.
The FM tuner
Tuning with McIntosh's HR085 remote was precise: Each push on the remote's tuning ring changed the FM tuner's frequency by 0.2MHz. Tuning from the listening room chair was far more convenient than having to get up and turn the unit's tuning knob. Tuning is aided by the central display's bargraphs of signal strength, noise, and multipath. As the 7200 sat on the floor between me and the speakers, this display was easy to read.
Long ago, in the August 1997 issue of Stereophile (pp.21–23), Don Scott encouraged other reviewers to first listen to FM tuners without an antenna to make sure the interstation static sounded "full spectrum, deep, and also crisp with a muted smoothness. ... No squeals or birdies (oscillations) should be heard, as this indicates distortion being generated in either the front-end or IF amplification stages, which will give the tuner a nasty, gritty quality." The MAC7200's interstation static sounded ideal: smooth, nonirritating, and free of whistles, squeals, and peeps. Even though my Day Sequerra FM Reference provided better quieting when it had captured an FM signal, its rendition of interstation static without an antenna revealed a faint whistle.
The MAC7200's FM tuner proved to be very sensitive and selective. I live 19 miles north of San Francisco in the North Bay, and it pulled in 25 FM stations, 17 strong enough to fully "quiet" the tuner and produce a black background with minimal multipath or noise; that makes it one of the most sensitive and quietest FM tuners I've reviewed, equal to the Day Sequerra in sensitivity and selectivity. I created presets for KDFC (90.3MHz, for classical music), KCSM (91.1MHz, for Jazz), KQED (88.5MHz, for NPR), and KISQ (98.1MHz, for relaxing music). Listening to KDFC, I enjoyed a wide variety of classical music, including Antonio Vivaldi's Violin Concerto in B-Flat, RV 375. I continued to listen, leaving the FM radio on for several days. The convenience of the remote and the quiet, mostly noise-free source of classical music was wonderful.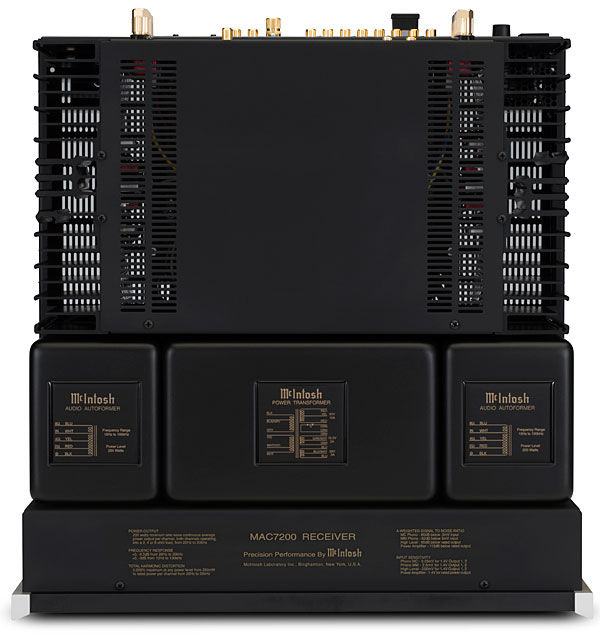 How did the MAC7200 compare sonically to my Day Sequerra FM Reference 25th Anniversary tuner? I chose FM Reference because its transparency, imaging, warmth, and midrange timbre are the finest I've heard in a tuner (footnote 6). The MAC7200 equaled the FM Reference's ability to generate a jet-black background and render the music punchy, dynamic, and involving. The FM Reference's sonics were more transparent and 3D when playing classical music from KDFC, and its selective bandwidth and muting control options, not present on the MAC7200, gave me more control over background noise on weaker stations. But this was a fine performance for the MAC7200; it gave the Day Sequerra a run for its money.
The AM tuner section's performance proved to be quite good, capturing 21 AM stations, but unless you're aiming to listen to sports or political programming in the lowest fidelity, who cares?
The phono stage
With the MAC7200 placed on the floor, I had to move my Linn Sondek turntable from the top of my equipment rack to a lower shelf so that its interconnect cables could reach the receiver's MC phono inputs. The low-output Spectral Reference MC cartridge (0.2mV) suggested it might need a boost, but in the end it didn't: The sound was clean and dynamic, with great hall ambience, spacing, and three-dimensionality. Using the McIntosh remote, I was able to compare different impedance loading for my MC phono cartridge while playing a record. The 200 ohm loading gave the best results.
After first sampling an old well-worn disc and finding it too noisy to enjoy, I turned to a cache of unopened, unplayed vinyl. What am I waiting for, a rainy day? In California?
First up was the direct-to-disc vinyl recording, Wagner—Die Walküre: Ride of the Valkyries / Tristan und Isolde: Prelude to Act I / Gîtterdämmerung: Siegfried's Funeral Music / Siegfried: Forest Murmurs Sheffield Lab LAB-7), with Erich Leinsdorf conducting the Los Angeles Philharmonic. This has long been my go-to LP for dynamics, imaging, and rich orchestral tone, and the MAC7200 didn't disappoint. Next came a new copy of Eddie Daniels playing Brahms's Clarinet Quartet in B Minor, Op.115, from Brahms & Weber: Clarinet Quartets (Reference Recording RR-40). As reproduced by the MC7200, the recording captured Daniels's instrument's full resonance. My fun increased further when I sampled a previously unplayed copy of Jeff Beck's Guitar Shop with Terry Bozzio and Tony Hymas, playing "Behind the Veil" (Vinyl, Epic Records 463472-1). This fresh vinyl recording played with stunning transients, wide soundstage, and incredible detail. It easily bested my CD version.
My vinyl recording of Howard Dunn conducting the Dallas Wind Symphony in Owen Reed's La Fiesta Mexicana from Fiesta! (Reference Recordings, RR-38) delivered a warm, rich bassoon sound in the opening track—again, better than the CD version. Similarly, I reveled in the rich, full orchestral sound of Erich Leinsdorf conducting the Boston Symphony Orchestra in Prokofiev's Symphony No.2, Op.40 (RCA, LSC-3061).
The DA1 digital module
I was surprised how well the MAC7200's DA1 DAC performed. Livingston Taylor's cover of "Isn't She Lovely," from his Ink album (CD, Chesky JD162), was dynamic, transparent, involving, and holographic. I was bowled over by the 3D imaging of Eriks Ešenvalds's Translations by the Portland State Chamber Choir, Ethan Sperry, conductor (CD, Naxos 8.574124; auditioned as 24/96 WAV). My other Ešenvalds recording, Doors of Heaven (24/88.2 WAV file or CD, Naxos 8.579008), exhibited the same exceptional imaging when the MAC7200's DAC played "The First Tears."
---
Footnote 4: See
Stereophile
's review of the Day Sequerra Urban FM antenna, Vol.12, No.7, published in July 1989.
Footnote 5: JA measured the newer Quad ESL-2912 and wrote that the impedance was "basically identical to that of the ESL-2912's predecessor, the ESL-989 (reviewed by Larry Greenhill in November 2002."
Footnote 6: The Day Sequerra FM Reference was first manufactured in 1987. Production stopped by the late 1990s and its last upgrade was in 2014, yet it remains listed in Recommended Components because of its continued use in reviews.